In some parts of the country, neighbors and friends get competitive about the cars they own, the clothes they've purchased, and the posh and trendy restaurants they've eaten at.  In Colorado, you are more likely to hear an acquaintance complain about the long wait for a whitewater rafting trip than the three month queue for the "it" restaurant.  Not everyone who lives in the state is an outdoor enthusiast, but just about everyone at least appreciates the clean air and beauty to be beheld in every direction.  Residents of the AMLI at Interlocken community will enjoy beauty both on and off of their residential property.
Surreally Set Resort-Style Pool
In its finished state, the pool area at AMLI at Interlocken is sure to dazzle.  Resort style, with a sundeck on which residents and their guests can soak up Denver's abundance of Vitamin D, the pool alone may give some of the surrounding area's recreational offerings a run for their money on the nicest summer days.  The pool and sundeck will be beautiful in their own right, but it will be the breathtaking views of the Flatiron Mountains that command the attention of swimmers and sunbathers.
State-of-the-Art Fitness Center
Opportunities for outdoor exercise are not in short supply in the Denver-Boulder area.  When it comes to staying in shape during bouts of inclement weather and train for mountaineering, climbing, and mountain biking adventures, however, you will appreciate the full range of fitness equipment available in the community gym.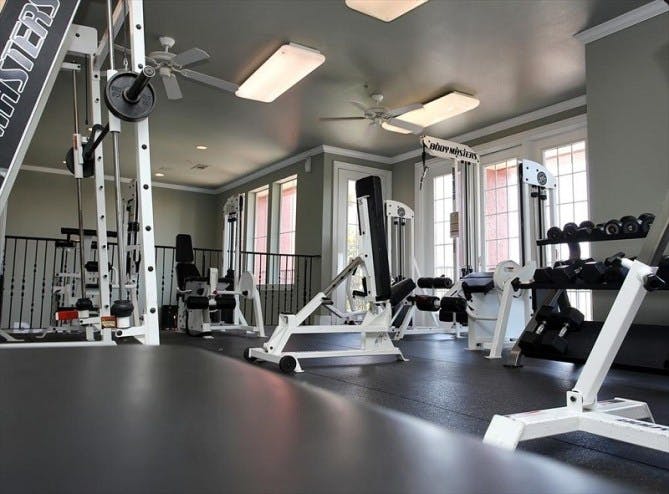 Rooftop Deck and Barbecue Area
The intelligent and innovative architects of AMLI at Interlocken have, in every way possible, sought to provide the community's residents with phenomenal views.  With the goal of making the view from every window and overlook a high altitude paradise in mind, it was decided that the rooftop would be a viewing deck that doubles as a barbecue area.  The views of the Flatiron Mountains and natural ponds that resulted from their ingenuity provide residents with a prime space for evening cookouts and entertaining small groups.
Designer Décor and Furnishings
The splendor of AMLI at Interlocken is not confined to its exterior.  From floor panels to kitchen lighting, virtually every element of the apartments' design could be classified as having a "designer" touch.  Pendant lighting fixtures in the kitchen.  Unique floor plans.  Rich faux wood flooring that brings residents even closer to nature without contributing to deforestation the way that hardwood floors do.  To top it all off, every apartment will have truly scenic views.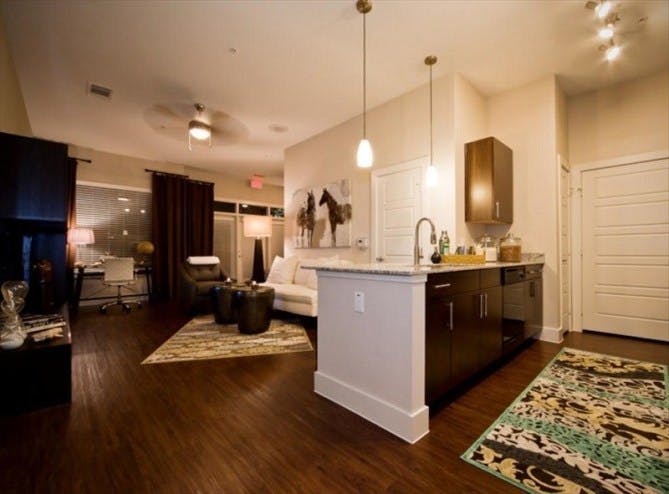 Proximity to Nature
Birdwatching.  Wildflowers.  Autumn aspens.  Running and cycling.  Skiing and snowboarding.  Rock climbing and mountain trekking.  These are just a handful of the advantages that come with living in an environment as naturally rich as Colorado's.  The clean air that even individuals in downtown Denver enjoy is a bit cleaner in Broomfield, and cleaner still at Interlocken, a smoke-free environment inside and out that is equipped with state-of-the-art air filtration systems that you can be assured will be inspected regularly and impeccably maintained.
Other Area Highlights
Broomfield is home to the highly-rated Greenway Park Golf Course, and Coal Creek Golf Course in Louiseville is just about equidistant to AMLI at Interlocken.  Golf season in Colorado starts in early spring and lasts until late autumn, rarely interrupted because of the nearly omnipresent Colorado sun.  The genuine golf enthusiast will be pleased to read that more than a dozen additional golf courses are in the vicinity.  Broomfield is home to two shopping malls and several restaurants, but shoppers and foodies also benefit from their proximity to Boulder and Denver, each of which has distinct world-class offerings of its own in each category.
Close enough to Denver to enjoy the cultural options that large urban areas have to offer yet nestled up against the Colorado Flatirons so that natural beauty becomes a part of residents' everyday life, AMLI at Interlocken residents are truly afforded the best of two worlds—the natural and the man-made.  For information about pricing, availability, and home floor plans, visit the community's website or call the leasing office at (877) 655-6188.