Have you ever wanted to go on a walk, run or jog around your neighborhood, but have never known where to go? If you aren't familiar with your area or aren't much of an outdoor runner, then it can feel a little intimidating to step outside and run wherever the traffic takes you. 
Well, if you live in our apartments in Montrose, then you're in luck! We've found a few running, jogging and walking routes around Montrose that you can use to kick off your cardio sessions! You're lucky to live near so many great parks and trails, especially being so close to the city. 
Here are a few running routes and destinations to help you figure out where to go on your outdoorsy adventures. 
Running Routes Near AMLI 2121
AMLI 2121 to Chick-fil-A
1.7  miles away, 3.4 miles round-trip
There's nothing better than rewarding yourself after a good run! Whether it be a cold beer, a hot shower, some fresh fruit or, in this case, a Chick-fil-A chicken sandwich, there's no harm in enjoying yourself a little after exercising. 
It's two miles from our Allen Parkway apartments to the Chick-fil-a on Shearn Street. That means you get two miles of running and two miles of walking back as you digest your chicken nuggets. All in all, you get four miles' worth of active movement (and lunch at the same time)!
In the area: you can also go to Panda Express, MOD Pizza, Taco Bell and Smoothie King if you are looking for something else. Plus, Target is right there, too, so you can burn an extra ten thousand calories as you browse the brightly-lit aisles until the end of time.
AMLI 2121 to Bayou Greenway Park and White Oak Bayou Trail
2 miles away, 4 miles round-trip
If you're looking to go a little further, the Bayou Greenway Park is just a short two-mile stroll or jog away along the White Oak Bayou Trail. The park itself is a nice open green space perfect for sunny days, but it's also a great access point for both the MKT Trail and the White Oak Bayou Trail. The White Oak Bayou Trail has over 17 miles of green space in which to run, walk or bike.
1.7 miles away, 3.4 miles round-trip
The MKT Trail, which runs east-west between Shepherd Drive and Hogan Street and north-south between West 26th Street and West 7th Street, is a 4.6-mile-long paved trail on what used to be old rail lines. Also known as the Heights Trail, the trail is closest to our apartments near Montrose near the Target on Shearn Street.
0.6 miles away, 1.2 miles round-trip
It's so convenient living close to a grocery store because you can easily squeeze in a quick walk or run while you grab a few items. By the time you get to the car, drive through traffic and find a parking spot, you may as well have just walked the short distance around the block!
In the area: just across the street from Whole Foods Market is the Pimlico Irish Pub. You know what they say: the only thing better than an Irish pub is an Irish pub within walking distance!
1 mile away, 2 miles round-trip
The Sabine Overlook on the Buffalo Bayou Walk is a great spot for a breather mid-run or walk. It's got some nice views of Downtown Houston and a great green space for Frisbee golf, picnics and skateboarding. Plus, you can watch people launch their kayaks from under the Sabine Bridge. 
In the area: You can run further east along the trail toward Sam Houston Park, too, where you can find some historic buildings and picturesque views. 
AMLI 2121 loop along the White Oak Bayou Trail and the Buffalo Bayou Trail
7.2-miles
Our luxury apartments near Buffalo Bayou Park are there for a reason, because there really is no better place to hop on an urban trail and spend an afternoon hiking and biking the expansive White Oak Bayou Trail. Head north up Studemont Street, turn left on Washington Avenue and turn right on Harvard Street. If you follow the White Oak Bayou Trail east to the University of Houston-Downtown, then you'll find yourself connecting onto the Buffalo Bayou Trail, which, if you follow west, will take you right back to the front steps of AMLI 2121. All in all, it's a good 7.2-mile loop that will take you along sunny trails and automotive-free pathways. 
In the area: hop on the MKT Trail at Bayou Greenway Park instead of continuing along the White Oak Bayou Trail. The MKT Trail connects back to the White Oak Bayou Trail just north of the University of Houston-Downtown and shaves nearly a mile off the overall loop. 
We hope you can use these routes to find your new favorite running route or walking path! As you run, walk, bike or jog outside, remember to obey traffic laws and social distancing guidelines, and always be aware of those around you and where you are. 
Enjoy!
Pin it!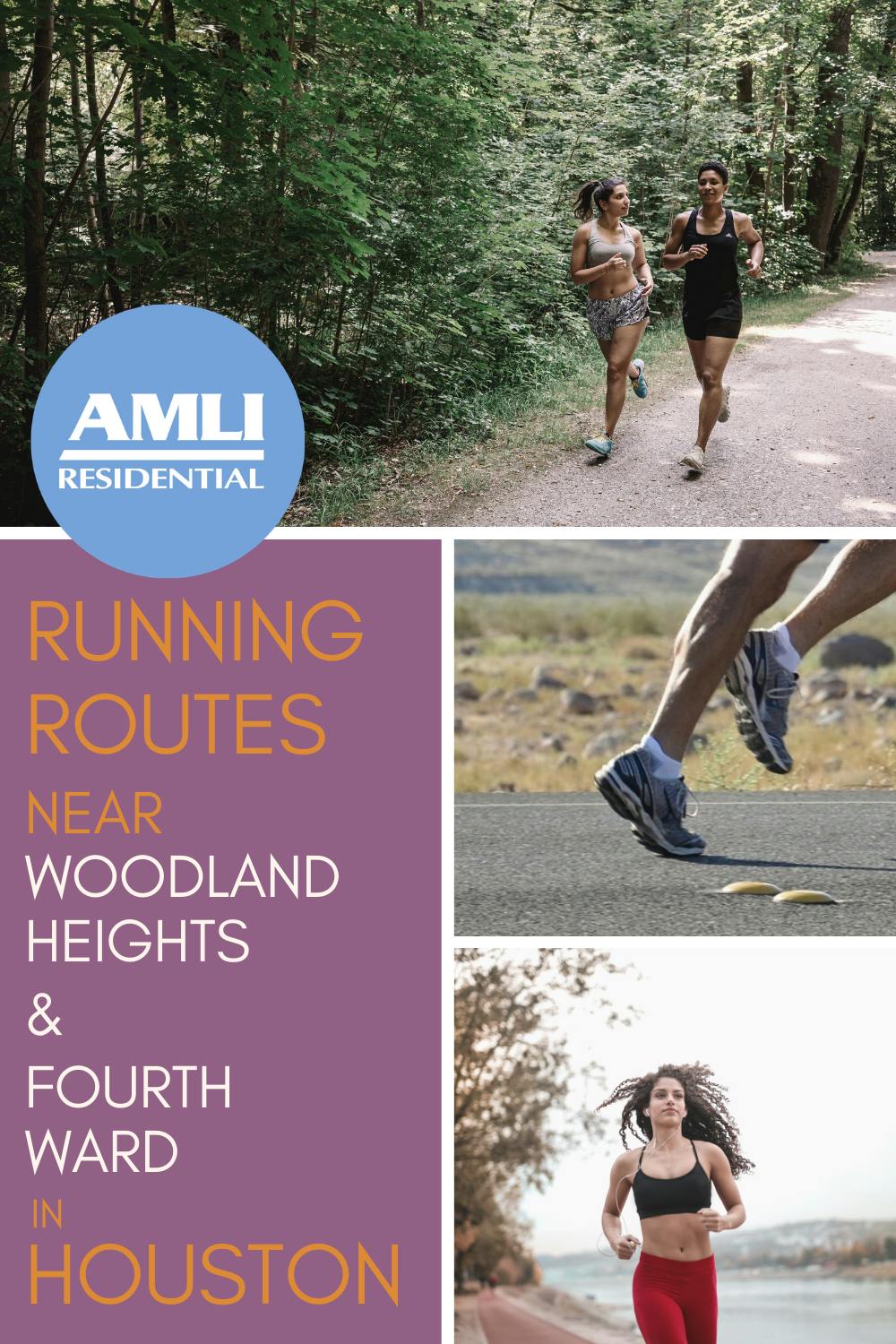 Featured photo courtesy Pixabay/Wokandapix