On February 2, the Seattle Seahawks crushed the Denver Broncos in one of the most lopsided Super Bowl games on record to bring home its first ever Vince Lombardi Trophy. On February 5, nearly one million Seahawks fans congregated in the streets of downtown Seattle to celebrate the victory for Pete Carroll, Russell Wilson, and the rest of the nation's best football team.
Seattleites love their city, but they have a reputation for being humble about how awesome it is. As far as sportsmanship is concerned, few cities can boast such a solid block of support from a crowd that neither ebbs and flows with the team's win-loss record nor talks a lot of trash about other teams. It is precisely these generalizations about the Seattle Seahawks fan base that should make it easy for observers to be happy for those die-hard fans who have been celebrating the victory. And celebrate they have.
Seattle Unity
Seattle is a place rich with camaraderie. Unity pervades many aspects of life and society in the Emerald City, but perhaps nowhere is it as prevalent as it is with the Seahawks. City trains cheer on their team by scrolling "Go Seahawks" on their electronic destination banners on game days. Local Starbucks stores practically gave coffee away at a price of 12 cents to devoted members of the "12th Man" wearing bright green and blue on January 15 in preparation for the NFC championship game against the San Francisco 49ers held later that week. Fox Sports Network sponsored a challenge to see if Seattle's famously loud fans could stay quiet throughout the entire NFC championship game when a ,000 reward for doing so was on the line. They couldn't.  Massive Super Bowl viewing parties were held in event venues throughout the city. The overwhelming and unified support doled out by Seattle's 12th Man base is rightly credited with giving the Seahawks the momentum that enabled them to beat the Broncos for the title of NFL champion so decisively.
The Victory Parade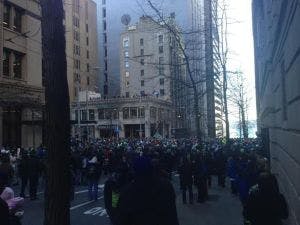 Decked out in blue and green, upwards of 750,000 fans joined together to congratulate, honor, and celebrate their Seattle Seahawks in a victory celebration last Wednesday. The demographic makeup of the crowd spanned many generations, with fans from all different backgrounds coming together to celebrate the success of their beloved team. Traffic was a nightmare in nearby South Lake Union and Queen Anne. And the absence of nearly 14,000 children from the city's public schools caused a minor kerfuffle, but the event was seen as so monumental throughout the city, most fans and many observers didn't seem to care.
A New Era for the Seattle Seahawks
For the Seattle Seahawks and the dedicated 12th  Man, a new era has begun. The team and its fans have their first Vince Lombardi Trophy, and are fired up enough to ensure this sign of a true football champion is only the first in what will eventually become a collection of Super Bowl victories.
Did you participate in the Seattle Seahawks' victory parade? If you have a good story about your experience or some love to share for the Seahawks, share it below!