The average American generates nearly five pounds of solid waste per day. As a country, this equates to 1.5 billion pounds of trash per day, or nearly 500 billion pounds annually. To do your part in scaling back these numbers, follow these tips for reducing less waste. 
1. Buy unpackaged goods
Alright. It's not easy to find food and other goods that aren't wrapped in plastic or other packaging. But most of the freshest produce comes with little or no packaging. We're talking farmers market produce and snacks from bulk bins. The same goes for second-hand goods, which do your wallet and the world a world of good.
2. Return produce containers
When you do buy berries or eggs in cartons or other containers, don't dispose of the cartons once the food is gone. Return them to the farmers market or grocery store for reuse.
3. Bring your own bag
Do you bring your own reusable bags to the grocery store? If you do, good for you (and the environment). A similar green living strategy to adopt is to bring containers to restaurants for leftovers. The benefits to the environment are obvious. As more restaurants charge for to-go containers, you'll also save money. You may also find the reusable, washable containers you box your leftovers in are less messy than traditional doggy bags.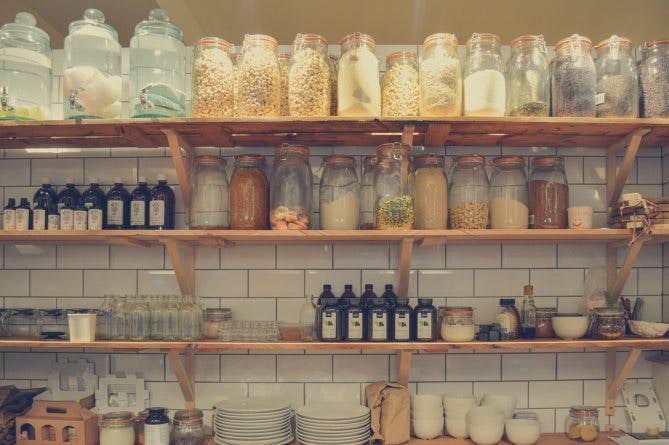 4. Get glassy
If you're on a quest to consume less plastic, you may find it helpful to use more glass. Buy jams, jellies, and sauces in glass jars you can rinse and reuse at home. If it's an option, start buying milk in returnable, reusable glass bottles rather than plastic jugs or paper cartons. You'll likely get money back when you return them.
5. Turn down unnecessary plastic
Avoiding plastic bottles really helps where minimizing waste is concerned, but there are other easy ways to use less plastic. When you eat out, politely decline plastic cutlery, placemats, and straws. Explain to the restaurant staff why you are doing this, and you may influence others to make more eco-friendly decisions.
6. Join a CSA
The benefits of joining a community supported agriculture (CSA) farm share are vast. You'll enjoy fresher, tastier food and you'll know where it comes from. You can save time and money. You'll also generate less produce-related packaging.
7. Use two sides
If, and when, you still use paper, use it responsibly. Before recycling or using for craft, make sure both sides are used.
8. Make your cleaners at home
Cleaning agents available at the store tend to be toxic and expensive. They also usually come in plastic bottles. Using vinegar, baking soda, fresh lemon juice, and other natural ingredients, you can make all of the cleaning supplies you need for your apartment. By storing them in recycled glass containers, you can also cut down on material waste.
9. Don't throw away clothes (at least not before they're covered in dust and grime)
Donating clothes is generally noble and environmentally responsible, but some things shouldn't be worn after you're through with them. Well-worn socks and a ripped pair of shorts may not make great hand-me downs, but they can and should be used for dusting and other cleaning.
10. Compete
If you have a competitive streak, put it to good use by competing with your roommates, family members, and friends to see who can live the greenest lifestyle. Time your showers, weigh your trash, and see what innovative ideas for reusing containers and other goods you can come up with.