One of the greatest mysteries in life is how to pronounce LaCroix. 
Do you say it la-croy?
Do you say it la krah?
Do you say it la kwah?
It turns out that the correct pronunciation is "la-croy," according to the company's website. So sorry, French speakers. We gotta take a back seat on this one. 
Although one could spend hours arguing what the "proper" pronunciation of LaCroix is, there are plenty of other ways to fill your time with LaCroix-related activities. Like, for example, making some tasty LaCroix cocktails!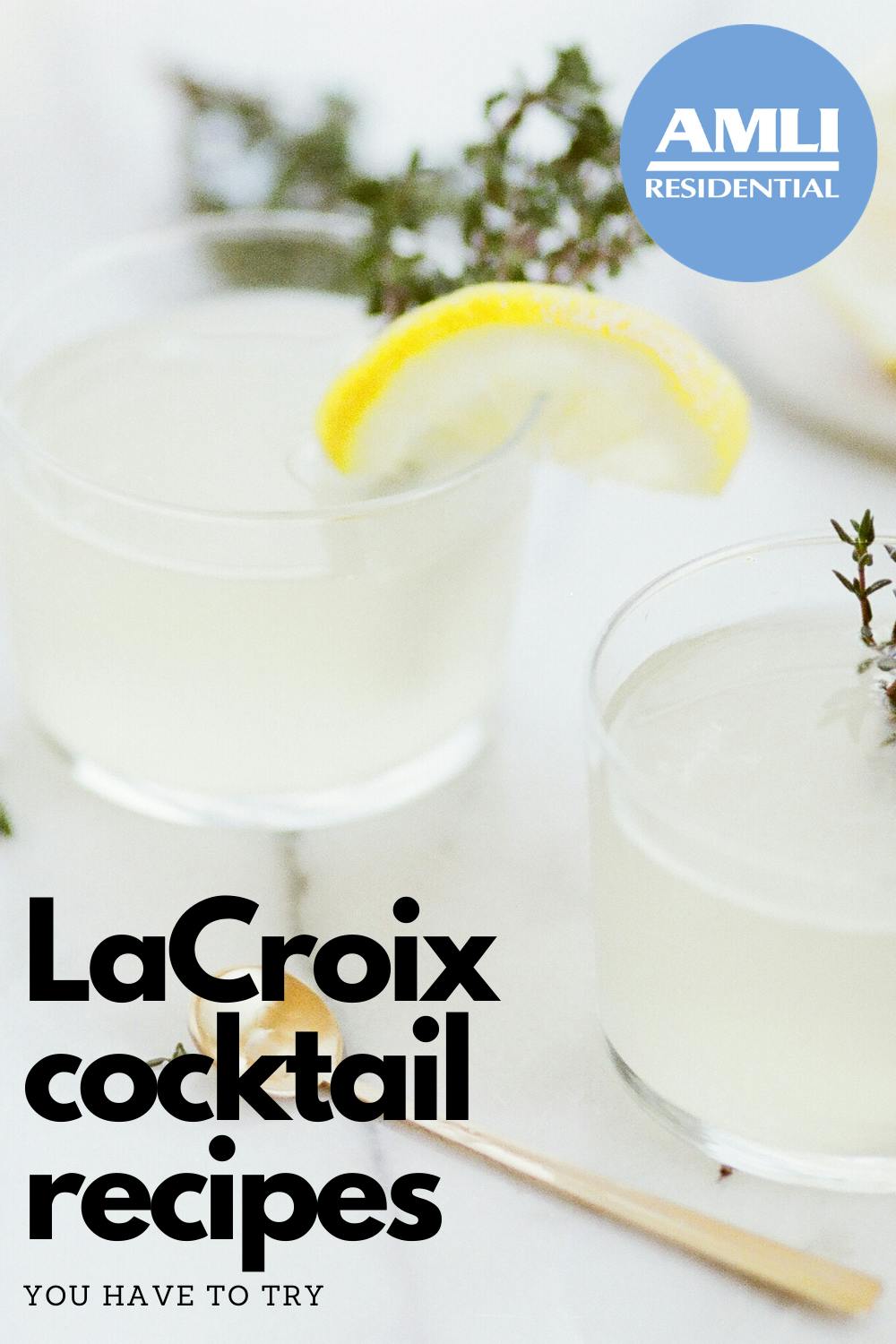 What is LaCroix?
LaCroix is a company that produces sparkling water with natural flavors such as LimonCello, watermelon, tangerine and more. The canned drinks boast zero sodium, zero calories, zero sugars and are all gluten-free, vegan and kosher. Basically, they're a healthier option to sodas, seltzers and other fizzy drinks.
LaCroix can be enjoyed as a standalone drink, but it is also a great ingredient for making healthier cocktails and other mixed drinks! It's a little healthier than using tonic water or sodas since it doesn't have any sugar or sodium, so it's a good option if you're wanting to go a little lighter on the sweet scale. 
So if you're down to try something new for your next relaxing evening, here are a few LaCroix cocktails that you might like! As always, remember to drink responsibly, but you know that already.
Also, if you're interested in more of our cocktail compilations, check out our other blogs posts below!
5 LaCroix cocktail recipes
Bubbly piña colada
This oh-so-easy summery drink is generally pretty sugary and sweet, but by substituting the classic coconut cream for a can of Coconut La Croix sparkling water, you can turn this heavily-blended drink into a much easier and lighter one! We found this recipe on MyRecipes.com, so head there for more specifics on how to make it!
You'll need:
1 can coconut LaCroix
2 shots (1 oz. each) white rum
¼ cup orange juice
Squeeze of ½ a lime
Add all the ingredients to a shaker and shake well. Serve over ice and garnish with a few orange slices and, of course, a tiny umbrella.
Grapefruit and rosemary margaritas
Yeah, I thought this combo from Wilde Flavors was a little strange at first. But boy, it sure is refreshing! Using grapefruit La Croix instead of club soda in a margarita significantly reduces the amount of sugar in the drink, so it's a win-win all around!
You'll need:
1 shot (1 oz.) silver tequila
3 oz. grapefruit LaCroix
Juice of ½ a lime
¼ grapefruit, peeled and chopped
½ sprig rosemary
In a highball glass, muddle the grapefruit and rosemary together. Add the tequila and lime juice, then top it all off with the grapefruit La Croix before mixing together.
Glazed lemon sours
These bruleed lemon sours from Boxwood Avenue are probably some of the fanciest-looking drinks you could make. They'd be perfect for a Sunday brunch or a bridal shower (or for a nice, quiet day in so you don't have to share them with anyone else!). The thing that makes these drinks so special is the sugar-glazed lemon slices, which are then grilled until the sugar starts to caramelize. 
You'll need:
Slice the lemon into ⅛ -inch thick slices and sprinkle each side with coarse sugar. Heat a grill to high heat, then lower the heat to medium-low and place the lemon slices on the grill. When the sugar on the bottom starts to caramelize a bit, flip the slices over and repeat. Remove from heat and set aside.
Combine the vodka and sweet and sour mix in a shaker and shake until combined. Pour over ice in a glass and add the lemon LaCroix over it. Top with a slice of caramelized lemon and boom! You got yourself a fancy drink!
Sparkling blueberry mojito 
This cocktail from With Salt and Wit takes a little extra work, but the homemade simple syrup packs a bold and strong flavor that makes it worth every minute of prep! This particular recipe makes four servings of these blueberry mojitos, so make sure to share it with others!
You'll need:
½ cup sugar or baking stevia
1 cup water
2 cups frozen blueberries
6 oz. white rum
A handful of fresh mint leaves
2 cups berry LaCroix
Add sugar/stevia, water and blueberries to a medium saucepan. Bring to a boil, then reduce temperature to low and let simmer for 10 minutes. Mash the blueberries down as they cook. When the mixture has reduced to a slightly syrupy texture, blend the contents in a blender or with a hand mixer until smooth. This is the simple syrup. Transfer to a container and place in the freezer to cool (but not freeze!) for about 15 minutes. 
In a highball glass, add 1-½ oz. rum and a few mint leaves with some ice. Add about 2 oz. of the syrup and top with ½ cup sparkling water (add as much or as little as you want).
Blackberry cucumber mojito
This refreshing mojito from Eating Bird Food is a light and tasty drink that has just a fraction of the calories a regular mojito has. 
You'll need:
2 blackberries
3 cucumber slices (thinly sliced)
3 fresh mint sprigs
2 oz. Cruzan Key Lime Rum
1 can blackberry cucumber LaCroix
Ice
In a highball glass, muddle the blackberries and mint sprigs together using the back of a spoon. Toss in two slices of cucumber, then add the ice, rum and sparkling water, in that order. Use the remaining cucumber slice to garnish the rim of the glass. Voila!
We hope you enjoyed these LaCroix cocktail recipes. Let us know how you like them! If you're looking for more ideas, check out our list of other summery LaCroix cocktails!
Enjoy!
Pin it!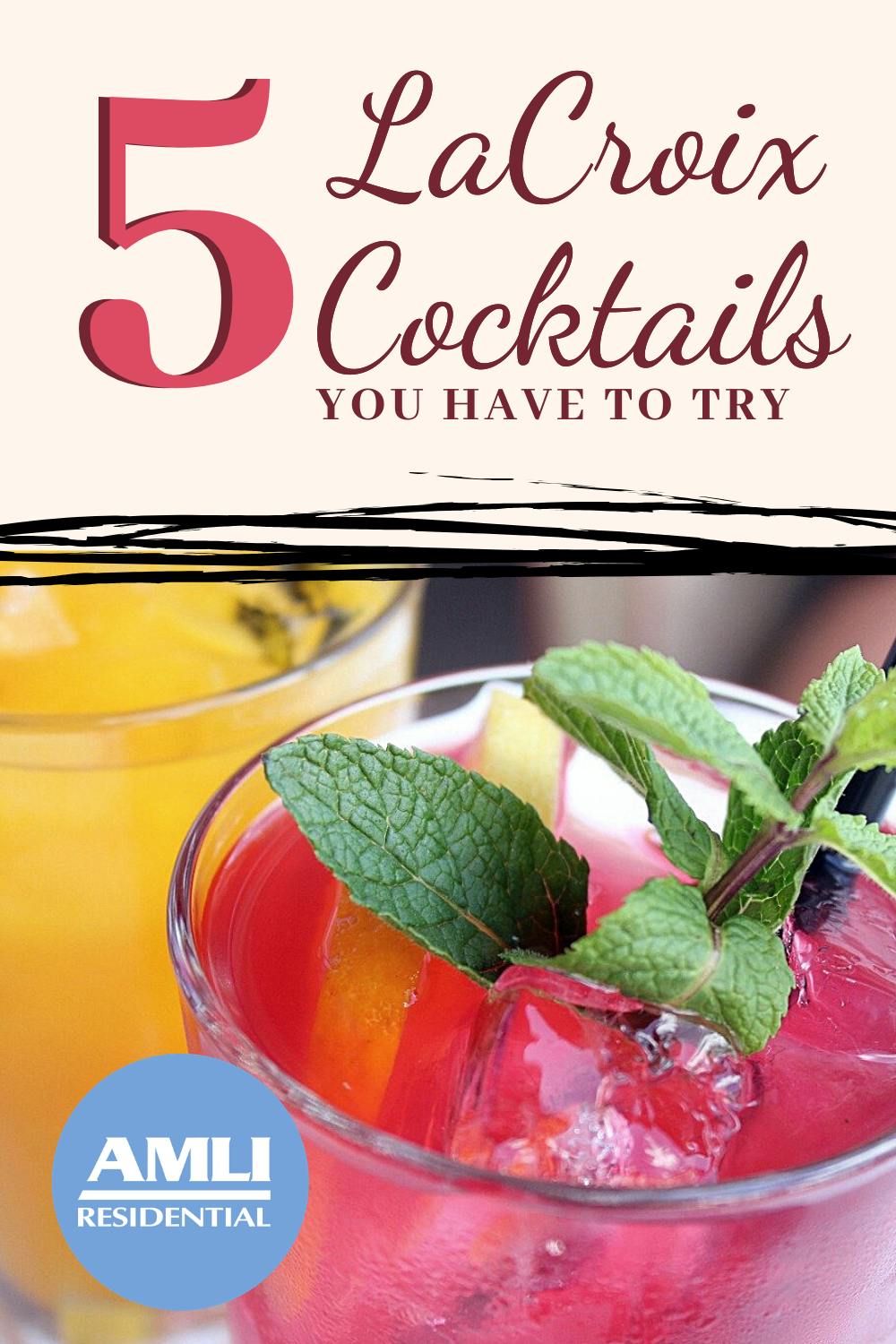 Featured photo courtesy Pixabay/FaceGuard