Green living is a hot trend, and for many consumers it means much more than reducing, reusing, and recycling to curb their carbon footprint. Many environmentally-minded individuals want to live in a home optimized for energy efficiency and built using eco-friendly practices and materials. If green living is something you identify with and you're looking for a Chicago rental apartment, check out the green initiatives made during the design and construction of AMLI Evanston and AMLI River North.
What Both Chicago Communities Offer
AMLI Residential has a strong commitment to the environment, a fact evidenced by the eco-friendly design and operation of its brand new properties and even many of the older ones. The two newest members of the AMLI Chicago family are targeting Leadership in Energy and Environmental Design (LEED) designations for their green design and construction. Built from low emitting materials, both properties are entirely smoke free, ensuring residents enjoy clean air indoors and outdoors alike.
Both Chicago communities offer covered bicycle storage and on-site electric vehicle accommodation for residents. In an effort to save water and energy, AMLI Evanston and AMLI River North are equipped with eco-friendly lighting and plumbing fixtures, and both use sustainable landscaping and maintenance techniques.
AMLI Evanston
A short distance from downtown Evanston, Ill., Lake Michigan, and Northwestern University, AMLI Evanston apartments are designed to reduce energy use by  14 percent and water consumption by 30 percent. With these features and many others such as the use of low emitting materials, AMLI Evanston is targeting LEED Silver certification.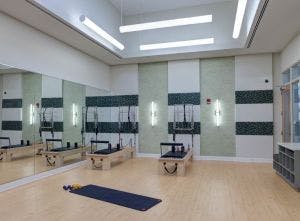 In addition to convenient covered storage for bicycles and electric car charging stations, AMLI Evanston residents enjoy ample storage space and an abundance of amenities including a state-of-the-art fitness center equipped with a Yoga/Pilates studio and a scenic rooftop courtyard and deck replete with an outdoor fireplace and grill. Healthy, fun, and green living go hand-in-hand at this community.
AMLI River North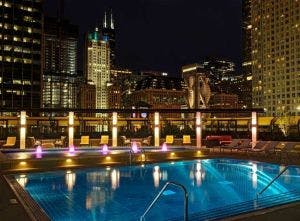 AMLI River North is downtown Chicago's answer to AMLI Evanston. The two communities boast many of the same eco-friendly origins and practices, but AMLI River North is able to target a LEED Gold certification due to its exceptional walkable access to neighborhood businesses and public transit, as well as its' energy saving features such as the green roof.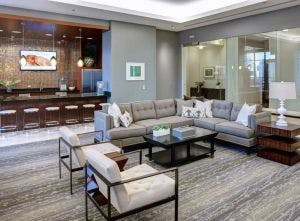 AMLI River North lies within walking distance of Michigan Avenue shops, superb bars and restaurants, the Chicago River, and Lake Michigan. Residents of this luxury apartment community have access to an efficiently heated outdoor pool, as well as a 22,000-square-feet rooftop deck with fire pits and commanding views of the Chicago skyline. Other highlights include an expansive fitness center (also with a Yoga/Pilates studio), private library, and morning lounge with coffee bar.
Regardless of whether you are looking to live in a downtown Chicago rental apartment or a luxury apartment dwelling in the exciting suburb of Evanston, one of AMLI's newest Chicago communities will suit you well. If, that is, you have a passion for enjoying life at a minimal cost to the environment. If these communities interest you, get in contact with us for information on floor plans, pricing, and availability.