Green living is more than a trend. It's a lifestyle. And for many people, it's not just reducing, reusing, and recycling. They want a home that's optimized for energy efficiency and built using eco-friendly practices and materials.
Last year, an online survey by Realtor.com of over 1,400 consumers showed just this. Nearly 85 percent of consumers surveyed said they want to own an eco-friendly residence and are willing to pay more for it.
AMLI Residential has a strong commitment to the environment and a greener lifestyle for our residents. It's important to minimize the impact developments have on the environment. AMLI shows this through their commitment to using LEED certification as a tool for providing healthy apartments for residents. All new developments in AMLI's eight different markets are pursuing LEED certification and continue these green practices through operations.
What is LEED?
The term LEED is still unknown to many. LEED stands for Leadership in Energy and Environmental Design. It is a building certification process developed by the U.S. Green Building Council (USGBC) and was developed to enhance environmental awareness among architects and building contractors. To receive LEED certification, building projects must satisfy prerequisites and earn points to achieve certification: Certified, Silver, Gold, or Platinum. Prerequisites and credits differ for each rating system, which are customized to accommodate building various building types and uses.
AMLI uses the LEED for Homes, LEED for Homes Mid-Rise, and LEED for New Construction Rating Systems to accommodate our various size apartment communities. Teams choose the best fit for their individual projects.
Why Live in a LEED Certified Apartment
Healthy Living
LEED developments offer improved air quality because of the environmentally preferable materials and building practices. They also use low-VOC paint, adhesives, sealants, coatings, and emitting materials such as Green Label Plus certified carpet and FloorScore certified flooring to reduce the amount of contaminants introduced to indoor air.
Save on Utilities
Green apartments help you save money because they require less energy and water usage. They use energy efficient household products, are equipped with eco-friendly lighting and plumbing fixtures, and use Energy Star recommendations. They also ensure proper air sealing during construction and install energy efficient windows to help maintain interior building conditions.
Reduce Your Environmental Impacts
LEED certified buildings create less of an impact on natural resources. They make the most of their resources, reduce the quantity of materials used and waste generated, and recycle waste materials during the construction process.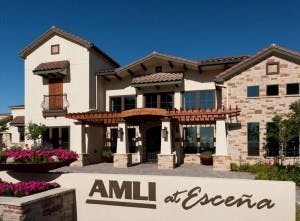 Tip of the Hat to the AMLI Development and Management Teams
The USGBC named the recipients of the 2013 LEED for Homes Awards which recognizes projects, developers, and homebuilders who demonstrated outstanding leadership in residential green building. AMLI Resident won not one, but two of these prestigious awards: Outstanding Commitment to LEED and Outstanding Multifamily Builder for AMLI at Escena, a wood-frame, garden-style, LEED Gold 440-unit apartment community in Irving, Texas.
AMLI continues to take steps toward a more sustainable living environment for our future.  Green living is important to us, and we hope it's important to you too.  To learn more about AMLI's commitment to sustainability, visit the Green Initiatives page.