Home to Northwestern University, Grosse Point Lighthouse, and a diverse population of some 75,000 people, Evanston is a vibrant and exciting place for students, young professionals, and families to live.  The City of Evanston and the surrounding area offer residents of this North Chicago suburb just about everything they could ever need or want for daily living, and AMLI Evanston provides them with an ideal setting for enjoying and getting the most out of life.  Today, we have decided to feature this new upscale living community for residents of the Chicago area and any other AMLI community who may be interested!
Location
While one of the major advantages of living in Evanston is the ease and speed with which you can travel into the city by train, Evanston has a lot to offer in its own right.  And when you live at AMLI Evanston, you are within walking distance of much of it.  Not only are the streets around AMLI Evanston lined with independent retailers, tasty eateries, and trendy bars. The community is located near the beautiful shores of Lake Michigan (a five-minute walk away).  The culture generated by one of America's finest universities filters through to the neighborhoods surrounding it, including that in which AMLI Evanston is located.   The resulting intellectual energy and eclectic flair are enjoyable for and can benefit people of all ages.
Amenities
AMLI Evanston luxury apartment dwellers enjoy the finest in-house amenities, ranging from state-of-the-art kitchen appliances and Juliet balconies to a well-equipped social lounge and community rooftop terrace with fire pit to make socializing outdoors more comfortable in the spring and autumn.  Graduate students and young professionals also enjoy the comfortable built-in tech spaces that come in some apartment homes and the community's chic cyber spot, replete with copier, fax, and scanner.
Design
From the social lounge's ambient lighting and ergonomic furniture to the Berber carpet found in bedrooms and Moen gooseneck plumbing fixtures and designer tile backsplashes in kitchens, the design of AMLI Evanston seamlessly combines luxury with practicality.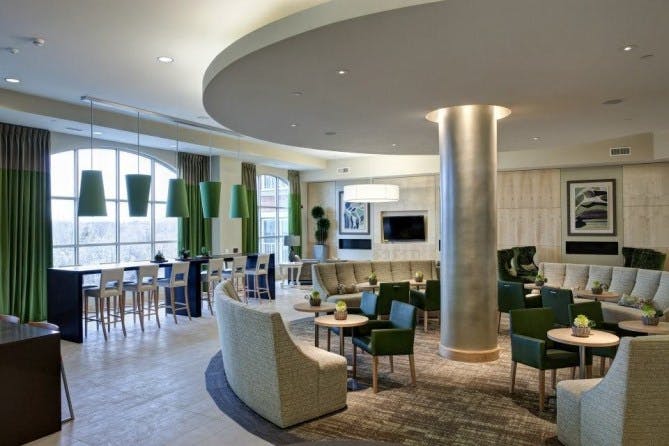 Recreation
AMLI Residential promotes healthy living, and AMLI Evanston was built to make meeting fitness goals and maintaining a healthy lifestyle easier for its residents. Community residents enjoy free access to a brand new fitness center, equipped with state-of-the-art machines and free-weight systems.  Yogis and Pilates lovers can practice in a private studio, already stocked with two Pilates reformers.  Cyclists can return from exhausting rides on the area's greenways and simply roll their bikes to a convenient bicycle storage room before showering and rewarding themselves with a nap or a meal.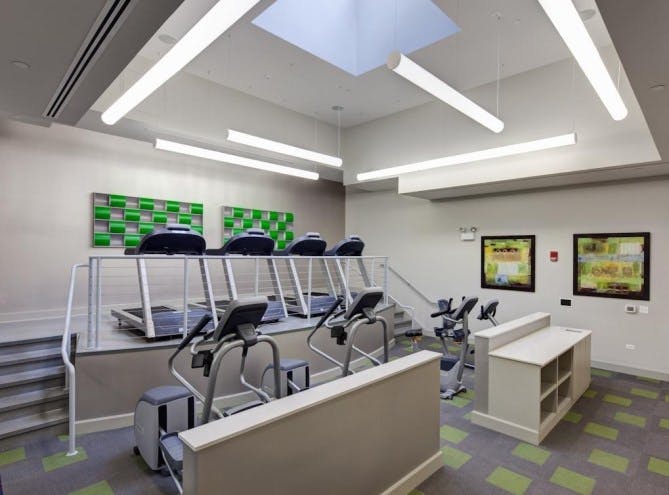 Healthy Living
Healthy living may start with regular exercise, but it encompasses much more than that. AMLI Evanston is a Breatheasy smoke-free community where sufferers of allergies and asthma will find that the air does not aggravate symptoms of their conditions.  A full set of high performance kitchen appliances and ample refrigeration and storage space makes the preparation of healthy, home-cooked meals easy.  The building was designed to meet Leadership in Energy and Environmental Design (LEED) Silver criteria. Energy-efficient lighting and plumbing fixtures help consumers conserve energy without making any effort, and an on-location recycling center gives residents little excuse to not do their part to ensure that recyclable and reusable materials are not thrown away.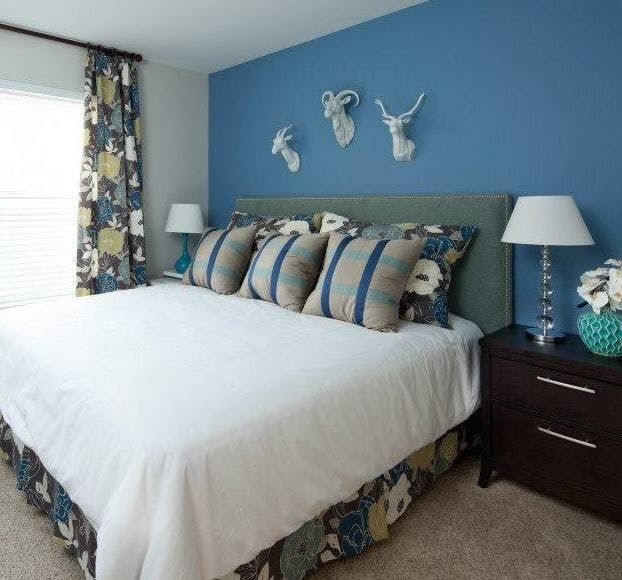 From single-occupancy studios to three-bedroom family apartments, AMLI Evanston has apartments that are ideal for households of most sizes.  For information about floor plans, pricing, and availability, simply contact the leasing office. If you haven't already found a beautiful Evanston luxury apartment to call home, then you should definitely check out these apartments. AMLI's motto is "Live Life. Love Life."  And we like for our residents to do just that.