With a premium location in northwestern Seattle's Ballard neighborhood and AMLI Residential's signature services and amenities, AMLI Mark24 is bound to be one of those luxury apartment communities that makes nonresidents think to themselves I could live there.  Yeah, I would like to live there.  Even though it will not open its doors until well into 2014, AMLI Mark24 has generated quite a bit of buzz.  Read on to find out why:
Location

Situated between 24 and 26 Aves. on the serene Salmon Bay, its location could be called unbeatable.  Ballard is a walkable neighborhood, and numerous cafes, restaurants, and bars are located within ten minutes of the AMLI Mark24 site.  Fresh, affordable seafood can be enjoyed at Chinook's at Salmon Bay.  For special occasions, the upscale waterfront dining room at Ray's Boathouse should do.  The neighborhood has a palpable Scandinavian influence, and is home to several historic Scandinavian-style buildings.  It is also host to numerous Scandinavian cultural events throughout the year, and an exceptional weekend farmer's market.
Recreational Amenities
AMLI Mark24 is being built to exploit its prime location, with views of Salmon Bay and the majestic Olympic Mountains from many of its luxury apartment homes and common areas.  A 3,500 square-foot sky deck—equipped with a fire bit, barbecue grills, and a green roof—will make entertaining a breeze for the property's residents. Rainy days can be spent making use of the intricately decorated clubroom, replete with a full kitchen and large-screen entertainment cent.  The community's lush courtyard will provide an ideal environment for reading, resting, and relaxing on nice summer days.  Anticipating that many of our residents will be taking advantage of the wealth of recreational activities the greater Seattle area has to offer, numerous individual storage closets and kayak storage facilities will also be available on site.
Premium Fitness Zone
To get those arms in shape for lengthy kayaking adventures and keep your cardiovascular system in great shape, you will have access to a well-equipped fitness center.  State-of-the-art free weight machines and a designated yoga studio will be among the completed gym's amenities.
Atmospheric Business Center
Working from home will be pleasant for AMLI Mark24 residents, who can keep their workspace distinctly separate from their dining and sleeping space by utilizing the WiFi equipped cyber zone.  Ergonomic furniture will promote good posture, while a cleverly designed work space will promote the type of productivity that all people who like to work hard and play hard strive for while fulfilling the working component of the equation.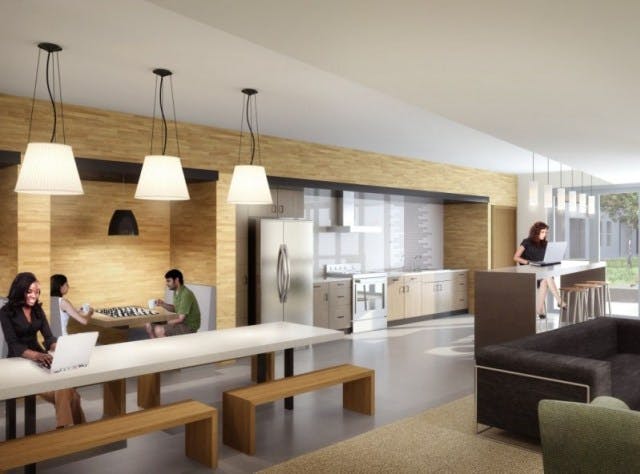 Choice of Interior Design Finishes
AMLI Mark24's wood-floored, vaulted-ceilinged luxury apartments come equipped with washers and dryers, stainless steel kitchen appliances, programmable thermostats, and solar shades.  The community's first residents will also have a choice between two interior design finish packages, a luxury that few apartment dwellers are afforded.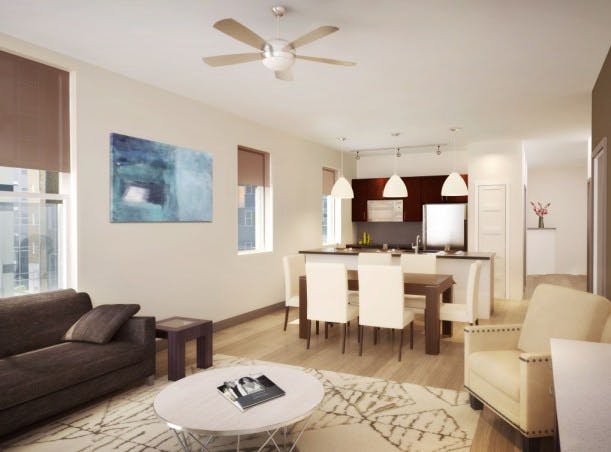 Pet Friendliness
Like most of AMLI's luxury apartments, AMLI Mark24 welcomes residents with well-behaved pets.  And the building's facilities have been designed with these four-legged residents in mind.  The building's lush grounds feature an off-leash play area and a pet spa where for convenient grooming.
Green Design
The green roof that residents will enjoy when hanging out on the sky deck is not the only aspect of AMLI Mark24 that will be green.  Far from it.  Since the conception phase, the building has been on track to earn a Leadership in Energy and Environmental Design (LEED) certification.  Constructed with green materials and fitted with water-saving plumbing fixtures, AMLI Mark24 will feature recycling facilities on every floor and reduce harmful greenhouse gas emissions.  Smoke-free inside and out, the community will be one of the healthiest residential buildings in Seattle.
For updates on what will be a spectacularly livable residential community at the time it is finished, visit our page on Seattle apartments.  We will be posting pictures as they become available, as well as information about floor plans, pricing, and availability.  In the meantime, trek out to Ballard and take a walk around the neighborhood.  You will know right away whether it is right for you.