AMLI Uptown resident Chári Herndon, featured on the blog this spring for her impressive balcony makeover, recently completed another Home Depot makeover challenge. Using a color scheme of cobalt blue, gold, and red, Chári transformed her living room into a holiday wonderland. We recently interviewed Chári about her participation in the latest Home Depot style challenge. Here's what she had to say, accompanied by photos of her stunning Christmas morning scene.
Chári: Almost every single aspect of my makeover stemmed from things reminiscent of my childhood holidays. Christmas was a big deal in my home! It was the holiday we looked forward to the most. It was important to me to incorporate these nostalgic elements into my décor. I distinctly remember so much from the holidays of my youth: writing a letter to Santa for my brother and me when he was too young to write; my teacher reading The Night Before Christmas book to our Kindergarten class; leaving out milk and cookies for Santa on Christmas Eve.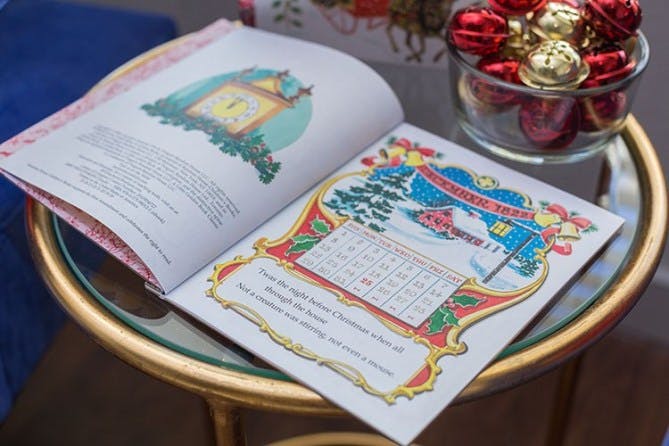 J: 
C: I would have to say my new favorite holiday decoration is my Martha Stewart 9ft Pine Christmas Tree. It is the nicest artificial tree I've ever owned. The quality is impeccable, and I am blown away by how real it looks!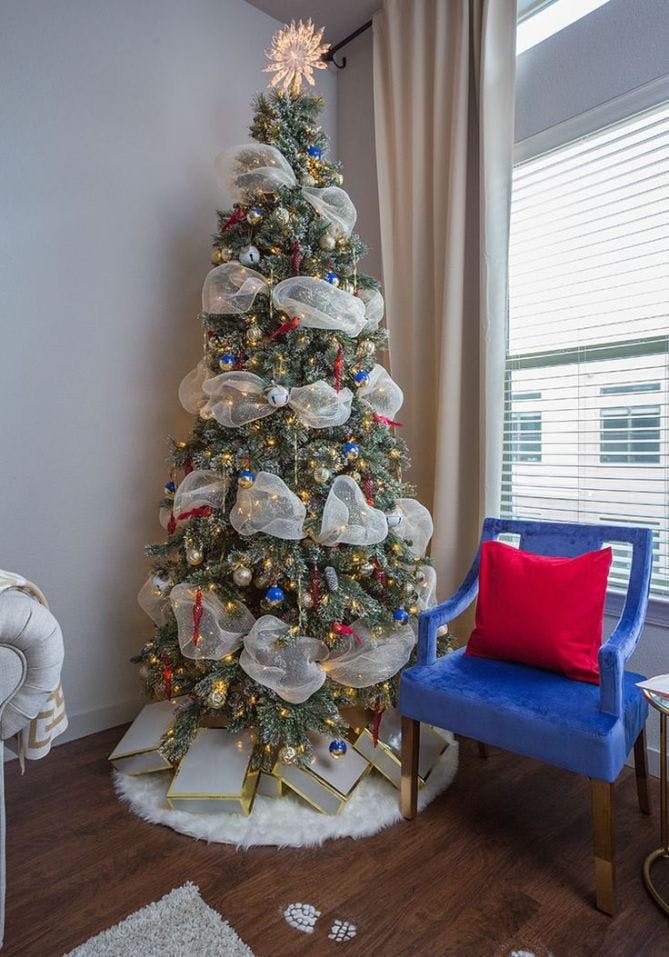 J: How long did you spend working on the makeover? What was the most time-consuming part of the process?
C: I spent roughly a month completing this project. The most time-consuming part of the makeover, wasn't anything to do with the makeover itself. It was reorganizing and decluttering my craft storage closet to make room for all the new products I would be purchasing. When we moved from Florida to Houston, I stored most of my holiday decor in bins and boxes. I sorted through all those things, decided what to keep and what to donate. My old Christmas tree was one of the most space-consuming items. Since I had purchased a new one from Home Depot, I decided to donate it.
C: We moved to Texas last year at the end of October. I immediately started working a week later. I didn't have a chance to decorate for the holidays because it all happened so fast. I enjoyed this project so much because it gave me a chance to decorate for Christmas, for the first time, in our place. I was most excited about that and promised myself last year that I would do something really nice this year for my Christmas décor. Needless to say, when Home Depot asked me to join this challenge, I was thrilled.
J: Did you create this Christmas morning scene earlier than you usually decorate for the holidays?
C: My blog post was submitted to Home Depot on October 30, and my complete makeover was done a week prior that. This was a lot earlier that I normally would decorate for the holidays. I'm usually one of the people who decorates after Thanksgiving, but I have to say, I think I may start decorating around this time every year going forward. It's such a relief to have everything completely done and decorated before we get into the thick of the holidays. It has given me a chance to truly sit back and enjoy it. Also, from a blogging standpoint, it works out better to have material to use earlier on for my readers and followers to gather inspiration for their spaces.
J: 
C: I have said that this is by far my favorite décor I've ever styled for Christmas. I would probably keep the same aesthetic but switch up small things, like color schemes and décor accents, in the future. I'm happy with everything I decided to do and all of the elements I chose to incorporate into this challenge. I don't see myself changing things up much, if at all.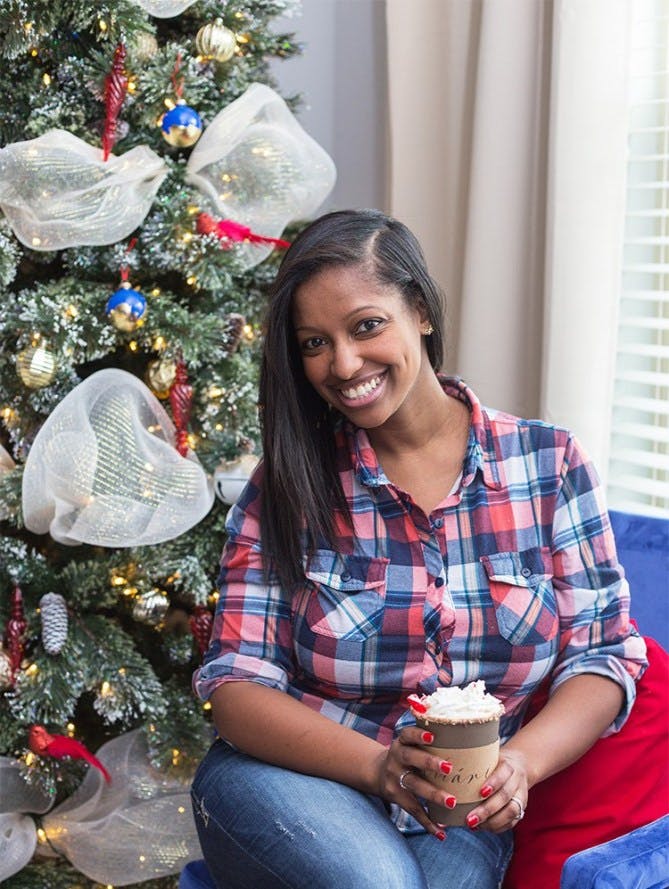 J: Will you be hosting any holiday gatherings in your newly decorated living room?
C: Yes! I'm hosting a small gift swap at the beginning of December for my Sweet Savory Decor girls. This will be the first time we've done a gift exchange, and I'm hoping it can become a tradition for us. I'll be decorating the boxes under the tree, and am considering featuring them in a blog post about ways to personalize gifts.
J: Do you have any other exciting decorating projects or makeovers planned or in the works?
C: The next project I have my sights on is doing a master bedroom refresh for the new year! I love redecorating and starting new at the beginning of the year. I think redecorating your favorite space is a great way to give yourself a fresh new start and reset for the year ahead.
J: Is there anything else you'd like to share with us about this project? Do you have any tips for readers looking to decorate for the holidays or better decorate their spaces in general?
C: I would like to share the exclusive tutorial I shared with my readers on incorporating a Nutella-flavored rim for your hot chocolate. I think this will be a hit for those hosting holiday parties. I set up a Self-Serve Hot Chocolate Bar Cart as part of my holiday makeover and it was a hit. It's been one of my most pinned articles on Pinterest to date!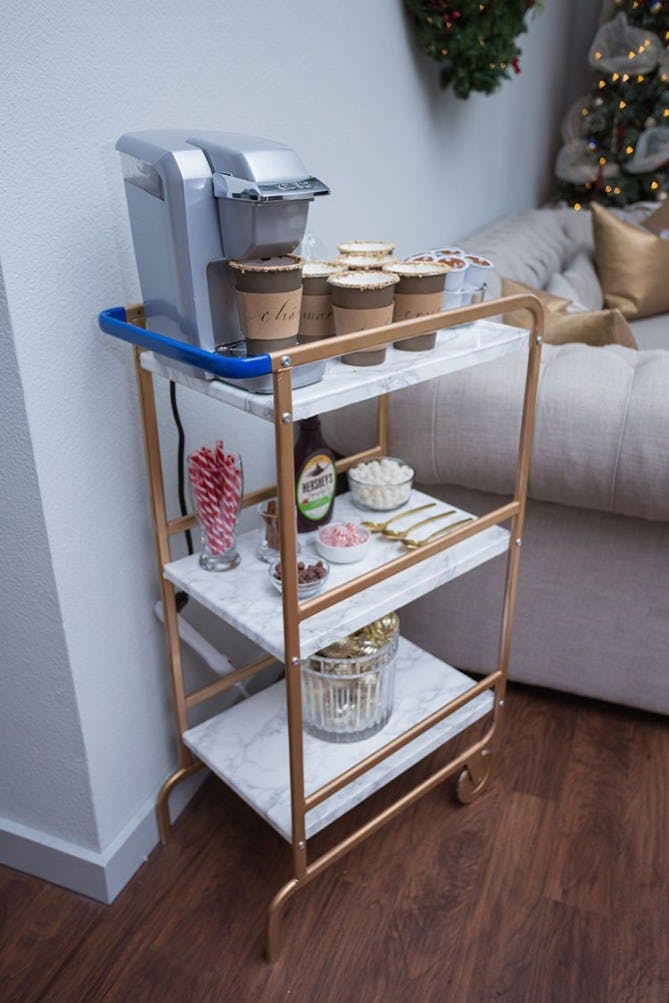 Thank you, Chári, for insight into your holiday makeover and for collaborating with us again. Your style, talent, and work are inspiring. We wish you the best with your master bedroom makeover and any other projects you take on in the future!
Photography by Savannah Montgomery.
For more interior decorating inspiration, party hosting tips, and DIY tutorials from Chári, check out her blog Chic Home Style. 
Like what you just read? Why not subscribe to the AMLI Blog so you don't miss another post?