It has been a long, cold winter for Chicagoans.  For nearly all of us, summer serves as a reward of sorts.  A handful of Chicago residents will be rewarded extra handsomely this summer, as they pack their belongings into a U-Haul trailer or stuff them into a cab bound for 71 W. Hubbard Street.  Designed and built for LEED Gold certification, this is the address of AMLI River North, a brand new, smoke-free Chicago luxury living apartment community that many of Chicago's finest have had their sights set on since its groundbreaking in September of 2011 .  Residents of AMLI's newest Chicago apartments will enjoy:
A Prime Location
AMLI River North is a true 24/7 neighborhood. The best restaurants, bars, culture and nightlife are literally all within walking distance, making this a perfect spot for those who want to be in the middle of the action. This is also a transportation hub, so catching a cab, bus or train is never difficult. And if it's nature you're craving, the Chicago River is just three blocks away and the beaches of Lake Michigan less than a mile.
Stellar Views
Yes, River North is a premier Chicago location.  Yes, there is no shortage of skyscrapers in the area.  However, AMLI North has been strategically placed so that residents' views will not be obstructed by skyscrapers in all directions.  According to The Chicago Architecture Blog, the apartment building will have a "prominent presence" in the area.  Residents of the highest floors will enjoy park, lake, river, and skyline views from their windows and balconies.
The Best in Design
After securing the prime real estate on which this apartment community sits, AMLI made sure that only the finest architects and designers would be working on this project. A few features residents will enjoy as a result include:
Rich wood flooring in great rooms and entryways
Elegant granite countertops in kitchen and baths
Modern, exquisite plumbing and designer lighting fixtures
Designer Berber carpet in bedrooms
Amenity-Rich Kitchens
Knowing that the kitchen is the heart of the home for many households, no skimping was done on River North's kitchens (nor anywhere in the apartment homes, for the matter).  Residents will enjoy spacious Espresso shaker style kitchen cabinets, accompanied by designer tile backsplashes; stainless steel GE kitchen appliances; undermount stainless steel sinks; and aesthetically pleasing gooseneck kitchen faucets.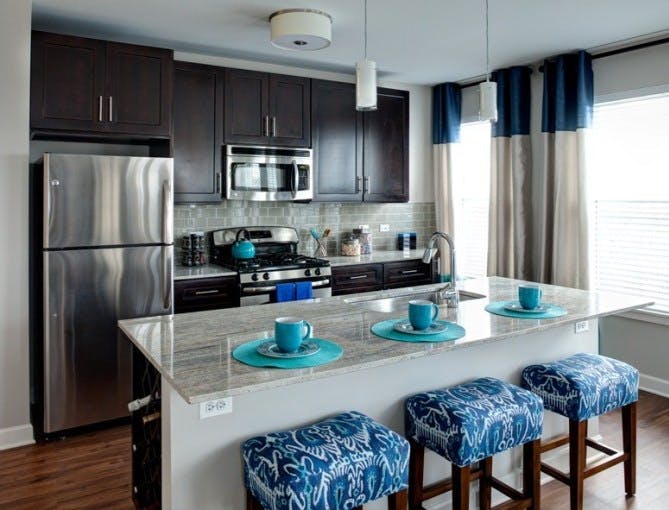 Exceptional Air Quality
Not only is AMLI River North entirely smoke-free.  The building was constructed with low emitting materials and is equipped with state-of-the-art heating, cooling, and air filtration systems that will provide its residents with some of the cleanest air that can be found anywhere in the city.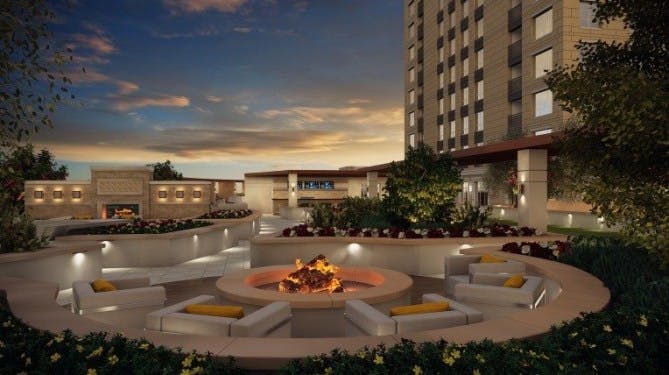 Fully Equipped Business Center
Ergonomically furnished and equipped with a scanner, copy machine, fax machine, and high-speed WiFi, the community's business center will offer residents who sometimes need to bring their work home with them a pleasant and productive atmosphere in which to do so. Talk about Chicago luxury living.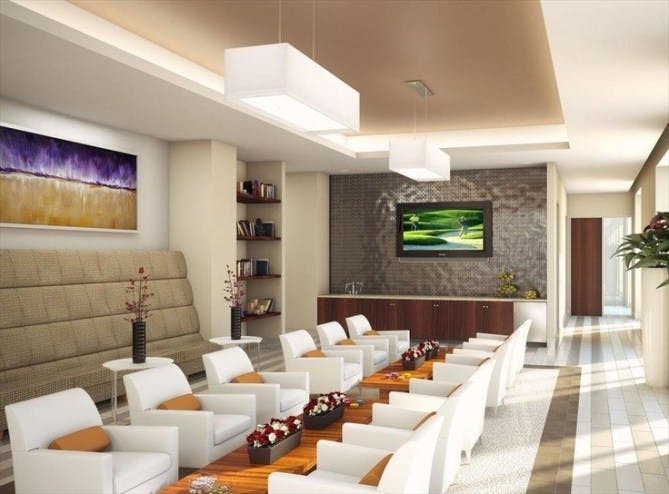 Expansive Fitness Facilities
Gym facilities in some apartment communities are so poorly equipped that they almost seem to promote outside gym memberships. For residents of AMLI River North, this will be a foreign concept.  The high-impact recreation center will be equipped with state-of-the-art training equipment for all muscle groups, ellipticals, treadmills, and free weight machines.  It will also feature a yoga/Pilates studio with two Pilates transformers.  If all this isn't enough, residents can improve their cardiovascular fitness in a joint-friendly way by swimming laps in the heated outdoor pool.
Recreation/Entertainment Options Aplenty
The luxurious outdoor pool, replete with private cabanas and televisions, is only one of several places where residents can relax and enjoy the company of friends, family members, and neighbors on-site.  Other entertainment- and recreation-based spaces include a golf simulator; indoor/outdoor theater; outdoor kitchen; fire pit and fireplace.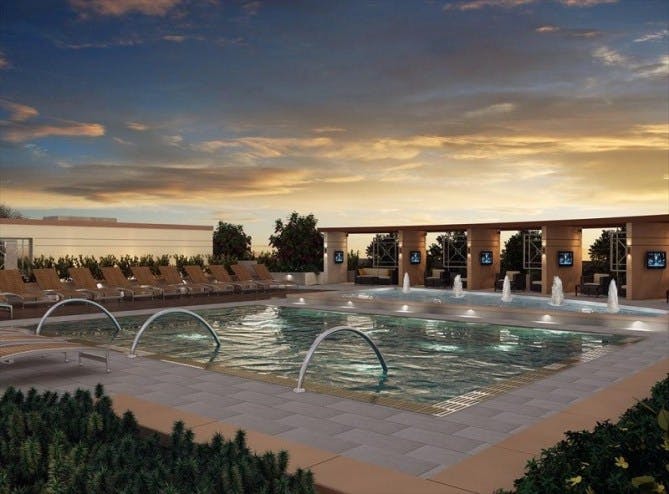 Pet-Friendly Atmosphere
Chicago luxury living is not just for people. It is also for pets. Like many of AMLI Residential's upscale living communities, River North will be pet-friendly.  So pet-friendly, in fact, that a private rooftop dog run and pet wash have been incorporated into the community's design for the comfort and convenience of two-legged and four-legged residents alike.
In-House Shopping
The famed storefront displays of Michigan Avenue's Magnificent Mile are located within walking distance of the AMLI River North site, as are State Street's historic shopping centers.  But residents who need to purchase something in a hurry or who enjoy shopping so much that no window displays could possibly be too close to home for their liking will thoroughly enjoy the community's ground floor retail space. This is Chicago luxury living at its finest.
AMLI River North is sure to be a point of pride for the AMLI Residential group.  Every square inch of the 50-story Chicago luxury living high-rise was created with comfort, aesthetics, and ergonomics in mind.  And this shows. If you are thinking about upgrading to a finer living environment, e-mail AMLI's leasing office or call (877) 442-5135 to inquire about availability.  A lifestyle hatched at AMLI River North is a lifestyle worth living.