According to Home Depot's blog, the home improvement supplies company hand selects the best and brightest decorators and DIYers for its style challenges. At the beginning of March, certified interior decorator and AMLI Uptown resident Chári Herndon was asked to participate in Home Depot's balcony makeover challenge, giving it a fresh and fabulous new look and feel. She enthusiastically accepted. She'd lived in apartments for 11 years, and never truly made over her own balcony or patio before. Chári decided it was time to focus on the space she had neglected most. We recently interviewed Chári about her balcony makeover. Here's what she had to say, along with some before-and-after photos of her AMLI Uptown balcony makeover project.
Jason: From start to finish, how long did you spend working on your balcony makeover?
Chári: Including shipping times for items ordered, I spent a month working on my balcony makeover.
J: What was the simplest part of the makeover process?
C: The simplest part of my makeover will probably shock you, but laying my composite deck tiles was the easiest DIY project I've ever done—no kidding! The entire process, starting with the super-quick shipping, was seamless. It took me less than 30 minutes to completely install the tiles. I was shocked at how simple it was to do entirely on my own.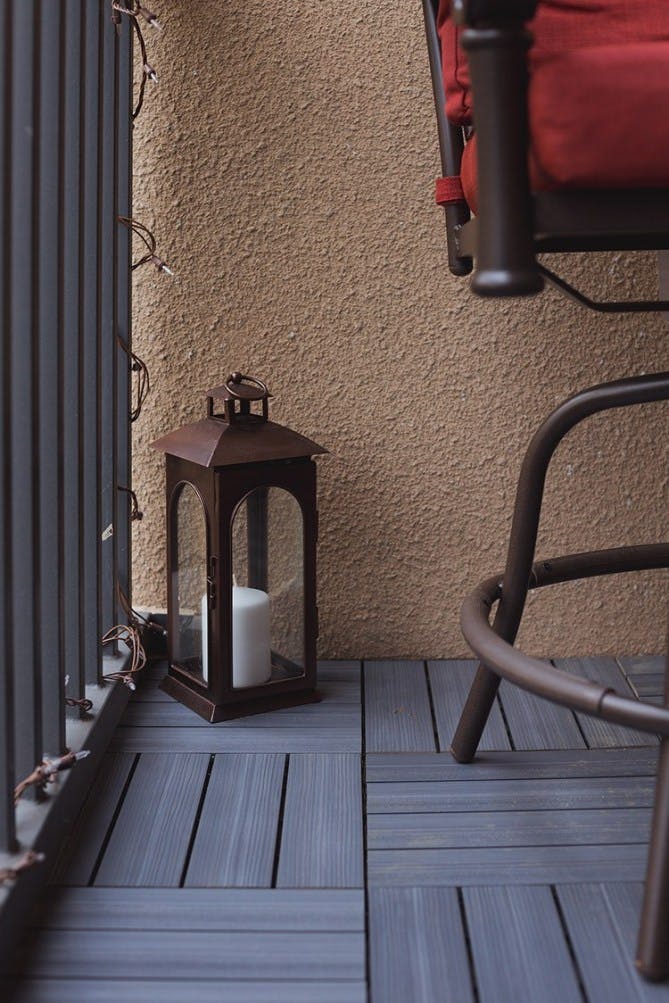 J: How about the most challenging or difficult?
C: The most challenging part of my makeover was coming up with a way to fill the space around my patio set so that it was balanced and didn't look too cluttered. Home Depot sent me the smallest two-piece set in their new line. However, the set took up a lot of space on my balcony. I had to get creative because after the patio set was in place, I didn't have a lot of space left to work with. I came up with some really cool ideas, including a little DIY hanging garden project, to incorporate.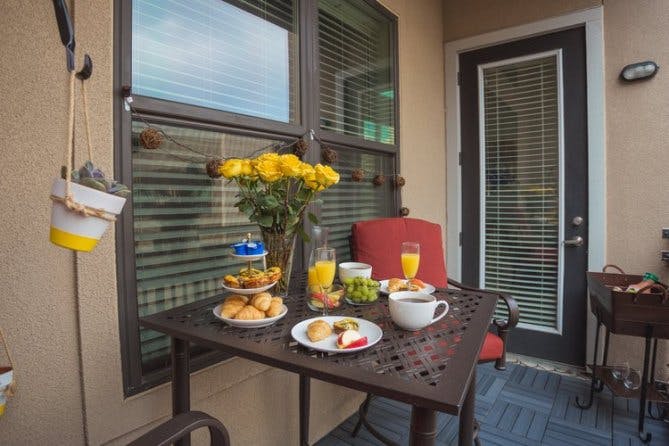 J: Is there any work you'd still like to do on your balcony, or do you feel the makeover is truly complete? Do you see yourself changing things up on your balcony in a few years or when you next move?
C: For the most part, I feel my makeover is complete. I'm working on adding a little more greenery, but that's about it. The setup I have now works perfectly for my current balcony. I don't doubt that I'll change things up a bit whenever we move. I believe every space is unique and you should work with what speaks to that particular space. In the future, I'm hoping for a bigger balcony or patio that I can do ever more fun things with.
J: Do you have a favorite moment on your "new" balcony so far?
C: Now that I've finally got an outdoor space to enjoy, I'm obsessed with it. I spend a ton of time outside, working and enjoying the fresh air. My balcony has quickly become my new "office." I find it soothing and relaxing to just sit outside, as the sun goes does, and have a nice dinner or just wind-down from a long day of work–it's the most rewarding experience. I wonder how I've gone this long without ever taking the time to create an outdoor retreat.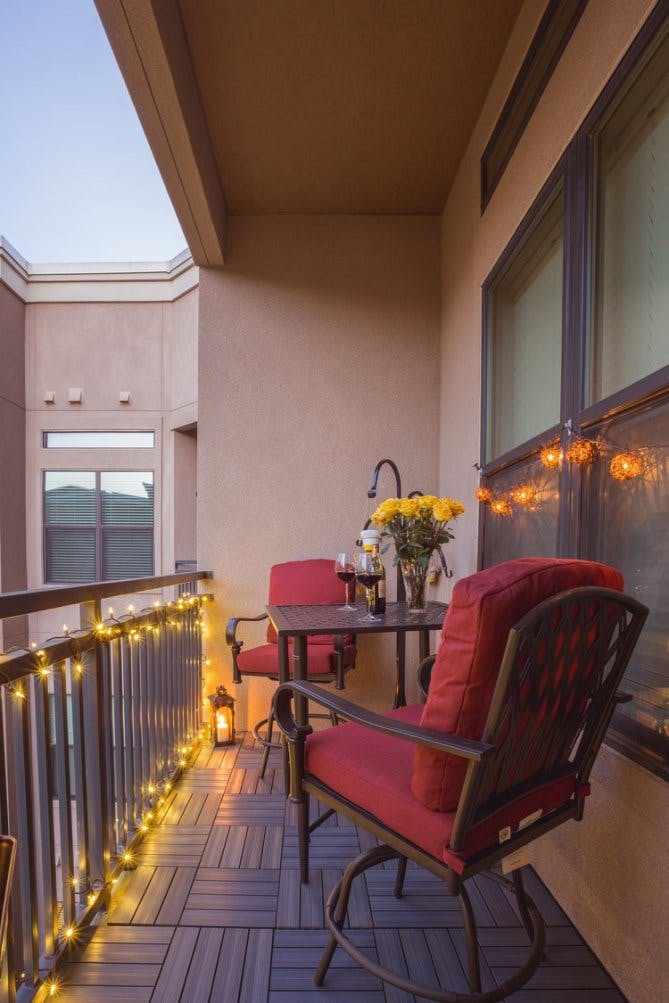 J: Do you have any idea what your next DIY project or makeover will be? Are you already working on something else?
C: I actually found a super inexpensive utility cart that I'm going to complete a DIY makeover on. I'll transform it into a bar cart for the empty corner in my living room. I've been searching for the past six months for the perfect piece for this empty space, and I'm so excited to complete this project. I'll share the DIY how-to with my blog subscribers in a couple weeks.
J: As an interior decorator, have you ever done much work on others' balconies/patios? Do any projects stick out as worth sharing?
C: My balcony was my very first outdoor space, but the project that stands out to me was my most challenging to date. I was tasked with decorating an entire five-bedroom home on a strict budget, and completely from scratch. A blank canvas is a dream come true for an interior decorator. It was so much fun, but definitely challenging.
J: Is there anything else you'd like to share with us about this project? Do you have any tips for readers looking to makeover their balconies, etc.?
C: The best advice I can offer to readers is this: No matter whether you're renting or you own, your home is what you make it. It should be a place of comfort and a true oasis. You deserve to live in a space where you and your family enjoy spending time. There are endless options and things you can do as a renter, so don't get discouraged or feel like it's not worth it to put forth the effort to make a space you may live in temporarily feel like your own. You'll be happy if you put forth the ever, never regretting your decision to make your place truly feel like a home.
Read more about what Chári had to say about her DIY balcony makeover on her blog, Chic Home Style Interior Decorating. Visit Home Depot's blog for their write-up on Chári's Style Challenge participation and more DIY project ideas.
Photography by Savannah Montgomery.