The AMLI Residential brand has established a name for itself as one of the country's premier luxury apartment chains.  With the unveiling of AMLI's newest Atlanta area property, AMLI North Point in Alpharetta, the company's reputation has only been fortified. Here are a few reasons why this new North Atlanta luxury apartment community will not disappoint its residents:
Prime Location
Located just 25 miles from Downtown Atlanta and its world-class urban offerings, AMLI North Point provides residents with the opportunity to enjoy all that the big city has to offer without having to live right in the thick of it. Regardless of whether you commute downtown to work daily or visit on the weekend for a concert or sporting event, you will always have the peace of mind of knowing that you get to return to your serene, uncongested Alpharetta apartment home.
Proximity to downtown is one advantage of this North Atlanta luxury apartment location.  Another distinct geographical advantage is the presence of Big Creek Park in AMLI North Point's very own backyard. A beautiful, forested public recreation space, Big Creek Park has a scenic, well-maintained nature trail that is perfect for a post-work jog or a weekend mountain biking jaunt.
Kitchen Built for a Chef
Setting aside the fact that space limitations make housing a full set of commercial kitchen appliances a no-go, the kitchens in these brand new Alpharetta apartments look like they were built for use by esteemed sous chefs. Granite countertops mesh with stainless steel appliances and Chestnut or Espresso shaker cabinets to create a warm and pleasant cooking environment. Travertine tile backsplashes protect against damage from smoke and steam emitted by the stovetop.  And optional pantries and kitchen islands offer more storage and food preparation space. What are you waiting for? Put on your fluffy white hat and apron and  transform your two-story townhome rental into an exclusive, by-invitation-only restaurant for the night. You'll have a blast, and your friends will enjoy the food you prepare and the ambiance of your North Atlanta luxury apartment.
Lagoon-Style Swimming Pool
From a well-appointed outdoor kitchen and fireplace area to a state-of-the-art two-story fitness center replete with Apple TV, AMLI North Point residents do not lack for want of community amenities.  Still, one of the community ground's most magnetic draws is its lagoon-style swimming pool.  You will feel like you are on a resort vacation far away from the comforts of your North Atlanta luxury apartment.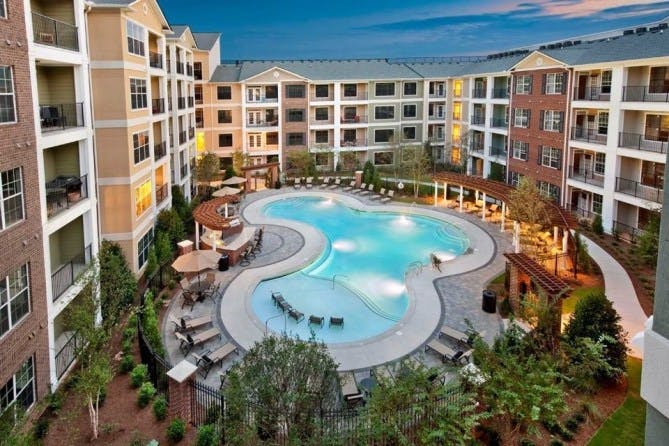 Eco-Friendly and Healthy Living Community
Living an eco-conscious lifestyle is easy for residents of AMLI North Point in Alpharetta, Georgia.  Awarded LEED Gold certification by the U.S. Green Building Council, these brand new North Atlanta luxury apartments were built with the goal of keeping consumption of water, energy, and other environmental resources to a minimum.  Dual-flush toilets cut annual water consumption by tens of thousands of gallons and energy efficient designer lighting fixtures provide ambient lighting without excess.  An on-location recycling center makes it easy for residents to do their part in the recycling of reusable materials, and the brand new Alpharetta apartments' community-wide smoking restrictions promote cleaner, healthier air throughout every square foot of the apartment grounds.
Loving the life you live is easier when you settle in a North Atlanta luxury apartment home.  If luxury, maintenance-free living on Atlanta's periphery appeals to you more than a life that is centered around a downtown Atlanta apartment location, then you should look into availability, pricing, and floor plans at the Atlanta Metro area's newest upscale AMLI community.