Art captivates. Art inspires. Art stimulates.
Art is a means through which you can express your personality and no apartment is complete without it.
If you are looking for art for your luxury apartment and want to ensure what you choose meshes with your design, take the following tips to heart.
Choose a Form
From paintings to photographs to drawings to sculptures, there are several forms of art with which you can decorate your apartment. Choose what appeals to you most. If you plan to use both framed photographs, paintings, and some 3-D art, make sure the pieces you choose complement one another.
Do Your Research
Before you buy any art for your apartment, look at enough to get a feel for what is available, what you like, and what you can expect to pay. Visit galleries and festivals, and conduct a visual survey of the art that is most accessible to you. This may be urban photography captured by a brilliant local artist such as Myan Soffia, an up-and-coming Los Angelino who is in love with her adopted city and enjoys capturing photographs of her surroundings. It may be prints of iconic works of art produced by the world's great masters, from Da Vinci to Picasso to Warhol. There are advantages to owning replicas of well-known artwork and originals of little-known works, and it is up to you to decide what the best combination is for your apartment.
Give Your Preferences Their Due
When it comes to choosing art for your apartment, what you think matters. When selecting colors, moods, and themes, make sure your personality is reflected in your choices. Consider your decorative tastes when touring the public spaces of a community, as art you walk by or see on a regular basis in the clubhouse or lobby of the apartment community should also please you. AMLI Lex on Orange, just across from the Americana at Brand in Glendale, Calif. has recently acquired some mesmerizing Myan Soffia photographs. Myan Soffia says, "L.A. is my absolute favorite muse" and it shows in her photographs. She captures the city as she sees it, "magical, vibrant, and full of life." Lex on Orange chose some of their favorite spots in sunny L.A. and hung them up so all of the residents can enjoy them.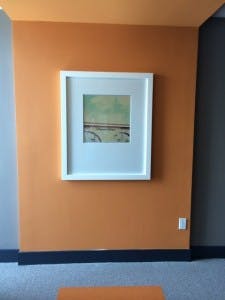 Let Harmony Reign Strong
As important as your preferences are when choosing art for your apartment, it is at least as important that you achieve or maintain a harmony or balance in your living spaces. Choose pieces that complement your furnishings and architectural features, as achieving harmony in design is a quality for which many works of art are prized.
Let the aforementioned advice serve as a guide for you as you choose art for your apartment, and you are bound to be satisfied with the works you end up framing, hanging, and arranging. Remember: Finding the perfect art can take time, and try not to make any impulsive decisions unless you feel a strong connection with the work you are buying. The results will be favorable for you, your guests, and your apartment.
To see the new Myan Soffia photos in person, arrange a tour with a Lex on Orange leasing office representative.
Do you have any tips for selecting artwork for an apartment home? If so, share them in the comments.
Like what you just read? Why not subscribe to the AMLI Blog so you don't miss another post?