After an exceptionally long and brutal winter, spring may not yet feel like it is in full bloom. If anything, however, this should only serve as a greater motivation to move on any spring color changes you plan to make to your apartment's decor. If you are looking for some inspiration for your apartment's seasonal decor, start by reading about these great spring color schemes.
Four Spring Color Themes
Green and White
When juxtaposed against one another, pale green and white create an aesthetic delight that may best be described as clean and crisp. Hanging green-colored swathes of modern art on a white wall, hanging green and white curtains, or decorating a table with a white tablecloth and green dishware will give your apartment a fresh spring look that is evocative of the trees waking from their dormancy.
Pink, Orange, and Yellow
This tricolor scheme can add warmth and energy to any space. In addition to bringing pink, orange, and yellow colored elements to the fore of your apartment living room or bedroom design, you can further use this scheme by decorating your home with flowers of the same color.
Red-on-Red
Of all the colors that incite feelings and emotions, red is perhaps the most powerful. It is associated with passion, fire, and love. The color of roses, rhododendrons, and many other flowers, red is also closely related to spring. Since different shades of red happen to look really good on one another, red-on-red is a perfect color combination for lovers of this strong color to incorporate into their apartments' spring decor.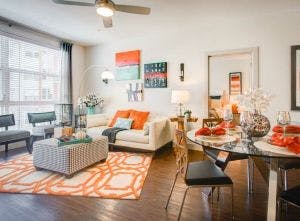 Orange and Blue
The team colors of the New York Knicks, the Denver Broncos, and the University of Florida Gators among others, orange and blue make a popular color combination. If your favorite sports team happens to use orange and blue as its team colors, what better excuse for you to celebrate their success and existence than by incorporating them into your apartment's decor? Of course, you don't have to be a die hard fan to like blue and orange. It's perfectly acceptable to enjoy these spring colors for their beauty without pushing a sports agenda or implying a greater symbolism of any kind.
After completing an exhausting yet productive spring cleaning campaign, it is natural to want to introduce some new life to your apartment's decor. Using the spring color combinations discussed above as a starting point, explore your options and obtain any materials you need for your decorating project. Good luck, and happy spring!!
The combinations discussed in this article are only a few of several color schemes that are reminiscent of spring. Let us know what color combinations you decide to incorporate into your apartment's design for this popular season!
Like what you just read? Why not subscribe to the AMLI Blog so you don't miss another post?