Whether you have a new dog or you're taking up hiking for the first time yourself and want to bring along your furry companion, there are some important things to know before taking your dog hiking. 
Hiking can be as simple as going for a short walk through nature or as demanding as a multi-day (or multi-week!) excursion. Here are some important things that will help you and your dog hike comfortably. 
Basic obedience
Location, location, location
Trail etiquette
Safety & injury prevention
Weather
How to prepare you and your dog to hike comfortably 
Basic obedience
The first asset you should have when getting your dog comfortable with hiking is some basic obedience training. On the hiking trails you can encounter all sorts of distractions and variables demanding your dog's attention. If you can keep them focused on listening to you then you have a much greater chance of avoiding injury and having a fantastic hike together. Training can be a fun way to bond with your dog and build their confidence in stressful situations. Here are some basic obedience training that can help you on hikes:
Sit/stay around distractions
Down/stay around distractions
Loose leash walking around distractions
Walking in heel
Neutrality around other people, dogs, wildlife and bikes
Strong recall (to come when called)
Location, location, location
When selecting your hiking trail here are some questions to consider in order to pick the right trail given your goals, the terrain and the time of year:
Who manages the land and what rules are in place? National parks, for example, either do not allow dogs or have very limited access within the park. Access within national parks is often limited due to safety hazards or the impact dogs can have on the wildlife living in the park. Land managed by the National Forest Service or Bureau of Land Management typically have very minimal restrictions, if any, when bringing your dog to visit. State parks and city parks are quite welcoming to dogs on hiking trails but may have leash laws, so be sure to check before you go and arrive prepared. 
Once you've identified dog friendly hiking trails it is important to evaluate the trail you will be hiking. Are there a lot of trees to provide ample shade or will you be in direct sun the entire time? Neither option is right or wrong, but if you know you're going to be in the sun you can be prepared with more water or choose to hike during early mornings or late evenings. 
Is the trail narrow or windy? Will you be able to see other users on the trail in advance or will you and your dog be surprised coming around the corner when you stumble upon other hikers, bikers, or horse riders?
Leash or no leash? If you are hiking on a trail that doesn't require dogs to be leashed, you get to make the call for what is right for you and your dog. If you know your dog struggles with reactivity it will be best to keep the leash on. If you know your dog has good manners and strong recall then it might work to hike without the leash. Other leash considerations could be frozen bodies of water, steep drop offs or cliffs, stagnant water and snakes or other predators. When in doubt, leash up!
Alltrails.com is a great resource to find new trails or read recent trip reports for trails you already know. These trip reports can give a conditions update as the seasons change. All Trails also has a filter for "dog friendly" trails under the suitability filter.
Trail etiquette
Oftentimes our favorite hiking trails are multi-use trails shared among hikers, runners, mountain bikers and even horseback riders. Introducing your dog to these different users is an important part of getting them comfortable hiking. If your dog has never been around these various trail users before, it would be a good idea to do a few short training hikes when you know the trails will be busy. Instead of focusing on completing the hike, the goal would be to find as many different trail users as possible to expose your dog to the different people and groups on trail. 
Allow your dog to be curious about the different users on trail without interfering with their travel on trail. Encourage your dog with praise or treats when they are able to encounter and walk past the other trail users. 
It is also important to know the right of way on the trails. Uphill traffic has the right of way and downhill traffic is expected to step aside and let uphill traffic keep going. Work with your dog to be able to step off trail and allow others to pass without interference. This might be trickier on certain trails and you may have to ask your dog to step up on logs or boulders to help get out of the way. You can practice this with urban agility in town to prepare for hiking and use a command such as "up" while pointing to where you want your dog to go. Horses always have the right of way regardless of direction of travel, then hikers, walkers, and runners all share the next right of way, followed by bikers having the last right of way. 
Safety & injury prevention 
When it comes to the safety of your dog hiking it is important to consider the terrain, paw protection, hydration and bodies of water. Weather is also very important and discussed more thoroughly in the next section. 
Terrain conditions can change with the seasons. What might be soft and mellow in the spring or fall can become hard and rocky in the summer or snowy, uneven and icy in the winter. Proper paw protection can prevent serious injury to the paw pads. Keeping your pup's paws conditioned with products such as Musher's Secret or coconut oil from your kitchen can go a long way in keeping their pads free of injury. Dog booties are fantastic at keeping their paws safe from extreme heat and cold as well as winter salt which can burn their paws and be toxic if they try to lick it off. There are a variety of dog booties on the market that all do a great job at protecting paws and preventing injury.
Hydration is very important for both you and your dog. When hiking with your dog you cannot rely on water on trail as their only source of water – this water could have dried up or be contaminated and unsafe to drink. It is important to carry enough water for you and your dog. A good rule of thumb for long or strenuous hikes is 2 ounces of water for every pound of body weight. Be sure to carry a bowl to pour their water in. You can add some bone broth to their water to increase drinking on trail or add water to their meal after the hike to promote hydration. 
Keeping a first aid kit for your dog will help should they run into trouble on trail. Adventure Medical Kits has a great first aid kit already put together and ready for you to hit the trails. If you are looking to put together your own kit here are some ideas to fill your kit:
Bodies of water can present hazards during all seasons. In the winter bodies of water might be frozen but not strong enough to support walking on. Be sure to assess any frozen water before allowing your dog to walk out on the ice. In warmer weather many dogs enjoy playing in the water to cool down and is a great way to get some energy out. 
To make sure your dog doesn't drown, get swept away or get sick/die from drinking blue algae water consider the following:
Rivers can have deceptively strong currents. Look for shallow areas with easy access to let your dog in.
Lakes that are deep, cold and clear are safe lakes. Shallow and warm water can breed algae that can be very dangerous.
Ponds, puddles or other stagnant water depend on the time of year. Cold weather likely means no algae or bacteria. 
Salt water poisoning and under-tow are the biggest risks at the ocean. 
When in doubt, leash up and assess the conditions before allowing your dog to play in the water.
Weather 
How hot is too hot? How cold is too cold? The short answer is that it all depends on the breed and the dog. 
Does your dog have a double coat? How big is your dog? Dark coat or light coat? All these factors play into your dog's comfort in various weather. Dogs with mainly dark or black coats can overheat before light colored dogs. Larger dogs can stay comfortable in cold weather better and longer than smaller dogs. 
If you're hiking on a paved trail, the pavement temperature is a big factor in the summer. When the air temperature is 85 degrees Fahrenheit, pavement in the shade is about 92 degrees while the pavement in the sun reaches about 105 degrees. It's important to monitor your dog's behavior in the cold and heat. In both heat and cold dog booties can save your dog's paw pads from temperature damage or serious cuts from ice or rock. Ruffwear makes great cooling vests for the summer and warming jackets for the winter. Your dog can't tell you when they're too hot or too cold, but they can show you. Keep an eye on their behavior and look for signs of discomfort in the heat or cold.
In the end
Most of these things can be learned through experience. Don't worry about mastering all of them before starting your hiking journey with your dog. Each dog is different and unique, and the most important thing is finding what works for them and you. Every hike will be a new adventure for you to explore nature together and continue growing confidence on the trail! Now get out there and have some fun!
Have fun!
Pin it!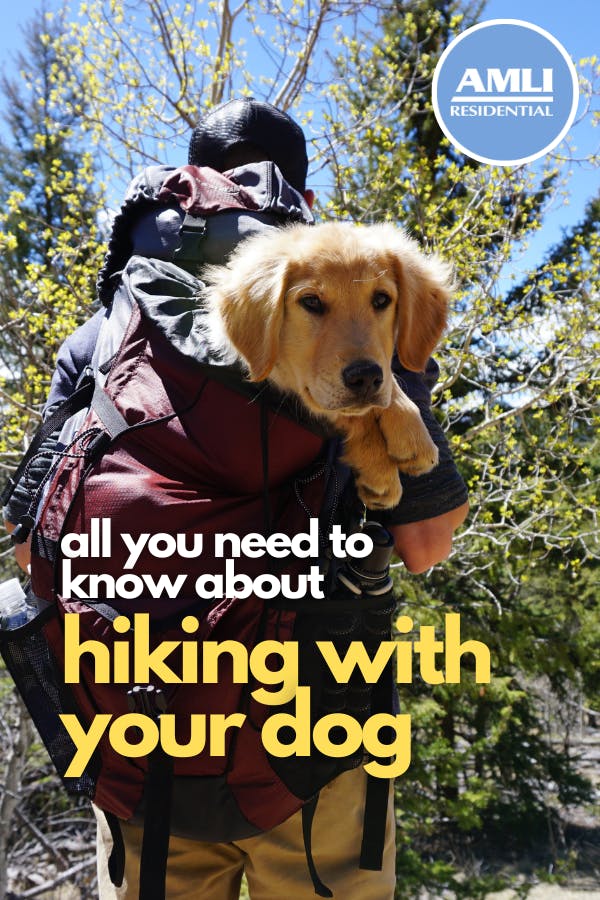 Featured photo courtesy Pixabay/2999607