Greg & John in the 80's (above)
On January 20, 2013 AMLI lost its founding father, and I lost a mentor and a friend, when John Allen succumbed to a hard-fought battle with colon cancer, which he confronted with courage and an incredibly positive attitude. John (the A in AMLI) co-founded AMLI with Greg Mutz (the M in AMLI) in 1980. John put behind him a prominent career as a partner with the Chicago law firm of Mayer Brown, and steadfastly led AMLI as its President for over 20 years.
John and Greg were incredible partners. They had very different business styles and strengths, and they formed the perfect partnership; an alliance based on trust and respect. Under John's leadership and as a result of his hard work, AMLI thrived. John played a critical role in AMLI's growth and success.
Greg & John in 2011
John and Greg hired me weeks after I graduated college in 1985.  As I learned and grew in my many roles at AMLI (I think I have done just about everything in my 27 years here), AMLI also matured and evolved. I feel like we grew up together and John was our proud father. John nurtured us both along the way, teaching and thoughtfully caring with every challenge and every step forward. John and Greg also gave me the opportunity to work flex-time, allowing me to have a career and continue to be an engaged mom to my three sons.  I will always be eternally grateful for their kind act.  John had a hand in providing exceptional opportunities for many. No doubt, John is one of the reasons that AMLI has so many long-tenured employees.
I did have one opportunity to do something very special for John. Many years ago, I invited him to a business lunch with my friend and Crain's Chicago Business advertising representative, Carolyn. I bet you can guess where this story leads… John and Carolyn fell in love and were happily married for 19 years. They traveled the world together, visiting all 7 continents, all 50 states, and 77 countries. Carolyn likes to give me credit for bringing them together, but I'm sure they would have found each other one way or another.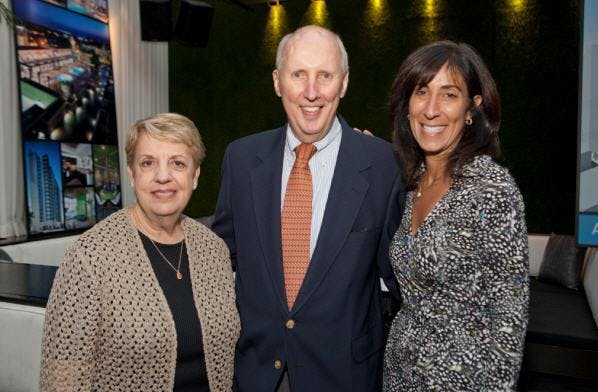 Carolyn, John & I in 2011
John was a wonderful person with integrity above reproach. Countless AMLI employees, both past and present, consider John as one of the most inspirational people in their careers. I am one of them. John understood the power of friendship in dealing with people at all levels. The outstanding values and ethics that John instilled in AMLI helped create the company culture we know today as the AMLI FAMLI — a culture that makes me proud to be a part of this company every single day.
John's honesty, sincerity and kind heart remain at the core of AMLI. We, the AMLI FAMLI, are his legacy, as are the residents that enjoy living in our apartment communities and benefit from a company that truly cares about our residents' living experience and giving back to the communities in which we live and work. John was a caring, patient, compassionate, thoughtful and wise man. I loved John Allen and admired all that he was — my mentor, my friend.
John was the heart of our company and what we stand for, and will always be a part of AMLI. Whether an AMLI team member or resident has met John or not, they know him by working at AMLI or living with AMLI — and by understanding, believing in, and perpetuating the AMLI culture and AMLI's Mission. Our slogan – "Live Life. Love Life." – is exactly what John did, and what he wanted for all of us.
The A will always be in AMLI in so many extraordinary ways.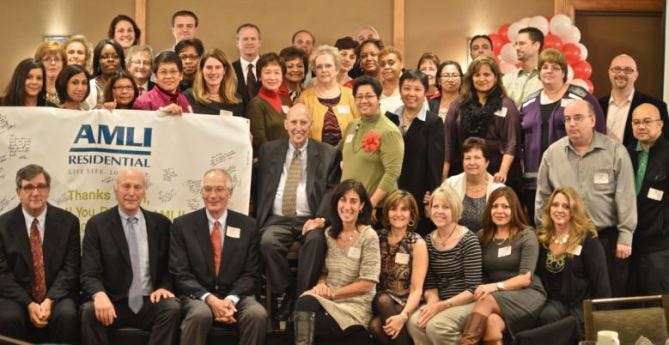 John said a tearful goodbye at AMLI's Chicago Holiday party in early December, "My life is richer and fuller for being part of AMLI.  AMLI is a dream come true for me, and I thank you." In this photo, John (next to banner) is surrounded by current AMLI team members who had worked with him.