Have you ever tried recycling through your mailbox?
Yes! Recycling has never been easier with such a variety of options available to businesses and consumers, including the little-known yet ultra-efficient mail-back recycling programs found all over the country. 
Here's how you can make use of mail-back recycling programs to safely dispose of your hard-to-recycle items that would otherwise head straight to a landfill!
What is mail-back recycling?
Mail-back recycling programs are a handy way to recycle items that are not accepted in your local curbside recycling program. These programs typically accept a variety of electronic and fragile items such as batteries, cables, light bulbs and inkjet cartridges, just to name a few! Several programs also focus on specific industries and might only accept medical waste, packaging waste or mechanical items from personal or commercial addresses. 
Bottom line, there are plenty of programs out there that provide recycling kits for all sorts of hard-to-recycle items!
To participate in a mail-back recycling program, you will need to sign up for the specific program and order a mail-back kit. The kit will contain a container for the types of recyclables you selected, as well as instructions on how to pack and ship them. You'll then pack your recyclables in the container and ship it back to the program using their pre-printed address labels. You might need to pay a shipping fee, but many programs include the shipping fee in the order fee so there is very little to do once your recyclables are packed. 
Once the container is received, the program will recycle your items and send you a confirmation. Easy peasy!
Hard-to-recycle items
Here are just a few items that might not be accepted in your local curbside recycling pickup, but can be sent away using mail-back recycling programs instead!
Styrofoam & packaging materials: Styrofoam and other packaging materials are made from a type of plastic that is difficult to recycle because it is not easily separated from other materials. They are also fairly lightweight materials that can easily blow away during recycling collection.
Plastic bags: Plastic bags are also difficult to recycle because they can clog up recycling machinery. They are also often contaminated with food or other materials, which makes them difficult to recycle in regular recycling facilities. 
Scrap metal: Scrap metal is, technically, recyclable, but it is not typically accepted for curbside pickup because it can be dangerous to handle and can damage recycling machinery.
Electronics: Electronics contain a variety of materials that are difficult to recycle, such as lead, mercury and cadmium. Small parts and cables, as well as information-containing pieces of hardware, can make it even harder to recycle.
Light bulbs: Light bulbs contain small amounts of mercury, which is a hazardous material. They can also be difficult to recycle because they are made with different types of glass and metal that are hard to separate from each other during the recycling process. 
Mail-back recycling programs in the United States
For: businesses, consumers
Accepts:
Fluorescent bulbs
Batteries
Electronics
Printers
Waste Management is the local waste pickup service for many communities in the country, so it's no wonder that they offer a wide range of mail-back recycling programs to expand their recycling management reach. 
Their user-friendly website makes it easy to choose your items, order your kits and track their location after you ship it all off.
For: businesses
Accepts:
Light bulbs
Batteries
E-waste
Smoke detectors
Thermostats
Mercury/gas-containing items
With personalized consultations and an extensive support team, CheckSammy's mail-in prepaid recycling program is a great option for business, healthcare, academic and other large-scale organizations looking for easy recycling options.
For: businesses, consumers
Accepts:
Call2Recycle runs the nation's largest battery recycling program, offering drop-off services and mail-in programs for both businesses and consumers looking to recycle a variety of batteries. 
For: businesses, consumers
Accepts:
Light bulbs
Batteries
Items containing mercury
Though geared more toward businesses, Green Light Recycling's mail-back kits are perfect for small households and individual consumers, too. It may take a little while to fill the box, but if you find yourself working on big projects, renovating structures, downsizing possessions or somehow in possession of a lot of e-waste, then this recycling program will work great. They accept plenty of items!
For: consumers
Accepts:
While this is by no means an all-encompassing mail-back recycling program, the For Days Take Back Bag is a good example of companies incorporating mail-back waste management.
In this case, ordering one mail-back recycling bag allows consumers to package their clothes, scan a QR code and drop the bag off at a shipping service in exchange for discounts at the online store. 
Isn't it great that recycling can be so easy that you don't have to go further than your mailbox to do it? With a wide range of mail-back recycling programs and our own AMLI recycling initiatives, the sky's the limit when it comes to reducing, reusing and recycling!
Pin it!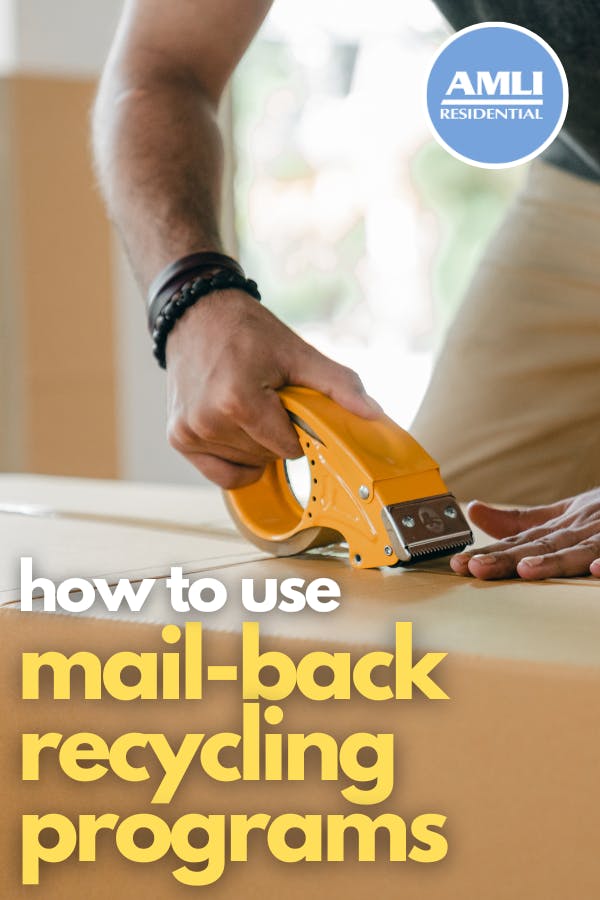 Featured photo courtesy Pixabay/ha11ok