There is a common belief that pets, and dogs in particular, need space to roam in order to remain happy, healthy, and well-behaved.  While exercise is important for all pets (as it is for humans!), it is possible to give the right breed of dog a perfectly fulfilling home in a small yet pet friendly apartment.  If your goal is to make Fido the  happiest dog in your apartment community, take the following considerations to mind.
Find the Right Match
A dog doesn't have to be a specific size in order to live well in a pet friendly apartment community.  Much more important are the dog's personality and the pet-owner relationship.  Still, mastiffs and great Danes are a bit on the larger side, and most 1, 2, and 3 bedroom apartment homes simply cannot provide dogs of this size with the space they need to roam.  Speak with a community manager before moving a dog into your apartment, and run through this Humane Society of the United States checklist to ensure that you will be able to provide the dog you gave your heat to at the dog store or kennel with a responsible home.
Designate a Safe Space
Another step that is essential in making your pup feel at home in your pet friendly apartment is to designate and equip a small area as his or her own.  This can be where you keep the kennel, a dog bed, and many of your pet's favorite toys.
Get Creative with Toys
The pet industry has exploded in recent memory, and there are now for more dog toys available than any pet owner could reasonably expect to keep in his or her home, be it a pet friendly apartment home in the city or a rural mansion.  Some of these toys are interactive and challenging, and can provide a pet with countless hours of fun.  Try introducing new toys at regular intervals so that your dog never gets bored, and always leave a few of your dog's favorites in the kennel to play wit while you are at work.
Feed Your Puppy Well
When it comes to healthy pet living, there is no substitute for a high-quality diet.  Dogs are biologically inclined to eat animal proteins, fats, organs, and muscles, and it is from these animal products that they derive the protein, nutrients, and energy that they need to live healthily and happily.  Most leading brands of dog food do a great job of integrating these animal products into their dog food, along with carbohydrates and vegetable products.  A proper diet can actually improve your dog's behavior, and apartment dwellers have an especially vested interest in keeping their dogs well-behaved.  Do not purchase dog food that is made primarily from corn and wheat, unless advised otherwise by your veterinarian.
Make Use of Pet Friendly Apartment Amenities
From general recreation areas to designated dog parks, pet friendly apartments have plenty of space where you can ensure your dog gets the exercise he or she needs.  Many of AMLI Residential's pet friendly apartment communities boast a private dog park and a pet wash, which makes grooming your dog as easy as walking him down a flight or two of stairs.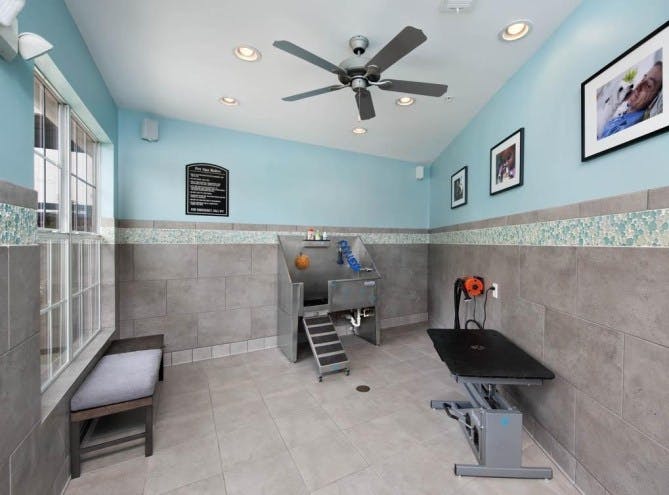 At AMLI Residential, we know that a dog can be a person's best friend. For this reason, many of our apartment not only welcome pet residents but are also designed with their wants and needs in mind.  Regardless of whether you live in Austin, Dallas, Denver, Houston, Chicago, or Seattle, AMLI Residential has a pet friendly apartment community where you and your furry friend can both be comfortable.  Don't hold off on getting the pet of your dreams or raising him or her in an uncomfortable environment.  Start Living Life + Loving Life today at AMLI.