Cats are an enigma wrapped in a mystery wrapped in, well, fur, I guess. No one really knows how to decipher them, so as of now humanity is still wondering whether these furry creatures actually like us or not. It's hard to tell.
Nevertheless, the lack of verbal communication between humans and cats has not stopped us from loving them and wanting them to be with us at all times. In fact, it is possible to take your cat hiking and camping with you in the great outdoors.
Adventure cats are all over Instagram. They're playing in beach sand, climbing up mountains, snuggling in sleeping bags and resting atop backpacks while their owners hike up trails. It turns out that it's not too hard to get your cat to go outside and explore, but it is tricky to train them to follow you through the wonders of the outdoors. "Curiosity killed the cat" is how the saying goes, so it's extremely important to keep a close eye on your feline friend and learn how best to keep them happy and out of trouble on your adventures.
If you have a cat and are excited at the prospect of taking them outdoors with you, read on to find out just how you can turn your #RegularCat into a #AdventureCat.
How to train an adventure cat
Evaluate your cat
You know your cat's habits better than anyone. If your cat has never been outdoors in its life, then the path to adventure will have to be a slow and steady one. Maybe your cat is a little older and has aching joints, then hours and hours of outdoor activity might not be in the cards for your kitty. If you feel that your cat is not suited to being outdoors, whether due to medical reasons or the cat's own nature, then that's okay. Your job as a pet owner is to make them feel safe and comfortable, even when it doesn't suit you.
However, if you have a cat that is active, healthy, naturally curious and has an affinity for the outdoors, then you might be in luck! Leaping straight into full adventure-cat status is a bit too much to start with right away, but head on over to the next step to start the process.
Harness-train your cat
Cats need to be on leashes if they are adventuring. Period. Cats are naturally curious and will follow any sound, sight or smell that catches their attention. Leashes make sure that cats don't get lost or hurt in the great outdoors. Attaching the leash to a small harness will make your cat feel much more comfortable and secure with the leash, as opposed to the collar, which can choke the cat and cause injury.
You may have noticed, however, that cats don't like playing dress-up too much. They aren't fans of costumes or cat clothes , so a harness is going to feel pretty invasive to a cat not used to it. The trick here is to introduce the harness slowly — really slowly.
First, find a harness that fits well: one that's not too tight and not too loose. Start by strapping the harness to your cat for a short period of time each day. If you leave it on too long, then the cat will become frantic and wary of it, destroying any future chance of progress. You may have to start by just placing the harness on, leaving it for a few seconds, then removing it so that your cat gets more familiar with the process. You can do this a couple times a day until your cat becomes visibly more comfortable.
Gradually increase the time your cat wears the harness Letting them wear it for about 15 minutes at a time is a good starting point. It's up to you to see how your cat is adjusting to the harness.
The end goal is to have your cat completely comfortable wearing the harness. That's the only way your cat will feel confident enough to wear it in unfamiliar places.
Bring on the leash
Leash training also requires a gradual acclamation. Take your cat outside on the leash, and let your cat get used to the sensation. Don't walk too quickly, as your cat has likely never felt the sensation of being pulled on a leash. Be gentle and patient, and slowly work your way up to longer walks. Keep in mind that quieter routes are better for cats.
Build it up slowly
As your cat gets used to the harness, leash and outdoors, slowly begin exploring new trails and hikes. Cats take much longer to get used to "walking" than dogs do, so it may take longer than you expect to get to the point of adventuring.
Remember that your cat also needs to get used to a pet-carrier if you are going to drive places. If your cat gets tired on a hike and doesn't want to walk, is your cat comfortable enough to sit in your arms or on your backpack? Keep these things in mind as you train your cat, as the cat's comfort must be the top priority.
Reward your cat
Bring treats to reward your cat for doing well. Keep the treats light and nutritious so that they energize and reinforce your cat both emotionally and physically.
An adventure cat is a cat that is comfortable outdoors, comfortable with the harness and leash and comfortable with you. You know your cat best, so make sure to pay attention to how they're feeling and how they're reacting to the training.
Above all, have fun bonding with your cat and creating some great memories! Don't forget to add your own contribution to the #AdventureCat Instagram trend!
Have fun!
Pin it!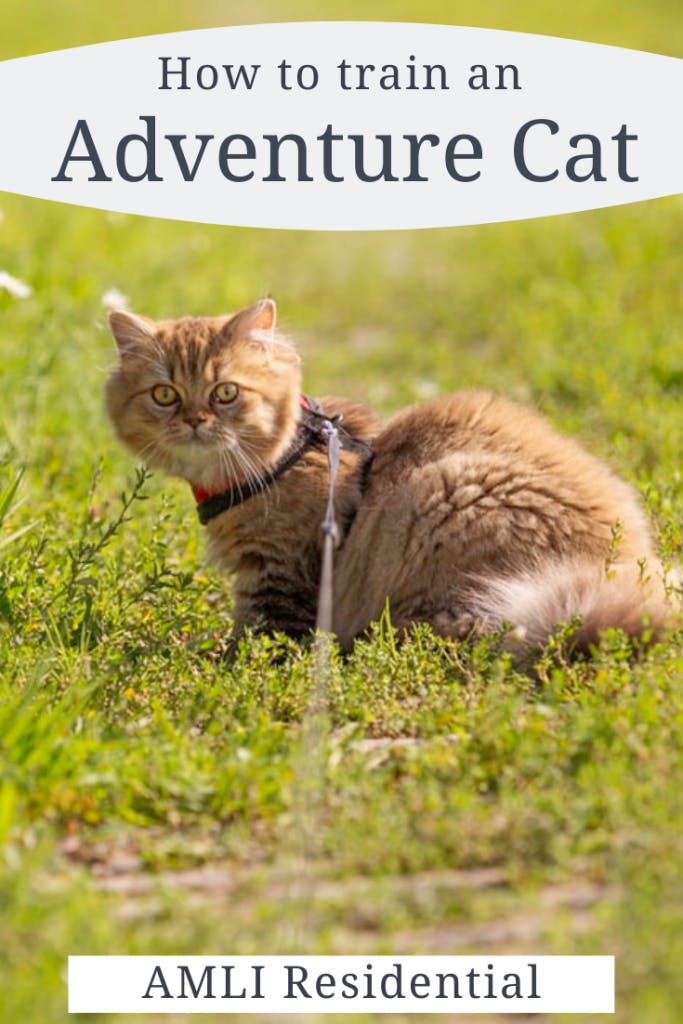 Feature photo courtesy Unsplash,/Zoë Gayah Jonker