Luxury apartment living has its perks, but space is not always one of them.  While there are plenty of spacious luxury apartments for rent in most U.S. cities, sometimes the most sought-after apartments in a city are also the most compact.  If your apartment feels smaller than you would like for it to feel, there are several organizational and decorative strategies you can employ to make your apartment feel much roomier.
Use Light Colors
One of the most effective ways to make your luxury apartment feel larger is to use light colors throughout your living space.  Lay white- or cream-colored area rugs on the ground and opt for lighter colors if you introduce any new furniture into your home, and your home will feel spacious and airy.
Adopt Vertical Storage
Where you can, stack shelves on top of one another to concentrate your storage vertically rather than horizontally.  By doing so, you can keep rooms and walkways wide and uncluttered, giving off the impression that your luxury apartment is larger than it actually is.
Hang Mirrors
Mirrors and reflective glass can give a room depth, especially when the room is clean and tidy and the mirrors are angled toward a strategic focal point.  Mirrors can also reflect artificial and natural light, brightening a room.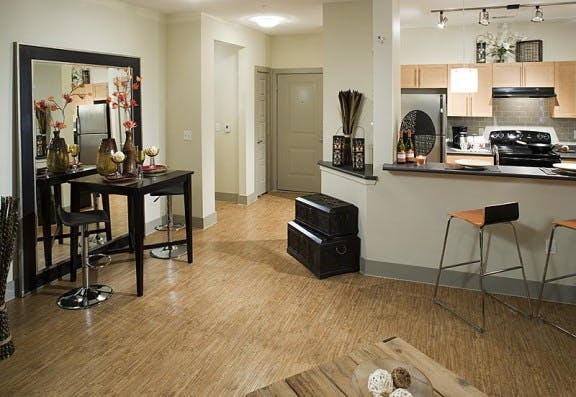 Utilize Contrasting Colors
As a rule, it is wise to use color schemes that consist of similar colors when decorating an apartment.  When applied correctly, however, a bit of contrast can make a room feel larger than it otherwise would.  Examples include contrasting primary colors of red, blue, and yellow with primarily white furniture.  When this sort of color scheme is successfully executed, attention is drawn to the bright colors. This makes the abundance of white or light color in the background seem vast and more extensive than it is.
Open Up Your Floorplan
There's a debate on the table as to whether or not an open floor plan is better for the space perception of an apartment than a zoned floor plan.  If you opt for the latter, use different color schemes to differentiate between the various zones in your home and make it feel more spacious.  If you choose to roll with an open floorplan, prevent clutter from accumulating so that your apartment's living areas feel open and organized.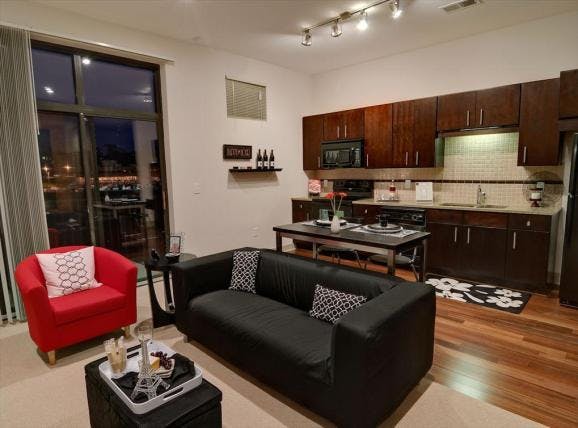 Install Wire Shelves
Wire shelves are inexpensive, trendy, and easy to set up.  They can work with just about any room of just about any apartment, enabling an apartment dweller to double his or her storage space without using too much surface area.  Give this practical storage solution a test run in a room where you could really use the extra storage space, such as your bathroom or closet.  If you find that you like the shelves and think that other rooms in your apartment could benefit from them as well, set some up in your kitchen, bathroom, and living room as well.
Keep Space Free
You may not have a lot of space, but you should still try to keep some of it devoid of possessions and decorations. Even in the smallest areas, empty space on a bookshelf or display case can make a room feel more open than it is.
Embrace Minimalism
Minimalism, both in design and in lifestyle, is on the rise.  As a rule, fewer possessions will make your space feel less cluttered and therefore less cramped.  Assess collections that you currently have, and consider selling or donating non-essentials.  Everything about apartment living, from cleaning to finding a specific article of clothing or gadget, is easier when you have fewer possessions.
Follow the decorating and design tips you just read about, and you can make your small or mid-sized apartment feel much larger than its square footage.  If you are looking to move into a more spacious apartment that is already designed in a space optimal way, check out communities in your area managed by AMLI Residential.