One of the things that makes me most proud of working for AMLI Residential the past 30 years is our FAMLI Volunteer program. The program connects AMLI residents and employees with local non-profit organizations. While some of these charities are chosen because of a connection to the community where our apartments are located, others are selected because of personal significance to AMLI team members. This is the case with LUNGevity, the nation's largest lung cancer focused non-profit.
LUNGevity Foundation
LUNGevity Foundation is dedicated to funding research into early detection and more effective treatments of lung cancer, as well as providing community, support, and education for those affected by the disease. The true story of lung cancer is compelling, and raising awareness is just as important as raising funds for research. People need to know that lung cancer kills more people each year than the next three deadliest cancers combined (colerectal, breast and pancreatic).
AMLI's connection with LUNGevity Foundation resulted from my personal relationship with them. I got involved with LUNGevity eight years ago when my best friend from high school, Elyse, was battling lung cancer. We volunteered together before she lost her 2 1/2-year battle at the age of 45, and I have continued to volunteer for both of us, feeling her at my side in all that I do to fight lung cancer. I joined the Board of LUNGevity six years ago, and I continue Elyse's fight through my work with them. I don't want anyone else to go through what she did or lose someone they love to this terrible disease.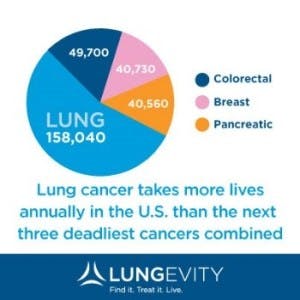 Breathe Deep North Shore
I founded Breathe Deep North Shore, a 5K fun run and 2-mile walk in Deerfield five years ago when I wanted to bring a fun and meaningful event to the community where Elyse and I grew up. The warm embrace of Deerfield and other north suburban communities have far exceeded my wildest dreams.
AMLI has been a huge supporter of this event from the very beginning. In addition to being a major sponsor at the annual April event, AMLI conducts fundraising activities at our Chicago-area communities and corporate office in February, March and April. Coincidentally, AMLI Deerfield opened its doors last summer, so these brand new Deerfield apartments are especially involved in supporting the fight against lung cancer.
This cause has become personal to many AMLI team members over the years, but it became even more personal when our friend Fred, a beloved AMLI team member for over 30 years, was recently diagnosed with lung cancer. Thankfully, it was caught early, and after surgery he was declared cured by the medical team that he credits with saving his life. Fred is a lung cancer survivor and advocate now – and this cause has now touched many more of us at AMLI.
Join Us April 17, 2016 in Deerfield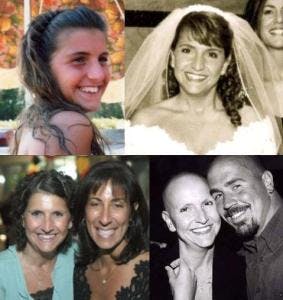 I hope all residents and friends of AMLI will join us in supporting the fight against lung cancer by attending Breathe Deep North Shore's walk and fun run on Sunday, April 17, 2016 at Deerfield High School. If you can't be there in person, show your support in other ways like participating in your community's fundraising efforts (ask the leasing office for details) or donating directly to our Breathe Deep North Shore team.
My friendship with Elyse and then losing her to lung cancer have forever changed me, and so has my work with LUNGevity. And AMLI's support has meant the world to me in that journey. There for me when Elyse was sick, comforting me when I was heartbroken over her loss, and championing me in my efforts to continue her fight, these are the actions of a company with a big heart! I'm grateful beyond words for AMLI's support and ask you to support us all in this very important cause. Together, we truly are making a difference in the fight against lung cancer!
Do you have a personal connection to lung cancer? Share your experience below.
Like what you just read? Why not subscribe to the AMLI Blog so you don't miss another post?