With a skybox overlooking Dr Pepper Ballpark, a courtyard finished with swimming pools and a 24-hour fitness center, there isn't much that AMLI's luxury Frisco apartments don't have. We work diligently to provide only the best for our residents, including amenities that are easily accessible at any point in the day. Need a quiet space for that big meeting? Head on down to our business center and work in one of our conference rooms. Craving coffee? Walk over to the java bar. Ready to relax after a long day's work? Lounge by the pool cabana while soaking up the Texas sun. And now? We even offer a makerspace for residents to let their creativity and imaginations run wild.
What is a makerspace, you ask? Well, simply put, a makerspace is a collaborative workspace for making, learning and hands-on creativity. It's about exploring and discovering new ideas while building both personal and professional relationships, all while creating products you can be proud of. An up and coming trend quickly building interest nationwide, AMLI is proud to include a space for residents to join together, challenge their imaginations and put their artistic skills to the test.
Roughly 4,000 square feet, our Frisco apartments have had the makerspace open for almost two years and is open 24/7. The space includes large windows, plenty of tables and all of the handy and artistic tools you'd need to help bring your projects to life. Likewise, AMLI hosts a few workshops each month in the makerspace, partnering with local artists and vendors to bring the community together, network and create demonstrations for residents to enjoy. Spanning from cooking demos to DIY projects, past workshops have involved activities such as cookie decorating and wreath making, as well as candle workshops and turning old books into cherished keepsakes for journaling.
Wondering what's coming up for workshops? Check out the schedule below!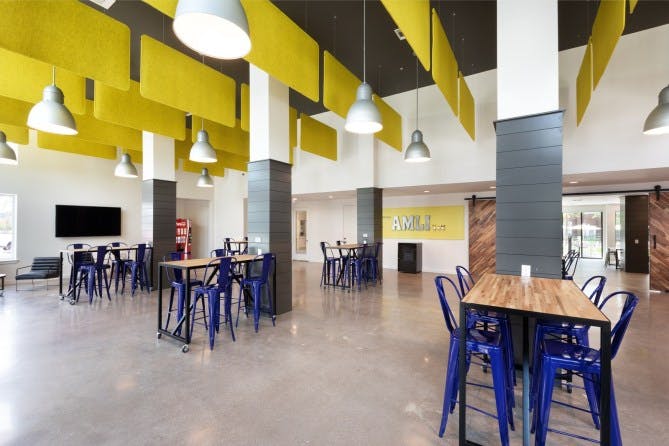 Upcoming Events:
April 30th: Dish Towels & Throw Towels
May 5th: Mini Makers Class
May 9th: Hand Lettering Workshop
All DIY workshops and demonstrations are designed to provide a way of expression and conversation, allowing residents the opportunity to create a unique product while giving them the chance to get to know their neighbors in a fun and informal setting. Residents and local businesses alike have embraced the makerspace as a creative area, continuing to grow in popularity as more workshops are added into the rotation. Classes and workshops range from free to a set cost, and it's encouraged that you register ahead of time to secure your spot.
As Emilie Barnes once said, "creativity is the ability to take something ordinary and make it into something special." At our Frisco apartments, we encourage you to make something special.
Interested in more blogs like this? Be sure to keep up with the AMLI blog!