DIY projects are an easy and inexpensive way to create impressive décor for your apartment, especially when you're on a budget. If you have creative energy and are currently an AMLI resident, we have the perfect contest for you!
Do You DIY?
Have you completed a DIY decor project you're proud of? Do you have something in the works? You have 30 days to enter your best DIY decor project to the 'My AMLI DIY' contest for a chance to win up to 00 worth of gift cards and the opportunity to be a "Featured DIYer" on the AMLI Blog. The DIY project could be something fixed, restored, an upgrade to apartment décor, an organization system, something made from scratch…the sky is the limit as long as it doesn't modify or structurally change your apartment. Anything done to the apartment, like painting a wall, is subject to the standards set forth in your lease agreement. Abide by the rules and regulations, and let your creative mind run wild. To get those artistic, DIY decor juices flowing, here are some ideas: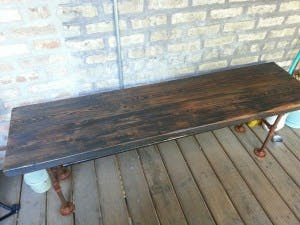 Modify a piece of Ikea furniture. There's even a website for Ikea Hacks if you need some inspiration.
You can try one of these 34 DIY projects from Architecture Art Designs…some stand-outs include:
Create instant bathroom storage
Make a wine rack from a re-purposed ladder
Build a vintage mirror out of a wine barrel
Use old windows to display family photos
Or give one of the DIY decor projects featured on our blog a try.
Enter to Win in Three Easy Steps
Entering the My AMLI DIY contest is easy. All you have to do is:
Like your AMLI community's Facebook page
Click on the link promoted at the top of the page and/or the DIY Contest App (on desktop only)
Upload a photo of your best DIY decor project, include a short description using the hashtag #AMLIDIY, and fill out a brief entry form
The Prize
A panel of AMLI Residential judges will select the best eligible entry based on both the creativity of the project and it's practical use. Three grand prize winners will win 00 worth of gift cards each. Additionally, nine regional winners will be selected. One winner from each of AMLI's nine regions (Dallas, Austin, Houston, California, Seattle, Atlanta, Florida, Chicago, and Colorado) will receive a 0 gift card to Home Depot. A participant can only win a grand or regional prize, not both.
The Dates
The contest will run through the entire month of Octover. Upload your photos to your AMLI apartment's Facebeook page as early as October 1 and no later than October 31, 2014. Winners will be notified via email no later than November 14, 2014.
The Rules
The basic rules have been outlined above. For a complete list of contest rules, click here.
Get creative, follow your apartment community's guidelines, and HAVE FUN! You just may be rewarded.