Chances are that you've driven past a Publix or two, or three (or way, way more!) during your time in South Florida. It's a roadside staple and a local treasure, not to mention it has such a unique culture and aesthetic. 
Here's a bit about the grocery store chain we all love so much!
Glimpse into Publix: where shopping is a pleasure
A brief history of Publix
The story all starts with George W. Jenkins, a Georgia native who moved to Florida in 1925 at the tender age of 17 to make it big in real estate.
Jenkins worked as a clerk at a Piggly Wiggly for a few months before being promoted and sent to manage a store in Winter Haven, FL. He worked here from 1926 to 1930, and it was then that he decided to resign and start his own store in the very same town.
Jenkins opened his first store on September 6, 1930 in Winter Haven, naming it Publix after a string of failing movie theaters in New York. The store was an instant success, despite the looming economic depression, and five years later Jenkins opened a second store just across town.
Jenkins, at that point affectionately called Mr. George by his employees, closed both Publix stores in 1940 in order to open a larger store, which he named his "food palace." This massive store had it all: marble, fluorescent lighting, glass and stucco interior and exterior décor, A/C and even automatic doors and piped-in music! 
In addition to the many aesthetic and technological features, this Publix store also provided many more services than your average grocery store. Flower and doughnut stands offered fresh goods daily, and large cold cases keeps a wide assortment of refrigerated and frozen items. 
Essentially, this Publix store was Florida's first full-blown supermarket! It was even the first store to feature shopping carts with wheels!
Publix continued to grow over the decades, with more and more stores popping up around Florida. The supermarket chain was the largest in Florida by 1959, and by 2009 it had opened its 1000th store, making it to the top ten list of largest grocery chains in the nation by store volume.
Publix today
Publix, as a brand, has strived to retain its community-centric atmosphere through the years, and today it is considered to be one of the most beloved grocery chains in Florida. It's certainly got the most stores in Florida, with 825 locations in The Sunshine State and the other 456 spread out throughout the Southeast. 
Publix has also made some very concrete achievements in the business world, too! As of 2020 it was the largest employee-owned company in the United States with over 225,000 employees. 
It's also one of only eight companies to make it to Fortune's 100 Best Companies to Work For for 23 years straight, that's each year since the list was started in 1998!
So yeah, Publix is a big deal! The store has a history of serving the community in a truly authentic way, and the many quirks that make it so special have continued to bring people back time and time again.
Publix culture
Grocery stores of all kinds and caliber are, at their very core, fairly equal in their purpose: to sell food and goods to customers. But it's the fun little quirks, customer support and company culture that really elevate a simple store to new heights, and that's exactly what Publix has done to make a name for itself.
Here are some of the traditions, items and quirks that have made Publix so iconic and beloved to its loyal customer base.
The Publix bakery
Shoppers at Publix will often see children beeline to the bakery at their first chance, and rightly so! The Publix bakery has given a warm, fresh cookie to any child who has asked for one since, well, forever!
The practice dates back as far as 1957 when the first bakeries opened to supply the supermarkets with their signature cakes, cookies and other freshly-baked goodies!
The Publix Deli brand
Publix has an aesthetic brand, sure, but its actual brand is also just as iconic. You can find Publix Deli versions of most anything in the store, and it's likely to be just as good or even better than the name-brand stuff shelved alongside them. 
Plus, are you even a real fan of Publix if you don't get the Publix Deli sweet tea? Yeah, that's what we thought. 
Pub Subs
Whether you're shopping for a two-week meal plan or a quick bite to eat, Publix has got you covered, and there's nothing quite like a good ol' Publix submarine sandwich; a Pub Sub, for short. 
These famous sub sandwiches were introduced in the early '90s and quickly became a fan favorite. Choose between pre-made combinations or build your own for maximum flavor and versatility!
The scale
Nearly all Publix stores feature a scale at the front of the store, but why? 
Back in the 1940s, supermarkets often featured commercial technology that was not widely available to people in their homes. Things like air conditioning (can you imagine life without that now?), automatic doors and fluorescent lights were rare in many small businesses and even rarer in homes, as were scales.
Weighing scales were a lot clunkier then than they are today, and the average person didn't have enough space in their average bathroom for a full-sized industrial scale. Sensing an opportunity for profit, many supermarket managers placed coin-operated scales at the front of their stores for customers to use. 
Good old Mr. George, though, insisted that the Publix scales should be free to use, and today all the Publix stores still feature the iconic scale at the store entrance!
Fried chicken
It's near impossible to miss the warm, buttery scent of fried chicken wafting through the store, which is probably why Publix' famous fried chicken has become such a crowd favorite! 
The original 1950s chicken recipe was cooked in a Rotiss-O-Mat until the 1970s, after which it evolved to a breaded and fried recipe. Today's recipe has been tweaked to perfection in the decades since! 
So, if you live in our luxury South Florida apartments or anywhere in Florida at all, then next time you visit a Publix you'll be able to soak in all the history and culture that's made the stores so special! 
Enjoy!
Pin it!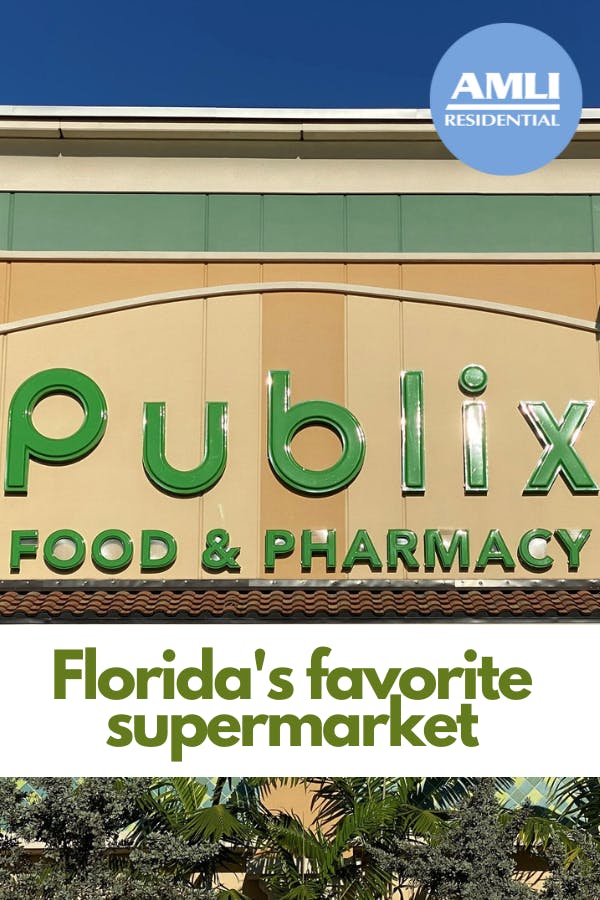 Featured photo courtesy flickr/Phillip Pessar