Things at AMLI seem to keep getting greener and greener. This summer we've been especially fortunate, having received two new LEED certifications in Austin, Texas, and one in Florida as well as a ever-increasing handful of ENERGY STAR® certifications that are slated to accumulate even more in the coming months.
Along with the bounty of man-made accreditations at AMLI this season came a natural bounty from the Earth itself. Two of AMLI's Chicago-area communities grew resident gardens this year with the help of The Organic Gardener, a developer that specializes in planting and maintaining organic, edible gardens. The gardens this year were at AMLI River North, a LEED Gold- and ENERGY STAR-certified high-rise tower in the heart of downtown, and at AMLI Deerfield, one of AMLI's newest developments in the out-lying northern suburbs.
Despite being nearly 30 miles away from one another, the two gardens promote the same easy access to healthy lifestyle options for hundreds of residents, which is a core function of AMLI's business. Residents are able to obtain fresh produce straight from the plots without signing any waivers or paying additional fees—even if they don't have the time to pull weeds or water regularly. The Organic Gardener takes care of the dirty work ensuring the gardens are up-to-snuff. Also, educators from The Organic Gardener swing by every two weeks during the spring-fall growing season to answer any questions and bundle up the harvest into neat take-away portions for residents to enjoy.
Crops this year included kale, tomatoes, beets, poblano peppers, eggplant, basil, chives, and more.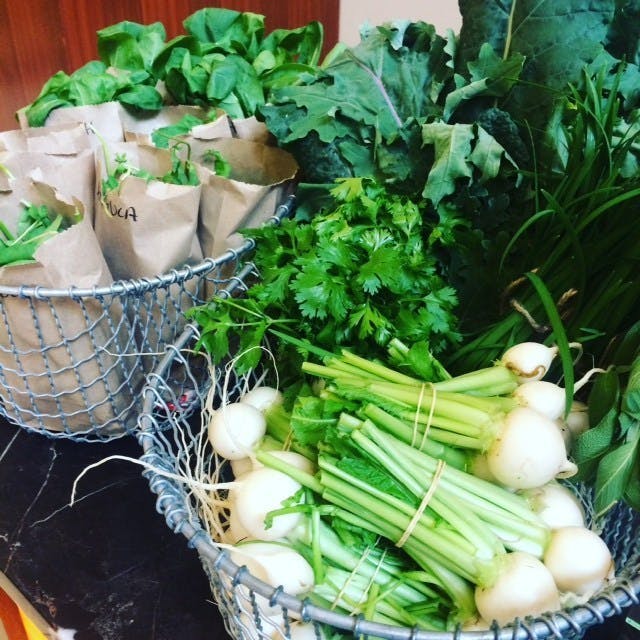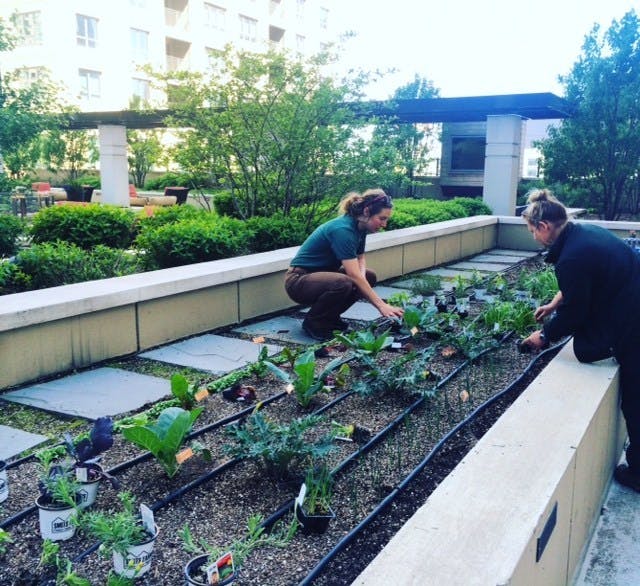 While the area immediately surrounding AMLI River North is awash with some of the best dining options in all of Chicago, the gardens offer a chance for residents to commune with nature in a decidedly urban setting. In a place where most meals come in takeout containers and tend to be not so kind to the wallet, AMLI River North is one of the very few upscale apartment communities in the area that offer that luxury. By contrast, AMLI Deerfield is already located in a more bucolic setting, but what you get for more open space can sometimes mean more time spent driving through traffic. Here, the gardens offer an alternative to a time- and gas-consuming drive to the grocery store and, we hope, a deterrent from the drive through window.
We're very enthusiastic about this partnership with The Organic Gardener and are pleased to see it increasingly become the norm that people are eating from gardens more often.
"Sustainability is becoming more mainstream, and there are many accessible ways to plug into this movement as a community," said The Organic Gardener founder Jeanne Nolan. "I think that we're all hungry for more basic, real connections to each other, to our food and to our planet, and growing food is a wonderful gateway to that."
Find AMLI River North's resident garden surrounded by the skyline on the community's rooftop amenity deck. AMLI Deerfield's garden can also be found in the amenity area (though it's a little more down to earth, so to speak) near the pool.
These gardens are a small, but important step to providing AMLI's residents with Class A amenity options to improve their overall well-being. In addition to 24-hour fitness centers, bicycle storage, and electric car charging stations, AMLI views these gardens as another unique offering that pairs concerns for our residents' health with thoughtful stewardship during our time on this planet.
Find an in-depth interview with The Organic Gardener at Splash.