Whether you're exploring historic sites, immersing yourself in another culture, or ogling at a natural wonder, travel affords some of the richest and most rewarding experiences you can have. Do your part in protecting the places you visit by respecting local norms end employing sustainable travel practices. Here are 10 ways to reduce your travel footprint or compensate for carbon emissions associated with getting you to and from your vacation destination.
Set thermostat to save energy
Before you leave for your destination, set the thermostat in your apartment higher than usual to save electricity. If traveling in winter, set the thermostat lower than usual.
Travel with a BPA-free water bottle
Try not to buy any single-use water bottles your entire vacation. Plastic water bottles are inexpensive and readily available, but they're piling up in landfills and wreaking havoc on the ocean. If you have a metal or reusable, BPA-free water bottle, travel with it. Otherwise, purchase a glass-bottled beverage on arrival to refill with filtered water if tap water is not potable where you're traveling. If you drink coffee or tea daily, a travel mug may also come in handy.
Bring your own toiletries
If staying in a hotel, travel with your own bath soap, shampoo, and conditioner. Those small toiletry bottles available at most hotels are extremely wasteful. On the note of bathing, keep your showers short to save water.
Reuse sheets and towels
Try to use towels for more than one shower and sheets for more than one night's sleep before having them washed to save water and energy. Hang towels to dry rather than dropping them on the floor unless they are dirty. And inform your housekeeping staff you'll let them know if and when you want new sheets so they're not replaced each day during your stay.
Choose eco-friendly vehicle rentals
If renting a car, choose an EV, hybrid or other fuel-efficient model. This will help offset some of the carbon emitted to get to or from your destination. You can also use a reputable carbon offset provider like MyClimate to make up for carbon burned en route.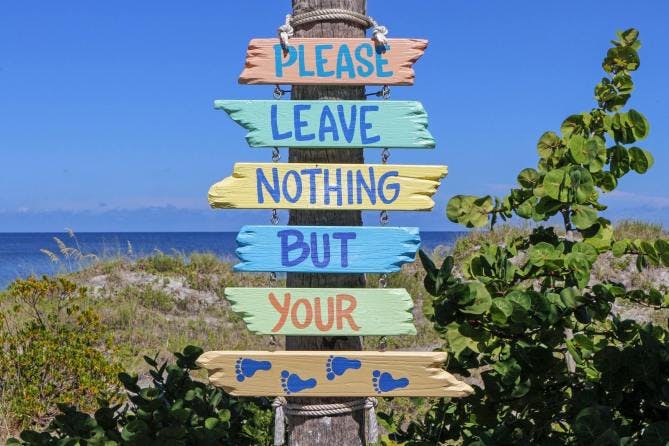 Cycle and/or walk to get around
If visiting a city, get around by walking and cycling as much as possible. It's good exercise. You'll see more while in transit than you would from inside a car. And it's green. After walking and biking, public transit is usually the most sustainable way to move about a city.
Eat local
Locally sourced and farm-to-table food are trending all over country and in many parts of the world. When you choose to eat local, you usually wind up eating fresher, taster and healthier food. You can also feel good knowing few fossil fuels were burned to get produce, proteins, and other ingredients from the source to your plate.
Use solar chargers
Solar chargers are available for more and more electronics, including your portable, USB-charging devices. Invest in one if planning a remote outdoor adventure where electricity is limited, or to save energy. Another handy sustainable travel item is a solar-powered flashlight.
Carry a reusable shopping bag
If you're in the habit of grocery shopping with your own reusable bags, bring this habit with you on your next trip. Even if the practice is not yet common in the place you're visiting, vendors are sure to appreciate it. They'll save money, and you'll help the environment. If this isn't something you already routinely do, try it out on your next sustainable vacation. Then bring the habit home with you.
Souvenir shop wisely
When shopping for souvenirs, think critically before buying kitschy plastics or souvenir T-shirts that are unlikely to come out of the closet between now and when they're donated. Instead, seek out artisan goods and other sustainable souvenirs that benefit the local community and economy.
Like what you just read? Why not subscribe to the AMLI Blog so you don't miss another post?