AMLI recently partnered with Austin's Habitat for Humanity to donate all our older model appliances, cabinets and more as part of our recent renovations at AMLI South Shore. These items will be available for Austinites to purchase at a steep discount from the local Habitat for Humanity ReStore in St. Edwards. Anything that can't be resold will be recycled and saved from joining the average 5,500+ tons of waste that enters the Travis County landfills every single day, according to the Texas Commission on Environmental Quality.
By the end of this year alone, AMLI will have donated an estimated 20,000 in items just from AMLI South Shore. That's ,000 per apartment renovated! AMLI is also donating items from AMLI Downtown, another of our Austin apartment communities, as well as AMLI Quadrangle in Dallas. Items from our Dallas renovations will be donated to the Habitat branch in that location.
All profits from Austin Habitat's ReStore are reinvested in the local community where it's needed most—services and programs benefiting low-income families. The ReStore provides new and used appliances, furniture and construction materials and tools for area homeowners, businesses and local charity organizations to build and rehab homes and other structures that make each community in Austin unique. Think of it as a Home Depot crossed with a Goodwill.
Because the ReStore relies on donations, items available are largely dependent on what donors are able to supply. A full 85 percent of items on the ReStore's sales floor are donated. AMLI South Shore was able to provide a variety of items, including:
cabinets
refrigerators
ovens
washers and dryers
dishwashers
plumbing fixtures
sink bases
light fixtures
ceiling fans
Over 100 apartments at AMLI South Shore will be renovated and have the above materials donated through 2018. We may be able to expect more partnerships of this kind as AMLI renovates its apartment communities across the country in the coming years.
Habitat for Humanity diverted 3,083,685 pounds from landfills across the country in 2017 and has diverted 1,951,220 pounds to date this year. The Austin branch ReStore conducts 9,000-11,000 transactions per month, attracting patrons from as far away as Lakeway and Bastrop.
Check out before and after photos at AMLI South Shore
Before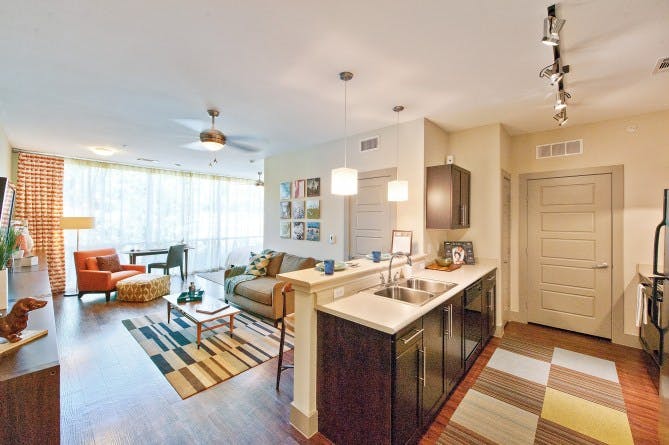 After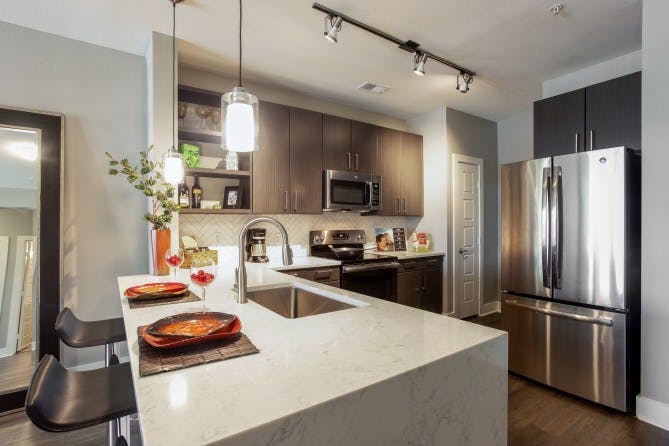 Like what you just read? Subscribe to the AMLI Blog so you don't miss another post.