The biggest considerations you make everyday concern the way you order your life around you.
Besides your relationships and family, your day job, and what you're having for lunch, this also includes all the stuff you're physically surrounded by. How you decorate has a major impact on the way you use the spaces you spend the most time in, as well as sheds a little light on your personality, your style, and what you value.
With each AMLI apartment model, we hope to give our prospective residents an idea of what their lives could be like in our communities. And for that, we enlist the experts.
At AMLI 3464, our most recent high-rise in Atlanta's Buckhead neighborhood, we partnered with West Elm to furnish and design a one-bedroom apartment how they saw fit. Suffice it to say, we were more than pleased with the results.
We caught up with West Elm Home Stylist Paul Wiegers to talk a little about the design process, his favorite aspects of AMLI 3464's Buckhead apartments, and the aesthetic challenges involved. Find an interview with this up-and-coming designer below.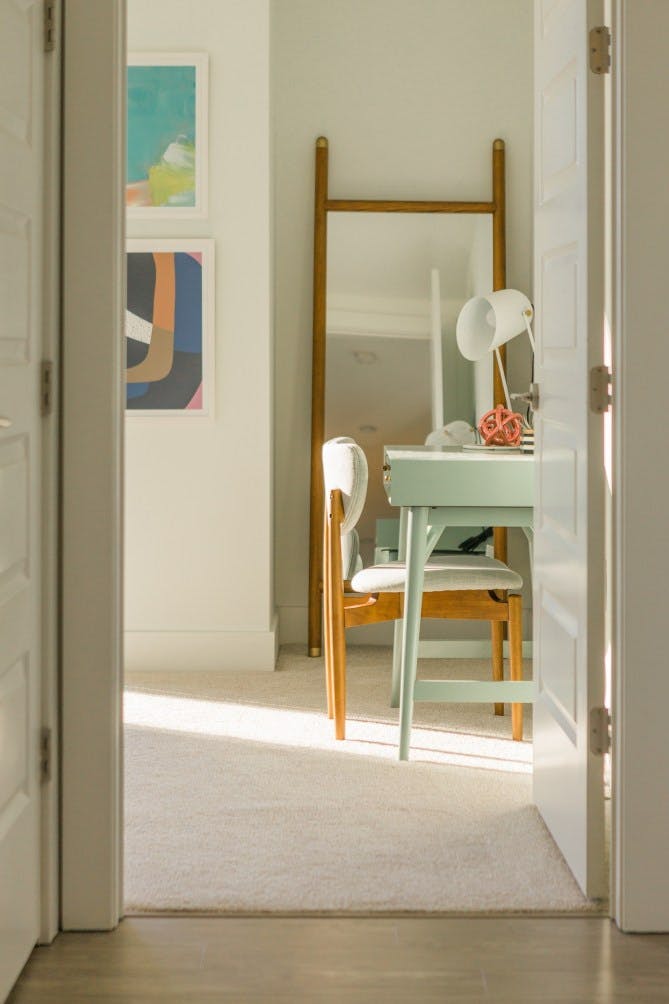 What were your first impressions?
Upon seeing AMLI 3464, I was instantly surrounded by some of the most modern, aesthetically appeasing design the Atlanta residential market has to offer. AMLI 3464 has presented a beautiful, modern property with open floor plans that allow for stylish, spacious living.
How did you start your process?
For a space this detailed, it was important to tour the property and really take in all the work that went into the project. AMLI 3464 contains an array of details that all work together to create this visually-stunning community. It's most important to gather an overall sense and style of the property to make sure the pieces being brought in flow cohesively into the design.
It's crucial to design a space that anybody would love. As a designer, you especially want to create a space that makes people want to stay. I tell all of my clients that it's my goal to create a space that you hate to leave and cannot wait to get back to.
What were some of the most challenging aspects of the design?
When designing a space such as AMLI 3464, one must bring in pieces that correlate with its style and feel. AMLI has created such a beautiful community and, as a designer, you want to set something that flows cohesively and pays homage to the canvas the developers have made.
How did you incorporate sustainability into the design? 
West Elm is extremely committed to sustainable and responsibly-sourced wood in a variety of collections. The wood used is certified to the Forest Stewardship Council (FSC) standards. FSC-certified pieces help ensure the decline of deforestation and promotes environmental, social, and economic benefits. I am proud to say that many of the pieces we selected are certified to the FSC standards.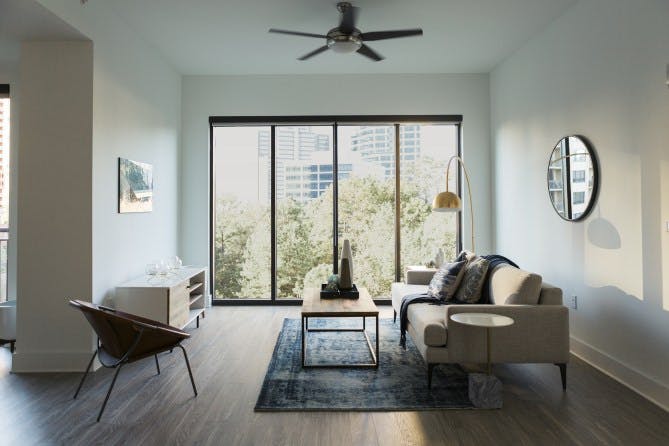 What's your favorite part about this project?
Honestly, the artistic freedom. The apartment is very modern, full of the cool grays and whites, with extremely clean lines throughout. I could play around with some fun patterns and pops of color I found throughout the property.
Did you source any inspiration from local artists?
AMLI 3464 showcased art from brilliant local artists throughout the community, so it would have been impossible to not draw from those pieces.
Who are some of your favorite local designers or design firms in the Atlanta area?
Forbes + Masters is an award-winning design firm in Atlanta that I especially look up to. Their work is fun and unique, using out-of-the-box ideas to create truly original spaces. The co-founders are also some of the nicest people you will ever meet. It has been amazing to watch the company thrive and share in the joy of their success with them. I also have to recognize my colleague Alejandra who is a big influence on me. She works with me full-time, goes to Savannah College of Art and Design of Atlanta (SCAD) full-time and is constantly producing cutting-edge work that just astounds me, and encourages me to grow as a designer.
Learn more about the Buckhead apartments available at AMLI 3464.
You can follow West Elm on Instagram, Facebook, Twitter, and Pinterest.
Like what you just read? Why not subscribe to the AMLI Blog so you don't miss another post?