Here at AMLI Residential, we're committed to the path to sustainability and through normalizing eco-friendly practices in our everyday lives. 
That means digging into the science behind solar, wind, water and hydrogen power, as well as targeting a minimum of LEED Silver® certification in all our developments. We have even utilized wind energy to fully power our common areas at our Dallas apartments and Houston apartments!
Point is, we recognize that implementing renewable energy practices into the mainstream and our everyday lives is key to normalizing these sustainable technologies for future generations. That's why when we learned about this team of engineering students working on doing just that, we had to see for ourselves.
Constructing a solar-electric energy powered car
Ben Nichols and Christopher Ford (right and left, respectively, below) are mechanical engineering students at North Carolina State University, where they are part of a team that is building a one-of-a-kind solar-electric vehicle.
Using the bones of a dashing red 2001 VW GTI, the Solarpack team is in the process of creating one of the first solar-electric vehicles designed with the practical consumer in mind. Here's what they have to say about their project and why it's important.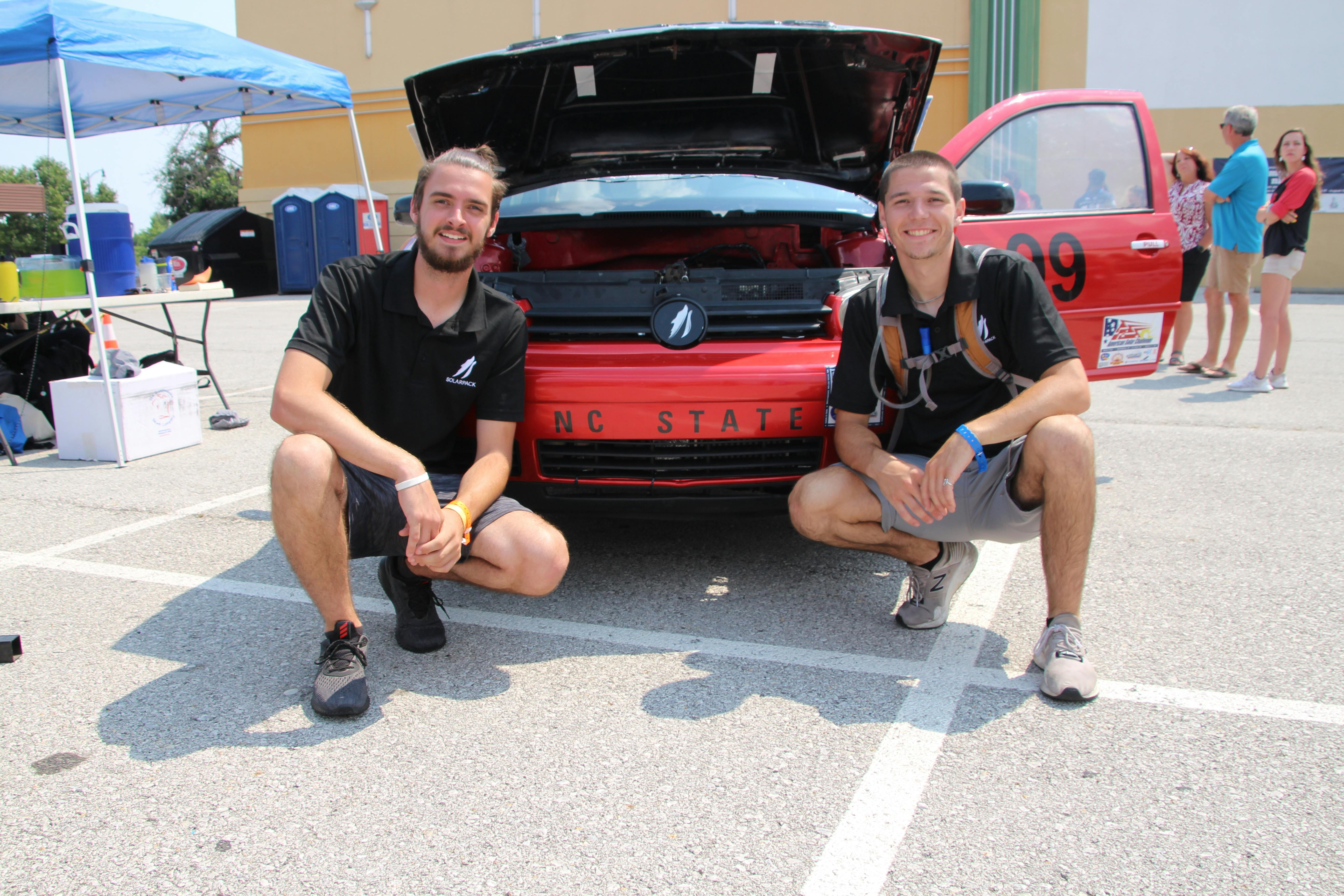 Tell me a little bit about you guys. 
Ben: My name is Ben Nichols. I'm a mechanical engineering senior at N.C. State University, and I've been with Solarpack for about three years now. I started as a vehicle dynamics member, and then I transitioned into technical director, which is where I'm at now.
Chris: My name is Chris Ford. I'm a senior mechanical engineering student at N.C. State University, and I joined Solarpack around the same time as Ben, so it's been about three years. I was also in the vehicle dynamics team first, then I switched over to the project director role.
What is Solarpack, and how would you describe it?
Chris: We are N.C. State's solar-electric vehicle team. 
Chris: Our goal as a team is to build and create practical-minded solar-electric vehicles with the purpose of moving forward the innovation required for applying this in the real world. We aim toward designing a more practical application of a solar vehicle, which means including everyday things you would want in a regular car in a solar-electric vehicle — things like powered windows, stereo, backup cameras, all the extras we are comfortable with in our regular cars. We want to pair those into a solar-electric vehicle and make sure it's still efficient.
Chris: One of our major goals as a club is to teach students and our members how to apply practical engineering practices as well as how to move toward a future goal.
Chris: We race in a competition each year that features two classes of solar vehicle. There's a single-occupant vehicle class and a multi-occupant vehicle class, which is like an everyday vehicle and the class that we compete in. We like to say that competition is the driving force for our efficiency: it is the motivation for building the car but not the end goal.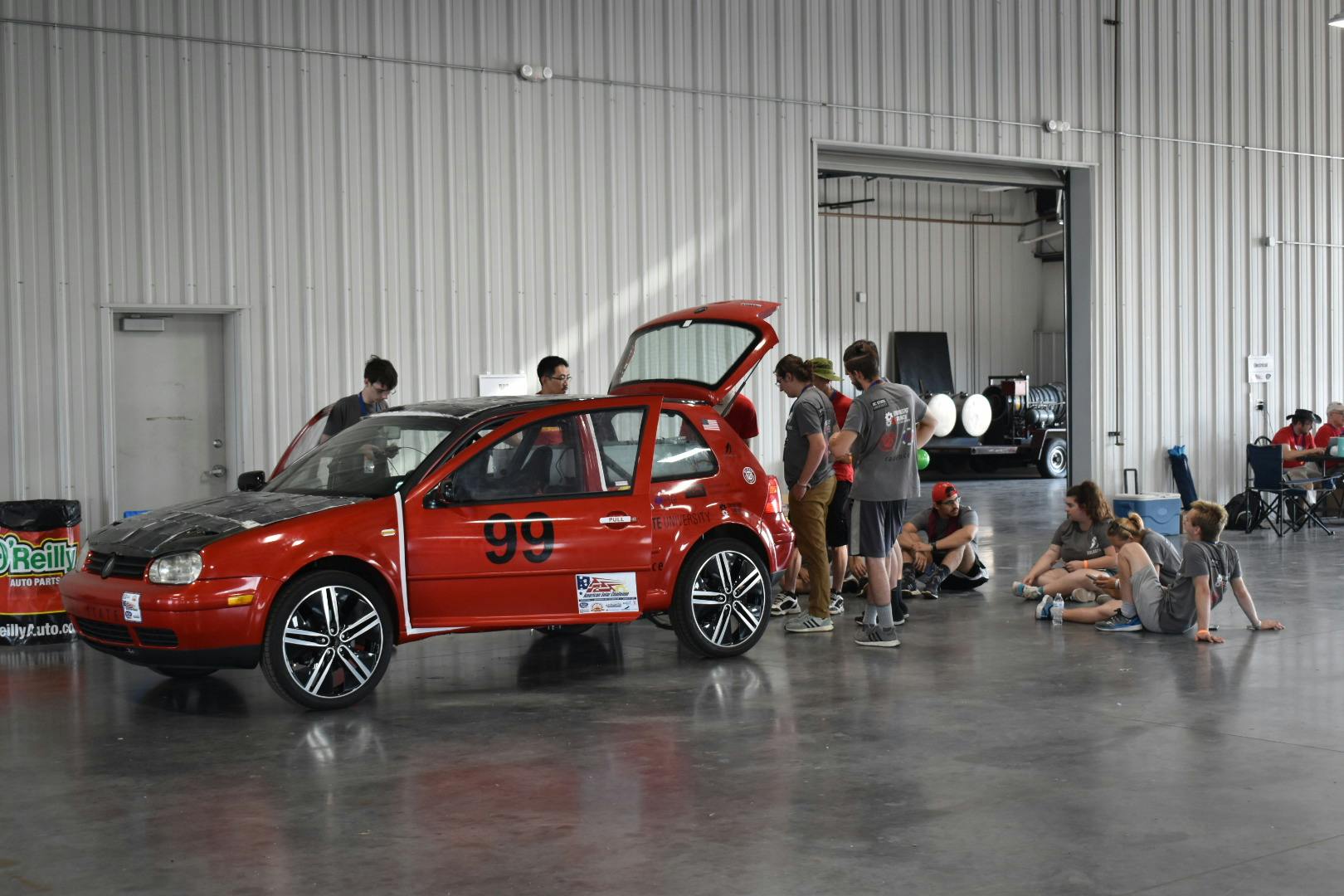 What are the big steps that you have to go through when you build a solar-electric car?
Ben: The car that we have right now is a conversion car, which is not typical for a club like us. We had a car previously that was built from the ground up, and that's usually the route that we take, but with budget restraints we needed to go the conversion route.
Ben: The process was to get the car and then tear it down to the basic components that we need. The chassis and suspension were pretty much all we were left with, as well as some other drivetrain stuff. The vehicle dynamics team worked on implementing our motor and motor controller into the front of the car to keep the front-wheel drive, and our electrical team worked on incorporating the batteries into the back of the car and the solar panels onto the top of the car. Then we had our structures team work on the roll cage to make sure we met forcing analysis requirements. Systems architecture then worked on the display and made sure that the driver and passenger have all the things that they need to see while they're driving, like the life of the battery packs, the speed, and any temperatures that you need to know. 
Ben: To build a solar car from the ground up would first require a design phase, after which would come the fabrication of the chassis or roll cage. After that it's kind of the same process where we make designs to show how we're going to implement things, then it's all just implementing the drivetrain and batteries into the car. After that, there's a test phase.
What are some challenges you face when building a solar-electric car?
Chris: There are a lot of challenges involved. It's not only just perfecting one small aspect of the competition, it's perfecting everything involved with a regular car on top of making something that hasn't been made before and then needing it to work well for long periods of time. A lot of the specific items that we've needed are not commercially available, so they have to be specifically made and can sometimes cost thousands of dollars per part. Take the battery packs, for example: we just put together the cells that we bought, and those 1,800 cells that we used cost about $10,000.
What about having access to sustainable technology that is not quite part of the mainstream yet? 
Chris: That's a big problem as well, especially since so many parts need to be custom-made. One part that comes to mind is the battery packs that we use; you would not be able to buy a battery pack like the ones we need for our specific use –  you can only create it yourself and put it together yourself. That's a big problem as well, especially since so many parts need to be custom-made. One part that comes to mind is the battery packs that we use; you would not be able to buy a battery pack like the ones we need for our specific use –  you can only create it yourself and put it together yourself. Another example is a maximum power point tracker — or M.P.P.T. — which controls the solar array and allows the solar array to charge the battery. We couldn't find one for sale, so we had to design and construct our own. Many of these parts are not used often enough to constitute being mainstream or in regular production, which is the reason they're so expensive. 
Ben: The motor that we have is another tricky thing because we're using a motor that is typically used in planes and wind turbines. In most electric cars you'll see hub motors which are a lot more expensive, so we're having to source different technology which serves the same purpose. Since our motor is attached to a transmission – which is something that you never see in electric cars – it's very unique and it's something that makes us stand out..
What are some triumphs that you're proud of?
Ben: We are one of the only solar vehicle teams that constructed our solar array in-house. Most other teams purchased their arrays or had someone else construct it for them, whereas we soldered every single cell together and covered the array with an epoxy resin. That process has led to more development where our solar team is looking into only using epoxy resin to encapsulate solar arrays, and we've found that it's a lot stronger than the materials other teams use and there's barely any efficiency loss. 
Ben: Having to do things differently has allowed us to open up new avenues to accomplish these goals at a cut cost, which of course is important to consumers.
Chris: For the first time ever we were able to pass all regulations and race our vehicle on the track. We were building this car out of one of our members' driveways for the longest time, and we were able to pass all those issues despite COVID and funding issues. We took our uniqueness and what we had and made a way. We make it work with what we are given, and we make do with what we have, and we find a way around if. If we can't buy it, then we make it ourselves or we find another way.
Chris: Our resourcefulness goes back to our sustainability mindset.
Why is this work important and what are the real-world applications?
Chris: Our club goal is to make a practical minded solar vehicle. Each of us in the club have the same mindset of sustainability and making sure that we better the world with what we're doing — not just being okay with where we're at, but constantly moving forward and innovating the future. We believe that we can do that through the solar application on vehicles we've seen work with our own project. We've seen how it works and we know that we can improve on it.  
Chris: Each one of us has different reasons why we may like sustainability, but at the end of the day we're all doing it together. I love hiking, I love nature, I love camping and all those kinds of things, so I want that to be available for generations to come. Not just for me, but for everyone else. That's why I'm doing it. We see that as not just an opportunity for us to make a difference in this specific application, but to train our members and future engineers with a sustainability mindset. 
Ben: Electric vehicles are becoming more mainstream, but they're still not really on-par with regular gas vehicles. People still prefer to drive gas vehicles, and that's just due to the relative unreliability of the charging aspect of electric vehicles. If we're able to incorporate solar power that can charge while you're driving and extend your vehicle's range, then you can have electric cars that can go double the range of a gas car. That makes it a little more enticing to consumers, which can boost the market. The sustainability that backs it up follows our goals of wanting to reduce climate change, and this gives us an avenue to do that. If we can convince people to go that direction, then that's super important to us.
Ben: Recharging your electric vehicle with power that's generated from coal plants isn't really making a difference. The sun is free, it does no harm to the climate and it's there for our taking, so we might as well use that.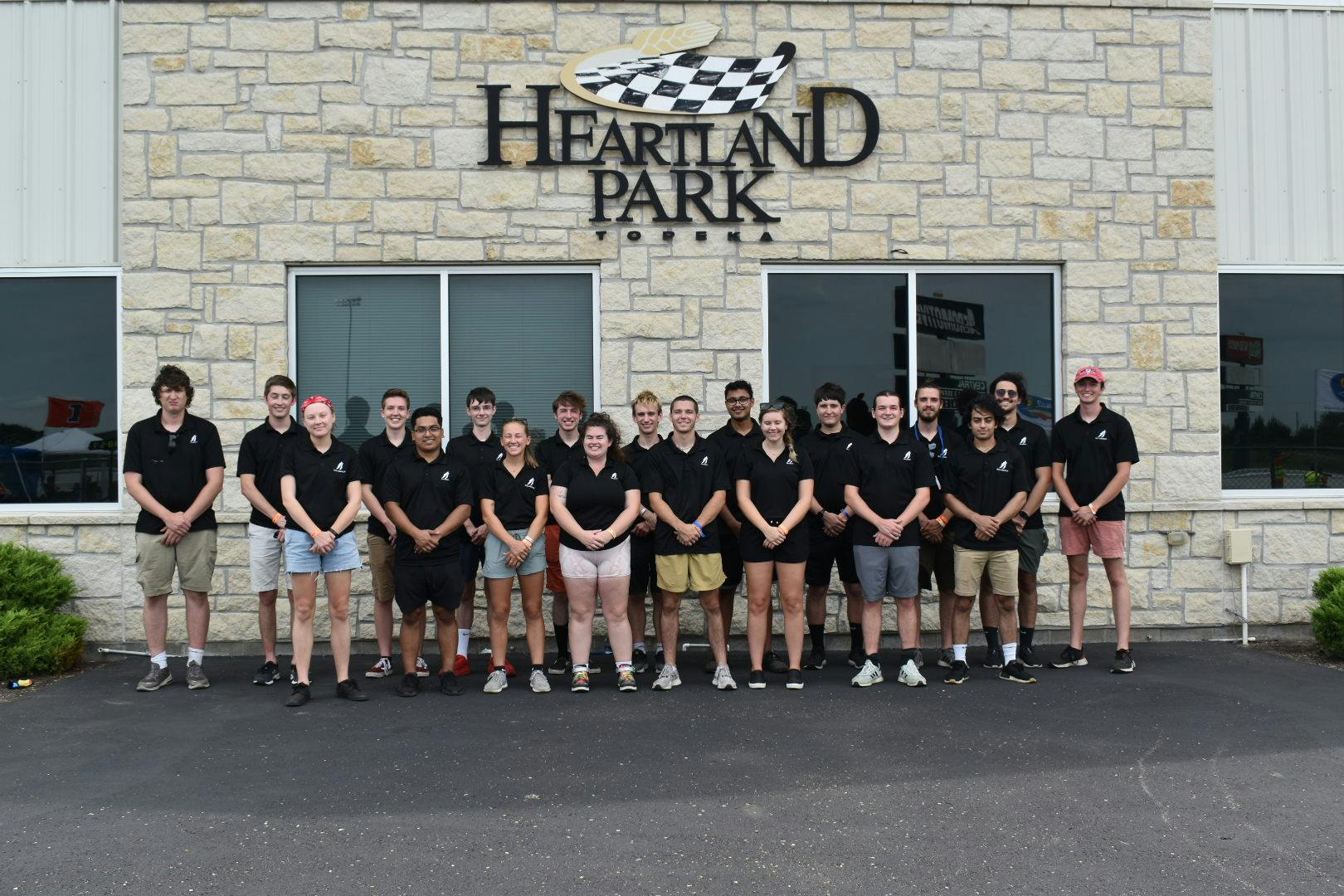 What should an everyday person know about solar-electric vehicles?
Chris: Right now, most solar vehicles look like ping pong tables with a little bubble inside, so people don't really associate them with usable vehicles. That's because all of those vehicles are designed for competition, and they're not designed with the goal of being used everyday. Solar-powered vehicles can be absolutely practical, and that's what we're moving towards.
What do you think the future of solar-electric vehicles looks like?
Ben: In the near future, we will definitely see some solar application on everyday electric vehicles. Not to fully offset the charging capabilities, since they'll still have to charge, but it will likely extend the vehicle's range. Our solar power charges our vehicle's accessory systems, like fans, cooling, dashboard displays, lighting and accessory systems. That allows our main battery pack to go entirely towards driving the vehicle which, in turn, gives you more range. We could definitely see more of that in the near future. 
Ben: Hopefully in the far future we will see that cars with improvements in technology have higher battery capacities and more efficient solar cells. Multi-occupant vehicles might be able to charge as much as they are using while they are driving without having to stop to recharge, as they'll just be drawing from that solar power.
In the path to sustainable innovation and, more importantly, its normalization in the mainstream, projects like these kickstart young minds to rethink technology and to redefine the world in which we live in. And, with a little support and encouragement, it's people like the Solarpack team that will make our future planet a better place to live in. 
Pin it!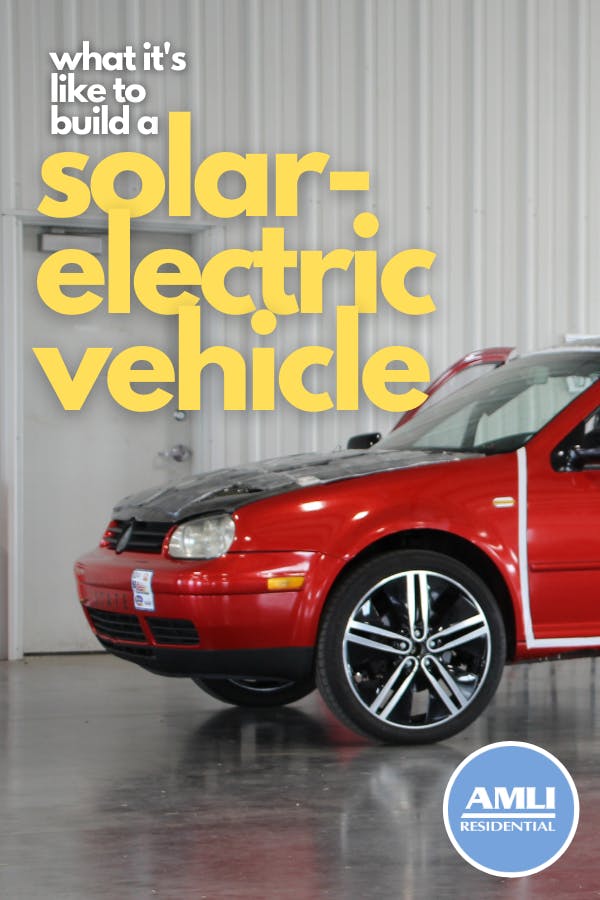 All photos courtesy Solarpack