Recycling is more than looking at a recycling symbol and chucking it in the blue bin. 
In fact, there's a bit more to it than we may think!
Recycling reduces the air and water pollution made from extracting natural resources, it conserves the energy used to make the product from scratch and it keeps natural resources in use rather than tossing them aside.
The food industry certainly uses a lot of natural resources when it comes to packaging. From bottles to boxes to cartons, bags and straws, here are the food packaging items that can and can't be recycled. 
Food containers that can & can't be recycled
Aseptic packaging
Recyclable: no
Aseptic packaging is a type of packaging used to keep its contents sterile, like milk cartons, wine cartons, liquid eggs and fruit juices, to name a few. 
These packages usually contain layers made of paper, aluminum and polypropylene (PP) plastics, all of which help keep the package strong, sealed and sterile. 
Because of the mixture of different materials, aseptic packages can't be recycled along with your curbside pickup. You'll have to see if your city has a special processing plant for aseptic packaging, otherwise it will have to go to a landfill.
Bags
Recyclable: it depends
Bags also fall under the umbrella of flexible packaging, so see below for more details on plastic bags!
Paper bags can be recycled, as long as they don't have any grease on them!
Boxes
Recyclable: yes
As long as they aren't wet or have food grease on them, cardboard boxes are good to go! Make sure to remove any tape or other material attached to the boxes first!
Cans
Recyclable: yes
The cool thing about metal cans, which are made from materials like aluminum and steel, is that they are infinitely recyclable! That means one can's worth of metal can live through generations of use. 
Be sure to follow these tips for recycling cans to ensure they live to see another day. These tips include how to properly recycle aerosol cans, how to clean metal cans and why you shouldn't crush aluminum cans!
Drink lids
Recyclable: it depends
Drink lids are tricky when it comes to recycling them. Whether or not they are recyclable depends on the size of the lid, the type of plastic it's made with and your local recycling center's list of accepted materials. 
If the lid is made with polystyrene plastic (#6 plastic), it cannot be recycled anywhere. 
If the lid is made with polyethylene (PET), it can be recycled as long as your curbside pickup programs accept lids at their recycling centers. Some don't accept them because the lids are small and light and can get stuck in the machinery. 
Polylactic acid (PLA) is made from corn resin rather than petroleum and, as a result, can't be recycled with other plastics. They can, however, be composted!
Flexible packaging
Recyclable: it depends
Flexible packaging refers to things like plastic bags, bread bags, salad bags, cling wrap, Ziploc bags, produce bags and the like. 
Around half of all the flexible packaging in the United States is recyclable, so you'll just have to make sure you're recycling the right kinds of flexible packaging. 
Plastic bags can generally be recycled with other plastic bags and other accepted flexible packaging items, though not usually in your curbside pickup. Take your plastic bags to a proper plastic bag recycling drop-off location to make sure they get recycled properly!
What isn't recyclable? Things like salad bags, silica packets, tape or candy bags can't be recycled with accepted flexible packaging items, so that will have to go in the garbage.
Paper straws
Recyclable: yes
Technically, paper straws are recyclable, but you need to make sure that your collection service and recycling center accepts paper straws. 
Plastic straws
Recyclable: no
Even though they are made with a type of plastic that should be recyclable (like polypropylene or polystyrene), plastic straws aren't usually accepted by recycling collectors or recycling  centers. The straws are so light and small that they can get stuck in the machinery used to process the recyclable products, so they are a no-go for most places. 
Plastic cups
Recyclable: it depends
Plastic cups come in four different material makeups. There's Styrofoam, which is made from a type of expanded polystyrene (PS); there's polyethylene (PET) which is made from #1 plastic and is generally accepted at most recycling centers; and there's polypropylene (PP), which is made from #5 plastic. 
Only PET and PP plastics are recyclable, as long as your local recycling center can process it. 
Paper cups
Recyclable: no
But paper is recyclable, right?
Yes, but paper cups usually have a film of polyethylene coating the inside of the cup so that your drink doesn't soak through the paper. Because it's nearly impossible to separate the two, the cup can't be recycled with either paper or plastic products. 
Takeout containers
Recyclable: it depends
Takeout containers come in many forms:
Polyethylene (PET) #1 plastic containers, which can be recycled.
Aluminum, which can also be recycled.
Polypropylene (PP) #5 plastic containers can be recycled.
Styrofoam or foam cannot be recycled.
Make sure to thoroughly wash any food containers before recycling them!
Wrappers
Recyclable: no
Think candy wrappers, granola bar sleeves or other flimsy, crinkly packaging. These cannot be recycled. 
You can always reach out to your local recycling center to find out what exactly they will accept in curbside pickup, what you can bring in yourself and where you can go to find more specific recycling locations! They will know exactly what your region, city or neighborhood is allowed to do. 
Happy recycling!
Pin it!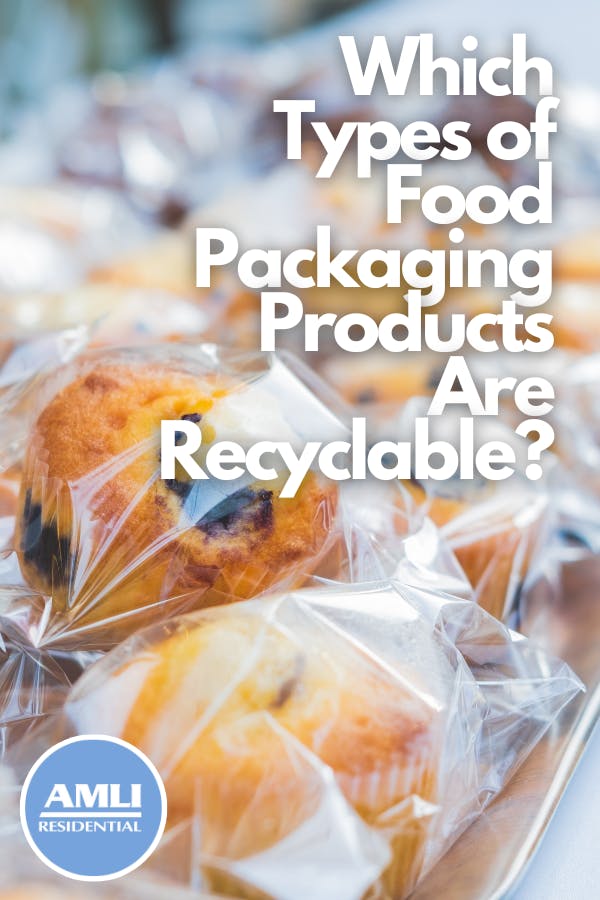 Featured photo courtesy Pixabay/Joenomias