Seattle has been home to many inventors, musicians, actors, entrepreneurs and more over its relatively short lifespan. From billionaires to musicians to actors and everything in-between, here are some fascinating people who were born in Seattle in the past century or so. 
12 famous people born in Seattle
Birthday: October 28, 1955
Founder of Microsoft and a computer programmer by trade, Good ol' Bill has called Seattle "home" all his life. An avid entrepreneur and successful businessmen, Gates is heavily involved in philanthropy and has authored several books.
Birthday: June 17, 1947
Son of famed wrestler Johnny Valentine, Greg "The Hammer" Valentine holds over 40 wrestling championship titles over his 50-year career. He was inducted into the WWE Hall of Fame Class of 2004 and into the Professional Wrestling Hall of Fame in 2016. Other ring names include Johnny Valentine Jr., Johnny Fargo, Boxcar Willie, The Blue Knight and Baby Face Nelson. 
Birthday: March 20, 1980
Professional basketball player Jamal Crawford is considered one of the best ball handlers in NBA history and has an impressive list of stats to boot. He has played for teams like the Phoenix Suns, Los Angeles Clippers, Chicago Bulls, Brooklyn Nets, New York Knicks, Golden State Warriors, Portland Trail Blazers, Atlanta Hawks and the Minnesota Timberwolves. 
Birthday: April 22, 1966
Whether you know him as John Winchester on "Supernatural," as Negan on "The Walking Dead" or as Denny Duquette on "Grey's Anatomy," Jeffrey Dean Morgan has proved to be an impressive figure on both film and television screens. 
Birthday: November 27, 1942
Legendary singer/musician/songwriter Jimi Hendrix is considered one of the best electric guitarists of all time, combining genres like blues, rock and jazz into revolutionary compositions that took the music world by storm in the late 1960s. 
Birthday: June 5, 1956
Grammy award-winning saxophonist Kenny G began his music career as a young child in a jazz band and is currently the holder of several platinum-status albums and world records in his name. 
Birthday: June 19, 1983
Born Benjamin Hammond Haggerty, rapper Macklemore rose to fame in 2009 and became well known over the years for the hits "Can't Hold Us" and "Thrift Shop."
Birthday: January 20, 1966
We have Rainn Wilson to thank for TV's most beloved beet farmer and paper salesman extraordinaire, Dwight Schrute. Since "The Office" ended in 2013, Wilson has since been involved in a variety of film and television projects. 
Birthday: January 8, 1890
Also known as "the birdman of Alcatraz," Robert Stroud was a convicted felon who, during his time in solitary confinement, discovered a nest of sparrows and developed an interest in ornithology. He studied birds extensively during his time in prison and even secretly published a book on bird diseases in 1933. An interesting character, indeed. 
Birthday: April 22, 1959
Comedian Ryan Stiles is best known for his talent in improv comedy, which is probably best displayed by his nine-year-run on the hit comedy show "Whose Line Is It, Anyway?" from 1989-2006. He's appeared in a wide variety of films, commercials and televisions shows throughout his illustrious career, and is currently starring in the 2013 reboot of "Whose Line Is It Anyway?" on The CW. 
Birthday: July 20, 1966
Pearl Jam wouldn't exist without legendary rhythm guitarist and co-lyricist Stone Gossard, who helped form the rock band in Seattle in 1990. His discography also includes a host of other Seattle-based grunge bands like Green River, Mother Love Bone and Temple of the Dog. 
Birthday: May 12, 1912
Lieutenant General William Pelham Yarborough served in the U.S. Army from 1931-1971 and is credited as the "Father of the Modern Green Berets." He was appointed Commander of the U.S. Army Special Warfare Center in 1961, and during his term he further developed the Special Forces Unit and introduced new parachuting uniforms that were used up until and throughout the Vietnam War. He died in Southern Pines, North Carolina and is buried in Arlington National Cemetery in Virginia.
There are so many more people we can add to this list, but hopefully these give you an idea of just how diverse the people who are born in Seattle are, and all the potential and possibility Seattleites can bring to the global table. And who knows? Maybe we can add some of you in our luxury Seattle apartments to the list!
Pin it!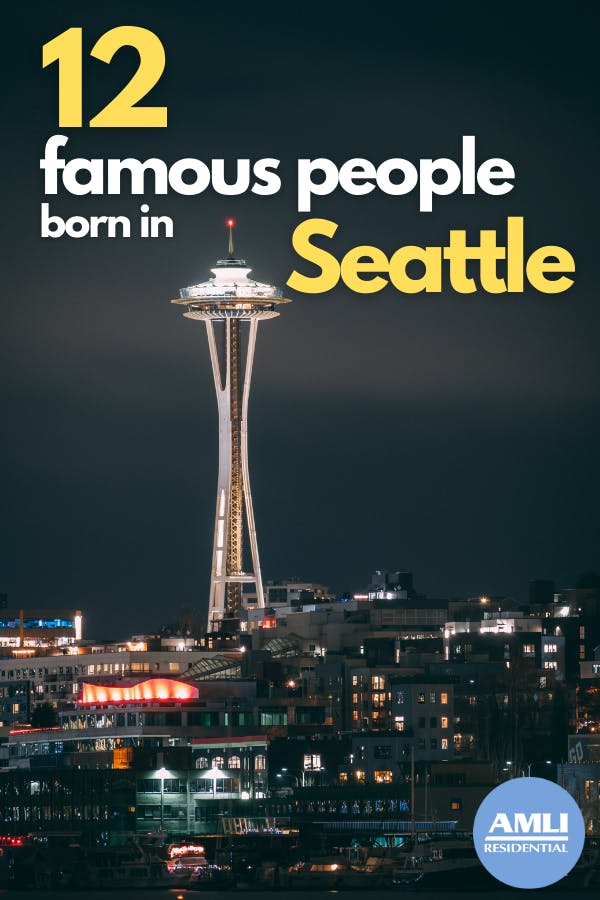 Featured photo courtesy Pixabay/12019