We asked our residents to submit a photograph of their best do-it-yourself (DIY) project with a descriptive caption that describes it, and almost 300 flooded in for the national My AMLI DIY contest! The submissions blew us away with their creativity and crafty skills! We saw everything from tables made with pallets and wine crates to reupholstered furniture, to plumbing pipes used as bookshelves, and so much more.
Our panel of judges, made up of AMLI Residential representatives, selected the best eligible entries based on each project's creativity (50 percent) and functionality (50 percent). DIY projects could be something fixed, restored, an upgrade to apartment decor, an organization system, something made from scratch…really the sky was the limit so long as it didn't modify or structurally change the apartment.
Our three grand-prize winners will receive 00 worth of gift cards and be a "Featured DIYer" in our new AMLI Blog series. Nine regional winners will receive a 0 gift card to Home Depot and also be a "Featured DIYer" on the AMLI Blog.
Take a look at the winning photos!
Grand Prize Winners
We're thrilled to announce our three grand prize winners, in no particular order, are: Lacie Herrin, Michael Johnson, and Chris Webb! Congrats!
Here are their projects:
Lacie built a coffee table using old wine crates. What a creative material to use to create a coffee table. And it has so much storage!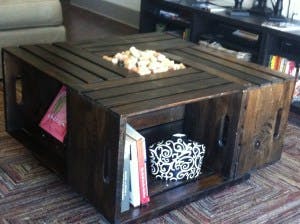 Michael built an industrial entertainment center made with PVC and metal casters. Using pipes in furniture…genius! And we love the vintage feel this entertainment center has.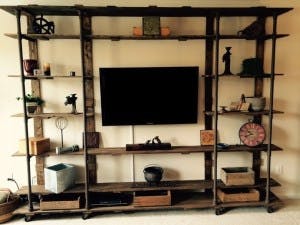 Chris built a balcony planter made from a "cobwebby" old wooden pallet. It's a great set up for apartment dwellers if you love fresh herbs, veggies, and flowers but don't have your own backyard.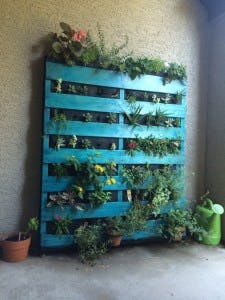 Regional Winners
We are pleased to announce our nine regional winners in no particular order: Patrick Plank, Emina Kamaric, Erica Ellis, Jeremy Moore, Kelsey Newkham, Mark Reilly, Brent Gregory, Sumi Kawaguchi, and Marta Yaeggy. Congratulations!!
Here are their projects:
Patrick created a piece of art that reminds him of home.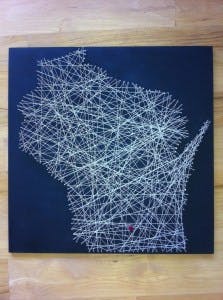 Emina refinished furniture to create a living room centerpiece and said she will never forget the blood, sweat, and tears involved in the process.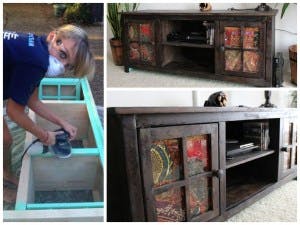 Erica turned an ordinary bookshelf she bought at IKEA into a window seat.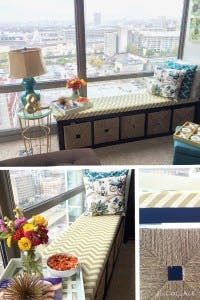 Jeremy came up with a unique, functional, and decorative way to disguise dog bowls. And bonus: There's storage under the lid! (Editor's note: As a dog owner (and lover) I was inspired to do something similar for my dog!)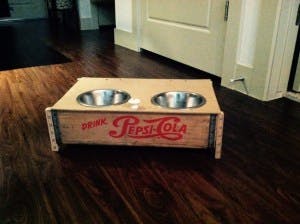 Kelsey built a bed frame and headboard from scratch to model a platform look and improvised by adding a bookshelf to the foot for more storage.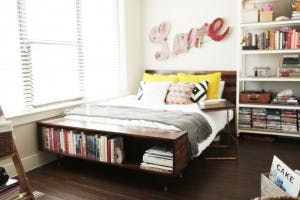 Mark created a painting that added some flair to white walls.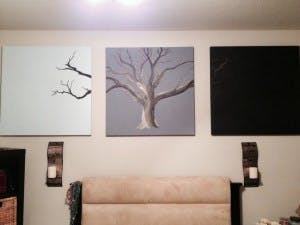 Brent hand stained a 3×4 world map on sanded pine panels for decoration in his apartment.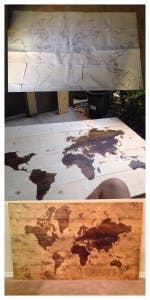 Sumi named this painting on acrylic "Miguel the Octopus."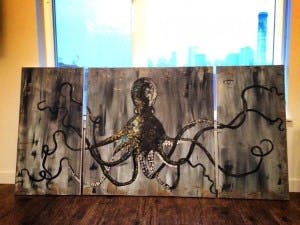 Marta built a castle bed for her princess
And there you have it. Congrats to all of our winners and thank you to all of our residents who participated. We had a tough time picking the winners, but had a blast looking at all of your submissions!
Stay tuned to the AMLI Blog for our new DIY series beginning in January where we will interview each of our winners to learn more about their projects, plus we'll have a few round-up posts featuring other submissions!