Dicing, slicing, and mixing ingredients are often the most cumbersome tasks involved in food preparation. If you prepare meals from scratch, a few kitchen gadgets can save you bundles of time and energy. Acquire these affordable, convenient, and intuitive kitchen tools to appreciate the difference for yourself.
Breakfast sandwich maker 
Do you like breakfast sandwiches? Would you eat them more often if you had an easy, mess-free way to grill them in your apartment kitchen? Thanks to appliances like the Hamilton Beach® Breakfast Sandwich Maker, this is possible. Choose the bread or bagel of your choice, and load it up with ingredients you like. It's bound to be as satisfying as some deli and fast food restaurant breakfast sandwiches. It's also likely to be healthier, as the sandwich maker's non-stick surfaces render butter and oil unnecessary. Hamilton Beach's morning sandwich makers start at 4.99.
Kitchen Craft Thermometer Spoon
When it comes to measuring the internal temperature of a meat roast or a setting jam, Kitchen Craft's thermometer spoon puts traditional kitchen thermometers to shame. This two-in-one kitchen gadget is easier to use and read than most kitchen thermometers. A detachable thermometer probe makes it fairly flexible, and a digital display gives a temperature reading accurate to the nearest tenth of a degree. You can buy this kitchen gadget on Amazon for 7.69.
Kitchen shears
Kitchen shears are handy for snipping herbs, trimming fat from poultry, and opening food packaging. They're also good for dozens of other uses, from segmenting pizza and quesadillas to cleaning shrimp. KitchenAid's Classic Forged All-Purpose Kitchen Shears cost just 2.99.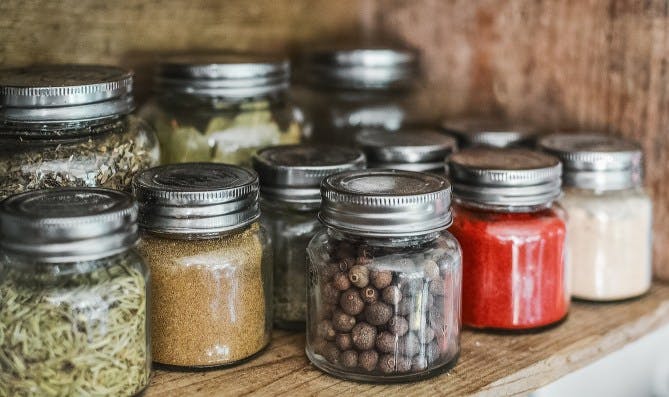 Mason jars
Is there a more versatile kitchen accoutrement than the mason jar? You can use mason jars for emulsifying vinaigrettes, mixing simple syrups, sprouting seeds or grain, and storing just about anything. Mason jars can also be used as drinking glasses and bowls. You can find mason jars just about anywhere that sells home goods. You can also order a dozen eight-ounce jars on Amazon for 7.34.
Mandoline
The trusty food processor is still one of the most useful and versatile kitchen tools around. But when it comes to slicing and dicing, the Japanese mandoline upstages the handy multipurpose tool. A flat stand that makes uniform slicing a cinch, the mandoline is a godsend for preparing salads and slaws. The highest-rated mandoline on Amazon, the Super Benriner No. 95, costs 4.99.
Microplane zester/grater
A Microplane is to grating and zesting what a mandoline is to slicing and dicing. Order one of these inexpensive, easy-to-store kitchen gadgets, and say goodbye to the frustrations of mincing garlic, zesting citrus rinds, grating ginger, and more. Buy the Microplane 40020 for 2.95 on Amazon.
Programmable slow cooker
The slow cooker finds its way onto most lists of essential kitchen gadgets, and for good reason. You may think of the slow cooker primarily as a cauldron for chili or stew. But this versatile kitchen appliance is capable of helping with so much more. Oatmeal, rolls, enchiladas, lasagne, and a host of desserts can all be prepared handily in a slow cooker. To get the most from a slow cooker, choose a programmable cooker with several uses built into it. These start at around 0.
Like what you just read? Why not subscribe to the AMLI Blog so you don't miss another post?