What's in a name? A lot, actually.
Here are some of Houston's most popular nicknames from the past up to this very moment, all of which reference the city's art, culture, history and industry from the 1870s right to this very day!
Nicknames for Houston, Texas
Space City
As we all know, NASA's Johnson Space Center is located right here in Houston, operating as the organization's center for manned spaceflight programs since 1961. 
NASA chose Houston over 23 other cities thanks to a handy list of criteria that proved our Texas city perfect for the role. There had to be access to air, rail and ocean transportation routes. There had to be space to build and expand. And there had to be access to a city full of contractors and professionals who could help put man on the moon.
Houston had all that and more, and with catchphrases like "Okay Houston, we've had a problem here" forever cementing our city into pop culture and history, it's no wonder that Houston has been bestowed this grand nickname. 
Frankly, it's quite out of this world!
HOU
Houston's oldest commercial airport is the William P. Hobby Airport, located just nine miles southeast of downtown and about 30 miles south of the George Bush Intercontinental Airport (IAH) to the North. 
Houston Hobby Airport served as Houston's sole commercial airport until 1961 when IAH first opened, and now the smaller, older airport primarily serves corporate and private flights, as well as many flights operated through Southwest Airlines, too.
It makes sense, then, that one of Houston's famous nicknames would come from this airport's aptly named code: HOU. 
Bayou City
Houston has a whopping ten bayous winding their ways through the city, including the large and prominent Buffalo Bayou that features trails, parks and plenty of recreation along its shores. Our luxury Houston apartments are right on the banks of this very Bayou, too!
Houston was founded upon the banks of Buffalo Bayou way back in 1837 following the Texas Revolution, so the bayou has had a significant role to play in the development and history of our city. Thus, the nickname!
H-Town
Though it started as a simple, locally derived moniker, the H-Town nickname has developed enough to have a fairly decent influence in the city's entertainment industry. 
The H-Town Blues Festival is held each year to showcase both local and national talent, lending credibility to the nickname. There's also the H-Town Arena Theatre, which has been hosting performing artists since as far back as the '70s, and an R&B band named H-Town that formed in 1992. 
All in all, a pretty great nickname that has deep roots in Houston's music culture!
Hustle-Town
Houston's a busy city filled with busy people, with enough residents and industry to rank it as the fourth-largest city in the United States!
The city's many industries include art, technology, science, education, transportation, music, commerce and more, all of which keep us Houstonians busy being the busiest city in the South! 
Houston's gotta hustle, right?
Clutch City
Following the Houston Rockets' NBA championship wins in both 1994 and 1995, fans bestowed the city with the nickname Clutch City, referencing a front-page article in the Houston Chronicle declaring the city to be a "Choke City." Today, the Rockets' beloved mascot, Clutch the Bear, is one of the most recognizable mascots in the sport today!
Magnolia City 
One of the city's first nicknames was officially bestowed in the 1920s, though many expect the name to have been in use locally from as early as 1870. 
The name, of course, is a reference to the many Magnolia trees that grow in the Houston area. There used to be vast Magnolia forests in the regions that are now Harrisburg and Magnolia Park, but they were destroyed to make way for the expansion of suburbs in the 1920s. 
The Big Heart
In response to the devastating damage done by Hurricane Katrina in Louisiana in 2005, Houston took in over 150,000 survivors and provided resources, assistance, food and housing to all those affected by the storm. The city was nationally renowned for its extensive shelter operations, and in the years that followed the disaster Houston became known as "The Big Heart" for the compassionate efforts to help. 
The Energy Capital of the World
Houston's most official nickname — at the moment, at least — is The Energy Capital of the World. 
With a rich history of oil in and around Houston, as well as being in a prime location for transportation by land, sea and air, it's no wonder that the city's wealth and development was built on the back of the energy industry.
Today, Houston is both a national and global leader in the oil and gas industry, with great influence in the areas of offshore drilling, marketing, transmission, production, exploration and more. Over 3,600 energy-related businesses have headquarters in Houston, including 13 of the 20 largest natural gas companies in the United States, 170 pipeline operators and 600 production and expiration firms. 
Out of all these nicknames, which ones have you heard of or used, and which are your favorites? And what names do you think will Houston be nicknamed next?
Pin it!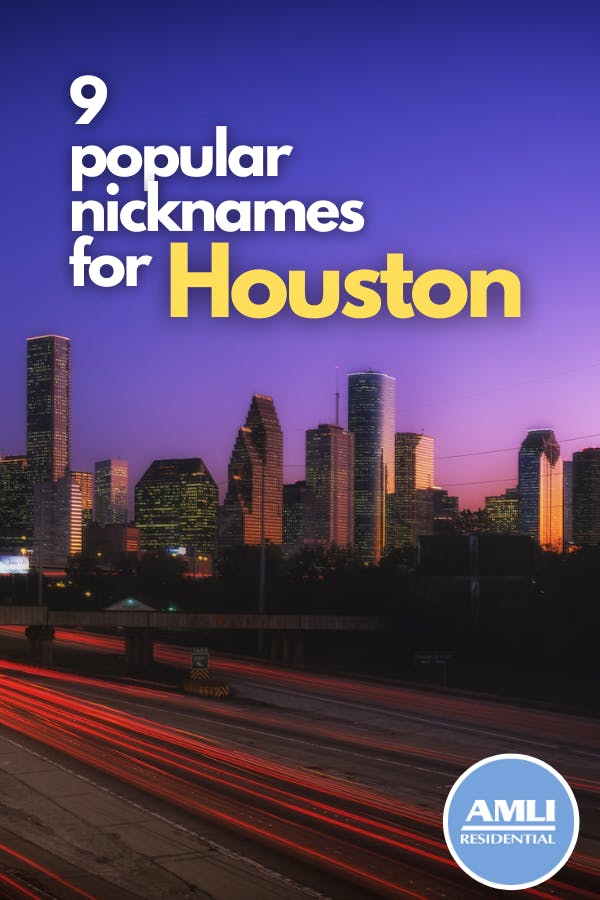 Featured photo courtesy Pixabay/Falkenpost