We are lucky to live in a time where we not only have the ability to get what we need most of the time, but also a few odds and ends that we want, too!
Here at AMLI, we love our kitchen gadgets. We've found kitchen gadgets that will save you time and effort and also some kitchen gadgets that make healthy cooking quick & easy. Now we're here to show you some fun and quirky kitchen gadgets that you never knew you needed! 
When it comes to kitchen gadgets, you'll find that most gadgets will do pretty much the same thing, no matter how fancy or expensive. Your $1 set of wooden spoons from Dollar Tree will probably do the same job as your $80 set of 4 Williams Sonoma Olivewood Spoons. Your $3 can opener from Walmart will open your can of coconut milk the exact same way as your $20 Misty Blue Gourmet Can Opener With Bottle Opener from Pfaltzgraff. 
Basically, when it comes to kitchen utensils, you might end up choosing your gadgets based on how they look and how well they fit into your kitchen and your home.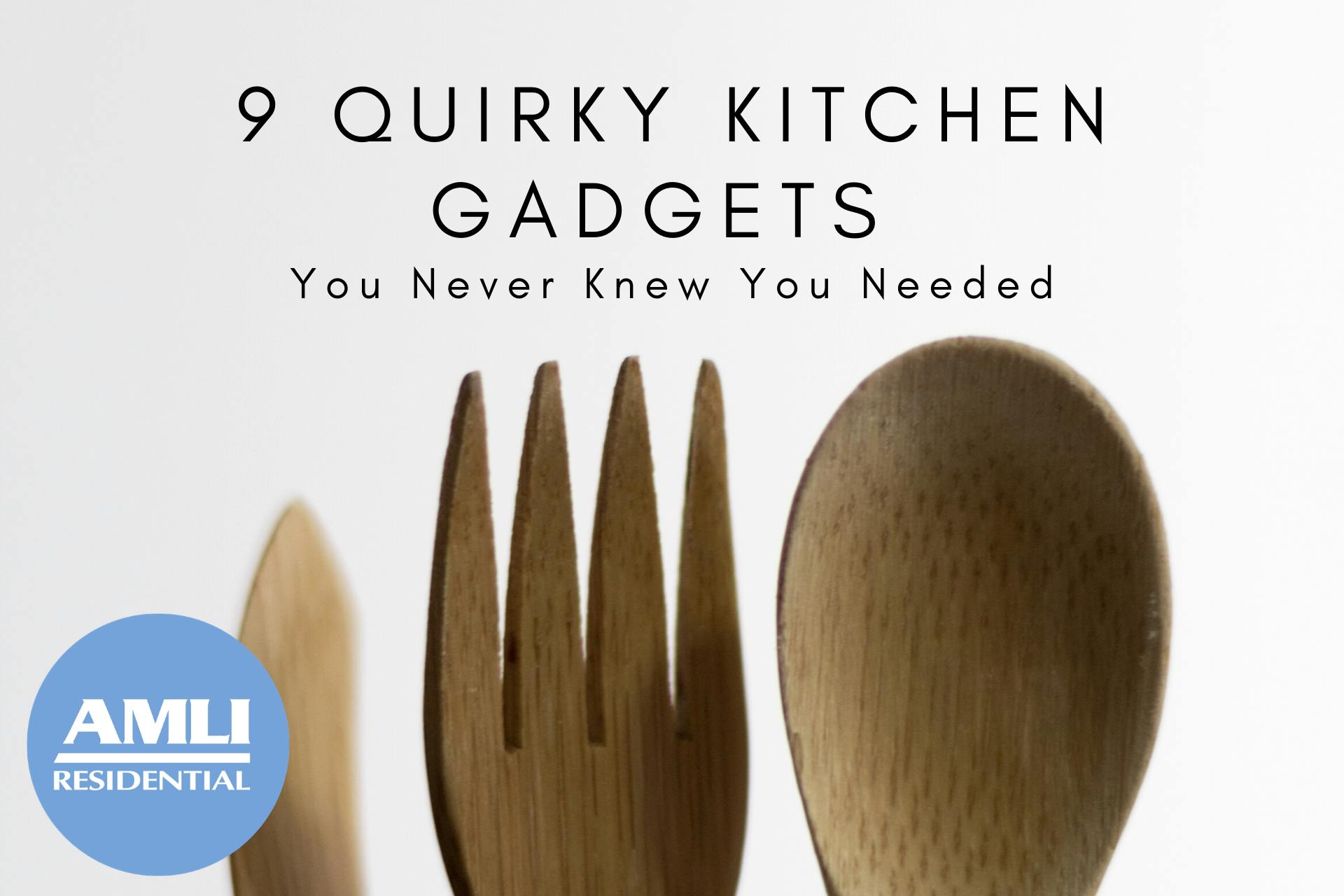 Which brings us to this question: how can we make our everyday kitchen utensils become a little more interesting? 
Well, all you need is a little imagination, a good sense of humor and, most importantly, the internet! With these three at your fingertips, you can replace your boring mixing bowls with this yellow spaghetti monster colander! Who doesn't love getting served their spaghetti in a giant, yellow, googly-eyed alien bowl?
So, here are some fun and quirky twists on some classic kitchen gadgets! These make for perfect gifts for friends, family and, of course, yourself! Your apartment dinners will be the talk of the town with these fun kitchen gadgets.
Quirky kitchen gadgets you never knew you needed
Taco Tuesday is about to get absolutely legendary. How, you ask? Substitute your plain old taco holder with a Stegosaurus or a Tyrannosaurus Rex, and BOOM! You've just elevated your taco game to absolute dino-mite (*ba-dum-tss*) levels! 
Can this dinosaur taco holder impress your guests beyond belief? 
You bet Jurassican.
Use this ice cream scoop to scoop ice cream onto your ice cream cone! This fun ice cream scoop is both practical to use and a fun kitchen gadget to give as a gift, so why not start collecting a few for your quirky kitchen ideas! 
It seems as though Darth Vader has moved on from galactic destruction into the world of culinary arts. Apparently, being a Sith lord doesn't give you many transferable skills to use in this not-so-far-away galaxy. Now, to help the unemployed force-users of the world, you can employ the dark lord in your very own kitchen to prepare breakfast for you. It's a win-win!
Breakfast is the most important meal of the day as it can determine how the rest of your day goes! In this case, this emoji pancake griddle can help set your mood, both literally and figuratively! Also, if you wanted to be really passive-aggressive to a house guest, you could always give them the angry emoji until they get the idea. 
This little green man is on a mission, and his mission is to get your soda or beer open as fast as possible! This would be a great, fun stocking-stuffer kitchen gadget or white-elephant gift for friends or family, and it would be a perfect, fun kitchen gadget to keep in with your camping gear. 
Now you can eat your ramen in the dark, just like you've always wanted to.
Just kidding! These little lightsaber chopsticks are fun kitchen gadgets that will instantly elevate your utensil drawer. Get a few different colors and a few different sets, and you can bring a whole new meaning to the term 'food fight.'
Have you ever been faced with the dilemma of time when you're making your grilled cheese? You have to heat up the griddle, you've got to flip the sandwiches over and you've got to clean it all up at the end. Well, we've got a kitchen gadget to help with your grilled cheese! 
This grilled cheese toaster does all the work for you: it cooks your sandwich perfectly on both sides and leaves no dirty dishes! All you have to do is assemble the sandwich and pop it in the toaster. Easy as pie. 
Picture it: your dinner guest stepping into your kitchen and doing a double-take at the stovetop. "Is that…" they ask, "is that the Loch Ness monster?" Why yes. Yes it is. 
This little Nessie colander spoon will add a fun little quirk to your average soups and dishes, and it makes for a great kitchen gift for friends, too! 
"Where's the Mama?" 
"Steaming in the microwave!"
Yes, this is a conversation that you, too can have. All you need is this funny little steam bottle that both cleans your microwave and gives you a good laugh. You'll end up with the cleanest microwave around and a perpetually-angry plastic doll to frighten your friends with when they go to make their pizza rolls. You're welcome.
The best thing about these fun kitchen gadgets is that they are just that: fun. If you're just going for practicality, then you may as well buy a plain set of wooden spoons. But if you're going for fun and quirkiness, then the sky's the limit!
Enjoy!
Pin it!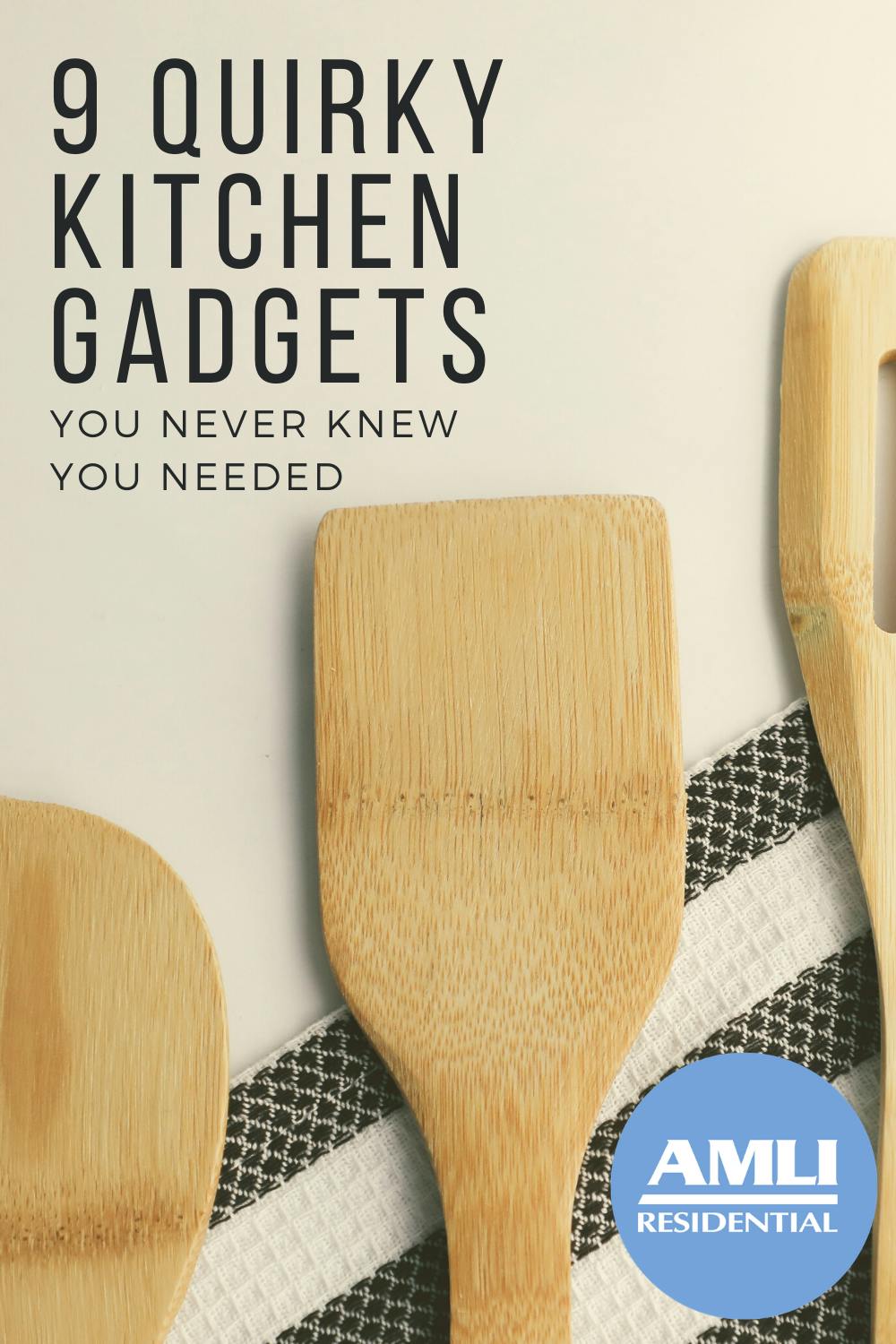 Featured photo courtesy Pixabay/Katrina_S