Cycling is an active and environmentally-friendly mode of transit. And thanks to the addition of new bike lanes and other initiatives, several U.S. cities are growing increasingly bike-friendly. If you're going to cycle, however, there are some general rules of etiquette and safety you should live by. Follow them in order to minimize the risk of injury to yourself and others. These rules can also help protect your bike and keep it in good working order.
Wear a helmet
If there's a golden rule of smart cycling, it's wearing a helmet. Purchase a comfortable, well-fitting helmet you won't feel embarrassed to be seen in, and wear it religiously.
See and be seen
For your own safety, it's important that you're always visible to other cyclists, pedestrians, and motorists. Your bike should be equipped with reflectors at all times. At night, use both front and back lights. It's also smart to wear light, bright clothing. Crossing guard vests and fluorescent jackets will make you very hard to miss. Just as important as taking care to be seen is keeping an eyes out for other cyclists, motorists, and pedestrians. They might not all always take note of you.
Obey traffic signals and cycling laws
Cyclists in some areas have a reputation for slowing down rather than making complete stops at stop signs and stop lights. Not only can you actually get ticketed for disobeying traffic laws. Failure to stop at signs and lights is the most common cause of road accidents involving cyclists. Other laws to be mindful of are traveling in the right direction on a one-way street and walking your bike on sidewalks and in pedestrian zones.
Signal before turning
Let others on the road know when you plan to turn and in which direction by extending your right or left arm to the side. This should give drivers behind you time to slow down before you make your turn. Before turning, always check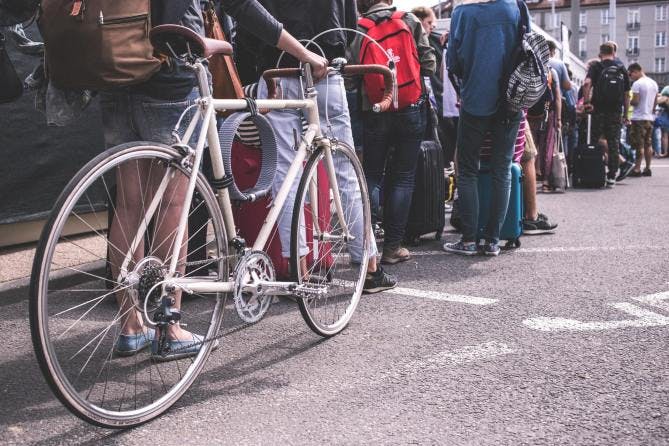 Avoid other dangerous habits
There are a handful of other dangerous habits to avoid while cycling, even if they're legal in your municipality. Chief among these is probably wearing headphones. If you wear headphones for directional purposes, only use one earbud at a time and keep the volume low so you can hear honking and other traffic noise.
Keep your distance
For your safety, always keep at least five feet between your bike and other bicycles in front of and behind you. When sharing a road with cars, this distance should be even greater. It's also a good idea to keep two or three feet between your bike and parked cars. This will spare you from being caught off guard by passengers suddenly opening their car without looking first to see whether bicycles are approaching
Lock up your bike
Bicycle theft is a major problem in many parts of the country. Keep your bike from winding up in someone else's hands by properly locking it with a good bike lock every time you park, ideally in a secure area. Try to use a U-lock or a locking system that at least locks one of your wheels and frame. Locking both wheels and the frame is best, however. If your apartment offers indoor bicycle storage, take advantage of it.
Maintain your bike
Proper bicycle maintenance is about more than ensuring a smooth and easy ride. It's also important for bicycle safety. The two most important components are the brakes and tires. Regularly check the condition of your brakes (torn cables, brake pads, cable tension) and tires (pressure, traces of damage and wear). Semi-annual tune-ups from a reputable bike shop can go a long way in helping with bike maintenance.
Check the weather forecast before riding
Before mounting your bike, check the forecast so you can dress appropriately. If rain is expected while you're out, wear waterproof clothing. Unless you have splashguards, you'll want to avoid cycling in heavy rain. If it's supposed to snow or there's ice on the ground, another form of transport may be a safe bet.
Like what you just read? Why not subscribe to the AMLI Blog so you don't miss another post?