Dallas is known for many things. It's known for its rich oil and cotton history, as well as its more recent emergence into the technology and telecommunications field. Transport has always been a large part of the city's operations, as has finance, and modern-day Dallas draws thousands of die-hard football fans to its stadiums.
But there's another industry that sometimes goes unnoticed among Dallas' giants: fashion. 
Though located hundreds of miles from major fashion centers like New York City and Los Angeles, Dallas has made its own mark upon the fashion sphere in its own unique way over the past century. 
Here's a brief history of the fashion industry in Dallas that's made our Texas city so well-known around the fashion world. 
A brief history of Dallas' fashion industry
Dallas at the time
Dallas's fashion story starts over a hundred years ago in the early 1900s, not long after brand-new railroads completed their construction and connected the fledgling city to the rest of Texas and the country. 
Dallas, and Texas as a whole, had only been part of the United States for around 50 years by the end of the 19th century, so the small town and local economy were fairly new compared to the bustling economy and society of the East Coast. 
That's not to say that there wasn't wealth there, though. The late-1800s saw the discovery of oil at Spindletop Hill near Beaumont, Texas, and the resulting tidal wave of oil tycoons and oil fields created an extremely wealthy class of Texans who were at the forefront of the boom. These wealthy Texans congregated in cities that were able to support transportation to and from the rest of the nation and adequate spaces for trading goods. Dallas, of course, was one of those places.  
The oil industry attracted businesses of all kinds to the city, and by the early 1900s the city was booming and growing exponentially. The 15-story Praetorian Building that housed the Praetorian Order of Insurers became the first skyscraper in Texas and the first in the Southwestern United States, and the cotton market of the region was significant enough to make Dallas a leader in cotton gin machinery manufacturing.
In a city full of such riches, so emerged a richer class of socialites who attended events like horseracing and drivers clubs. At this point, Dallas had entered the 20th century.
Emerging fashions
Enter: Neiman-Marcus
Neiman-Marcus was a business consisting of Herbert Marcus Sr., his sister Carrie Marcus Neiman and her husband A.L. Neiman. This trio entered business together as founders of an Atlanta-based sales firm, and in 1907 took earnings from their firm and headed to Dallas to enter a new market – luxury retail. 
The Neiman-Marcus trio recognized that there was a gap in the Dallas market for luxury goods that would otherwise be readily available to consumers in cities like New York and Boston, and on September 10, 1907, their first Dallas store opened to the public. 
The Neiman Marcus store was a hit almost immediately, seeing great success despite the 1907 economic crisis known as the Panic of 1907 set off just weeks later. The store's clothing inventory, most of which was personally hand-picked by Carrie from New York City, sold out after a few weeks.
The store's popularity was in large part to the population of wealthy Texans and their desire to flaunt a level of wealth not yet seen in Texas society. By the mid 1930s, Neiman-Marcus (known as Neiman's to locals) was at the forefront of fashion not just in Dallas, but in Texas and the southern United States! It was the first retailer outside of New York City to run ads in national publications like "Harper's Bazaar" and "Vogue," and its additional sportswear departments and Christmas catalogs made waves in Texas society. Stanley Marcus even began bringing in international brands from designers like the Missonis, Emilio Pucci and Bottega Veneta, becoming one of the first local store owners to do so. 
Dallas grows its fashion retail industry
In the decades between the 1960s and the 1980s, Dallas went through a period of massive growth in terms of fashion. In 1965, Raymond Nasher built the 97-acre NorthPark Center which, at the time, was the world's largest climate-controlled retail center. The center featured a Neiman Marcus store, of course, as well as JC Penney, Woolworths and Titche-Goettinger, all of which were the anchors that drew crowds by the millions. Today, the center sees around 26 million visitors annually.
Modeling agencies also set roots in Dallas alongside the budding textile and fashion industries. With modeling and talent agencies came more luxury brands and more recognition, and soon the wealthy Dallas residents were living large on an international scale not yet seen in Texas. 
Since then, Dallas has only continued to grow in the fashion and retail landscape. The Texas Fashion Collection at the University of North Texas is dedicated to preserving that industry's history by collecting, logging, recording and preserving over 18,000 pieces of clothing from the early days of Neiman-Marcus up to today! 
And there you have it! Dallas is a hub for fashion, retail and luxury in modern-day Texas (as you can tell by our Dallas Apartments) and now you know why!
Enjoy!
Pin it!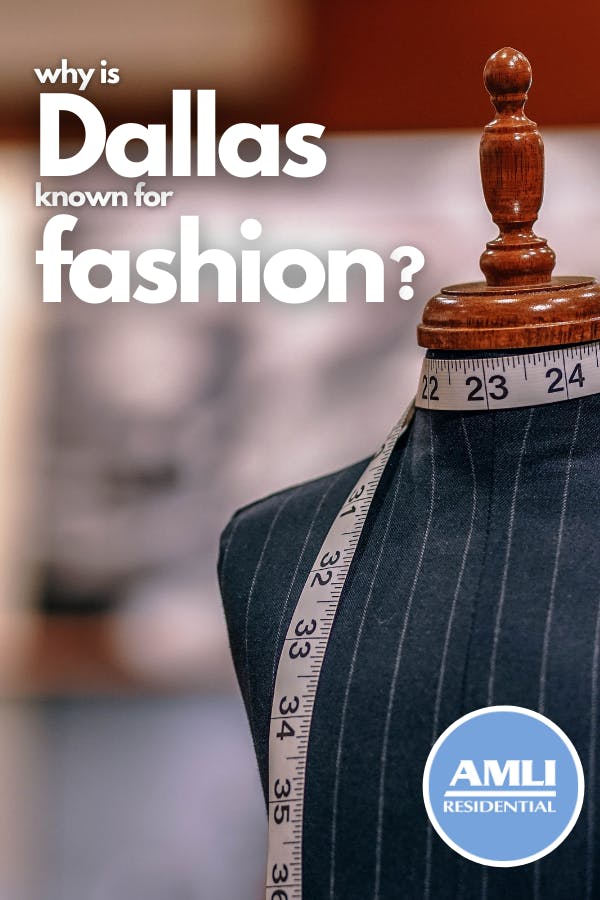 Featured photo courtesy Pixabay/PhotoMIX-Company