Vacation getaways are exciting, but they can also be expensive, exhausting, and stress-inducing.  Sometimes we come back from a vacation and feel that we need to take another one just to recuperate.  If your last vacation made you feel this way, the state of your bank account makes you think that you should save up before you fly across the country or world again, or you only have a few days off and you want to do something fun but don't want to spend so much of your time off getting from home to your vacation destination and back, then you are in the market for a staycation.  And with the right planning and mindset, a staycation can be just as fun–and much more relaxing–than the average vacation.
Use Your "Packing Time" Wisely
One of the nice things about planning a staycation is that you don't have to spend as much time packing and preparing as you do before you go on a vacation. If you decide to spend a night camping or getting pampered at a health spa, you may have to throw some of your belongings in a bag. But you aren't going to have to worry about carefully packing a suitcase and making sure that you haven't forgotten anything. Instead of giving yourself "free time" to do as you wish during what would otherwise be your packing time, spend just a fraction of that time tidying up and taking care of chores that have been left undone for awhile. This will set the stage for a fun and exciting staycation in a clean, orderly place. It should also make post-staycation clean-up at the end of the weak easier than it would otherwise be.
Go Shopping
Start your staycation off right, by visiting your local supermarket and picking up all of your favorite snacks and beverages. Is there a dish that you love to cook but haven't had time to prepare in weeks or perhaps months because of how busy you've been at work? Get all the fixings that dish requires because you're finally going to have the opportunity to make it. If you've allotted yourself a "staycation" budget, see what's left after you do your grocery shopping and pick up a board game, movie, or sports equipment that you can use for entertainment during your at-home vacation.
Do Something You Haven't Done
If you live in a major urban area, chances are that there are a lot of attractions and "escapes" nearby that you have heard about and taken interest in but not yet checked out. Make a list of these attractions, do some research, and plan a schedule for your staycation. From concerts and museums to hiking and restaurant dining, there should be no shortage of options that you can choose from when trying to make your staycation schedule as exciting as you want it to be.
Have Friends Over
While you will most likely want to get out of your neighborhood and explore parts of the city and its surroundings that are less familiar to you, you should also set aside some of your staycation time to appreciate and enjoy all that your upscale apartment community has to offer. If you are feeling up to entertaining, invite some friends over to enjoy your pool one last time before the season is over. Have a barbecue or cook up a meal in your kitchen.  Enjoy a nice dinner in your apartment, or move to the clubhouse if you want a change of scenery. Entertaining can be a lot of fun and virtually stress-free when you feel like you are not pressed for time as you clean, cook, and decorate. Still, you should only entertain during your staycation if you want to entertain because it will require some effort on your behalf and the only work you should do on your staycation is work that you want to do.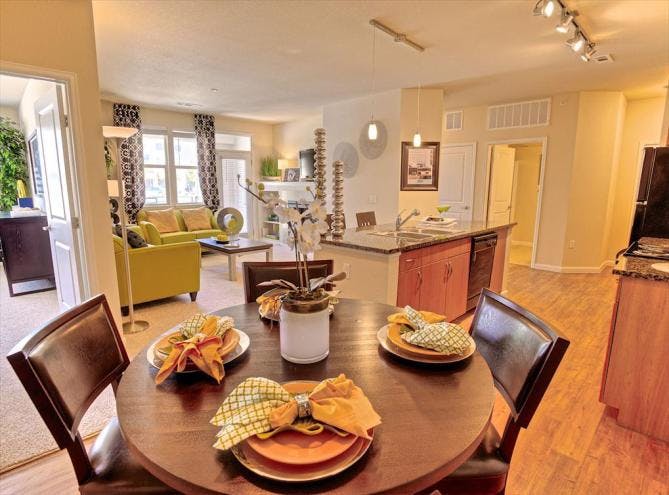 Make R&R a Priority
Whether it means setting aside 9 or 10 hours a night to catch up on all of the sleep you haven't been getting or scheduling a spa visit to get that massage you haven't had time for, it is important that you set aside time to relax during your staycation. If you have money to spare, you may want to splash out on a stay at a well-reputed resort in the area. If you are on a tight budget for your staycation, you can rest up in the comfort of your own luxury apartment. If you do the latter, just be sure to set aside time during which you have to rest. You may still be at home, but taking a break from your regular duties and responsibilities is part of what having a staycation is all about.
Unplug
If you want your staycation to feel like a genuine break from the normally fast pace of your life, then you should make yourself more or less unavailable to those who can contact you digitally. Don't log onto Facebook, activate an auto-response message to let people who e-mail you know that you are unavailable and will get back to them after a certain date (the end of your staycation), and only turn your cell phone on when you need to make a call.
Even if you are veritably familiar with your surroundings, there is plenty on offer in your city that you have yet to experience. Get out there with friends or relatives, and you may start to feel as if you are on vacation. All that will be missing is the expensive plane flights, the lengthy delays, and the stress associated with navigating your way through daily life in a place with which you are unfamiliar. Vacations are certainly not out, but staycations are definitely in. Plan one today; and if all goes well, you may have trouble deciding between a staycation and a vacation the next time you get a few days off of work.