Looking for a new place to call home near Long Beach? Try the newest apartments in downtown Long Beach at AMLI Park Broadway! As one of our latest luxury communities, each apartment is designed to incorporate state-of-the-art amenities, while boasting a fantastic, convenient downtown location near the beach. Blending Long Beach's vibrant waterfront scene with plenty of restaurants, attractions and more—this is the perfect spot for those looking to work hard and play (or relax) harder.
Available floor plans include studio, one-bedroom or two-bedroom layouts with expansive square footage, giving you all of the space needed to sleep, study and live comfortably. Many units include floor-to-ceiling windows that boast stunning views of Long Beach, and bring the warm California sun in. All homes include designer appliance packages, central heating and air, as well as in-unit washers and dryers. With plenty of units still available, you will have the freedom and direction to choose a layout most suited to your needs.
Polished wood-style flooring throughout the living areas provide a refined finish, while kitchen spaces are ornamented with timeless features such as Euro-style cabinetry, elegant quartz countertops and stainless steel appliances. When you aren't in the mood to cook, simply walk a few blocks from our Long Beach apartments to grab some French toast at The Breakfast Bar, or make your way to Beer Belly's for craft beer and comfort food. Interested in grabbing a strong cocktail after work? Head on over to The Federal Bar or the Blind Donkey. No matter what you're in the mood for, you can conveniently find it all within a few blocks of AMLI Park Broadway. And both Beer Belly and the Federal Bar are AMLI PERKS partners, giving exclusive discounts available only to AMLI residents.
Located in the heart of some of Long Beach's best shopping, enjoy the East Village Arts District—scattered with restored historic buildings transformed into shops, galleries and restaurants for your entertainment. Nearby Pine Avenue blends business with pleasure and includes dining and nightlife options that are all located within close proximity to your apartment. Throughout the year, scheduled events such as Taste of Downtown and the Grand Prix of Long Beach are hosted on Pine, always providing you with options to keep you busy. Other spots to add to your neighborhood bucket list include Alamitos Beach, the boardwalk and shops at Shoreline Village, the Aquarium of the Pacific and the historic Queen Mary anchored in the port of Long Beach.
Living at AMLI Park Broadway provides endless amenities that are sure to impress. From the rooftop sky lounge to the resort-style swimming pool and sundeck, appreciate the views of downtown without having to step out of your home. And while we're still at work perfecting these main draws, they're expected to be available to residents by late summer. Here at AMLI, we work hard to create a close-knit community for our residents, which is why we have a club room, grill stations and outdoor fireplace for people to mix and mingle. For those working from home or in need of additional quiet space, AMLI offers a resident business center and conference room, as well as a DIY maker space to encourage creativity and critical thinking.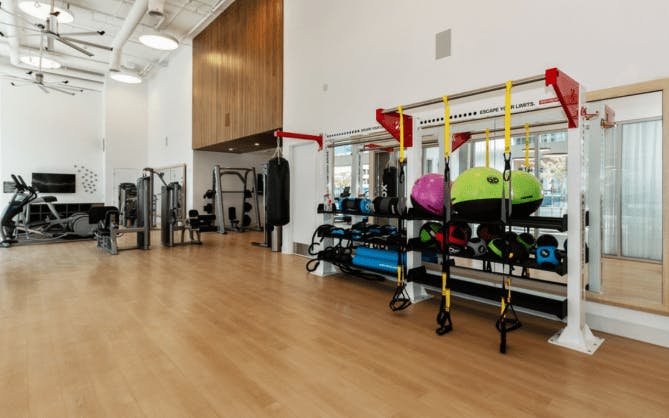 Downstairs, the fitness center is open 24 hours and fully-outfitted with machines, weights and other equipment to accommodate your fitness regime. For those looking to take things to the next level, we also have fitness on-demand classes in our group studio. For those with pets, AMLI is proud to provide a pet-friendly community, complete with a pet spa to give your four-legged friends some extra love.
Since parking in Long Beach can sometimes be a hassle, we provide our residents with a controlled access parking garage and bike storage. Ready to turn your dream home into a reality? Be sure to secure your spot at AMLI Park Broadway today!
Interested in more articles like this? Stay up to date with our AMLI blog!