Long associated with windmills, wooden clogs, and windows illuminated by red light, Amsterdam is a destination that appears on the bucket lists of hundreds of millions of people around the world.  More than one million of these adventurous souls make their pilgrimage to the city each year.  Many others who would like to visit Amsterdam do not go because they are deterred by the gobs of cash they assume they will have to spend while there.  To find out why a trip to Amsterdam does not half to cost you an arm or a leg (or a month's salary), check out this advice from one of your resident bloggers, who just spent a beautiful week in the Venice of the North.
It Makes Cents: Why Amsterdam Has a Reputation for Being Expensive
Along with the rest of Northern Europe, Amsterdam has a well-earned reputation for being an expensive place to visit and live.  Geography, local wages, and the popularity of Amsterdam as a desirable place to live and visit can account for this.  As is the case with most other expensive cities, however, bargains can be found if you know where to look.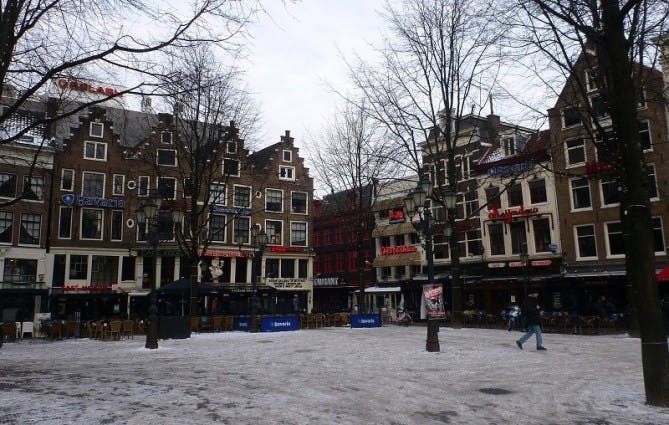 Getting There
If you live on the East Coast, roundtrip airfare to Amsterdam (a seven-hour flight from New York) can be found at prices similar to those of a roundtrip journey to Los Angeles or San Francisco.  If you live further west, you will likely have to pay a bit more. If you search internet-based travel websites like Vayama, DoHop, Expedia, HotWire, and Travelocity, you should be able to find roundtrip airfare from any major city in the U.S. to Amsterdam for no more than ,000.  Prices are cheapest between September and May, and are usually at their lowest when booked between two and four months prior to travel.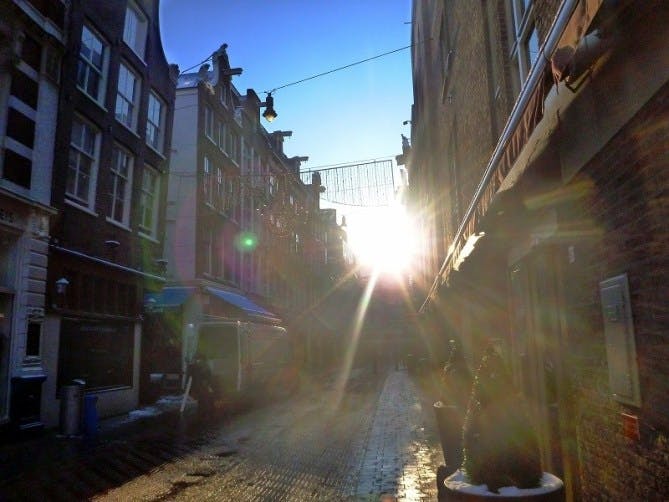 Once you land at Amsterdam Schiphol, a major international airport with a reputation for service and efficiency, getting into the city is a piece of cake.  Simply follow the signs to the trains (there is a station attached to the airport), and purchase a ticket to Amsterdam Central Station.  After a smooth, scenic 20-minute train ride, you will be in the historic center of the city.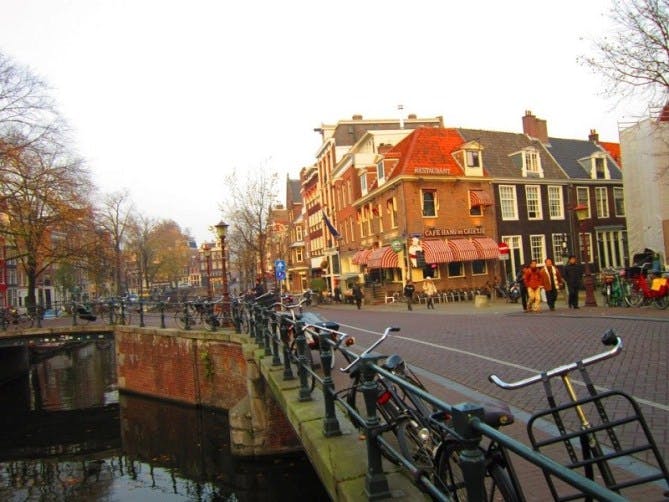 Sleeping for Less
It is easy to drop upwards of 00 a night on lodging in Amsterdam.  If you do not have or want to spend that kind of cash, however, you will be glad to know that quality accommodation can be found in any price range.  During the shoulder season, plenty of hotels in the three-star range slash their prices in half, offering clean, quiet, and conveniently situated lodging for anywhere from 0-0 per room per night.  A continental breakfast of fresh bread, cheese, meat, cereal, fruit, juice, and coffee is almost always included in the price.

Alternatively, you can find upscale apartments to rent on AirBnB.com that will offer you the comfort of having a home away from home for about 00 a night.  For those budget travelers who might be interested in staying with a local Amsterdamer on their vacation and having the opportunity to explore the city through that person's perspective, a Couchsurfing.org search can turn up a range of options for free.
On past trips to Amsterdam, I have had nice experiences staying with Couchsurfing hosts, sleeping in compact canal boat hotel rooms, and crashing on hostel beds for as little as 5/night.  This time, I wanted to be in control of my schedule so that I could achieve the perfect mix of work and play I was in search of throughout my week in the city.  After exhausting every resource I am aware of in search of the perfect place for my budget, I settled on Hotel Crystal, a family-run hotel on a quiet, yet centrally located street with excellent customer reviews.  For a single room with a fully equipped bathroom, a highly functional heater (more on that in a moment), and a complimentary breakfast of the nature described above, I paid just shy of 0/night.  To say that I was satisfied with the value of the accommodation would be an understatement.  I added my own glowing review to the hotel's long-running list of them.
Eating Well, on the Cheap
There is no shortage of tasty food in Amsterdam.  Fine dining restaurants line the streets in the city's old center and the ring of canals that surround it.  If you choose to splurge on dinner at a restaurant featuring a world-class chef and breathtaking views, you can expect to pay anywhere from 0 to upwards of 00 for a three-course meal.
If you would prefer to eat most of your meals for 0 or less, this is entirely possible.  Local pizza, burger, and Dutch (a local favorite) joints are scattered throughout the city.  Falafel sandwiches and schawarma, served up by the city's large immigrant population, are in abundance and generally cost no more than .  If you are looking for something you are familiar with, then you can visit a McDonald's, Burger King, Subway, or KFC.  Prices at these fast-food chains are roughly 30% more expensive than they are at home, but still affordable.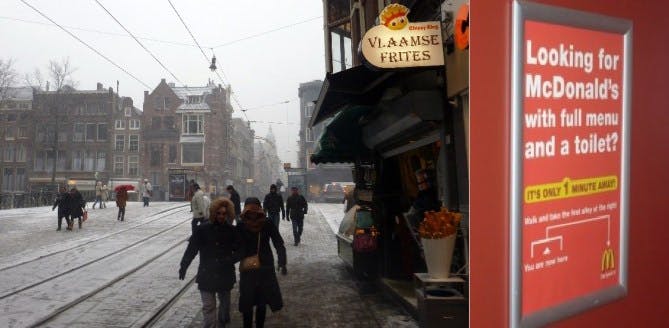 How did I satisfy my hunger while I was in Amsterdam?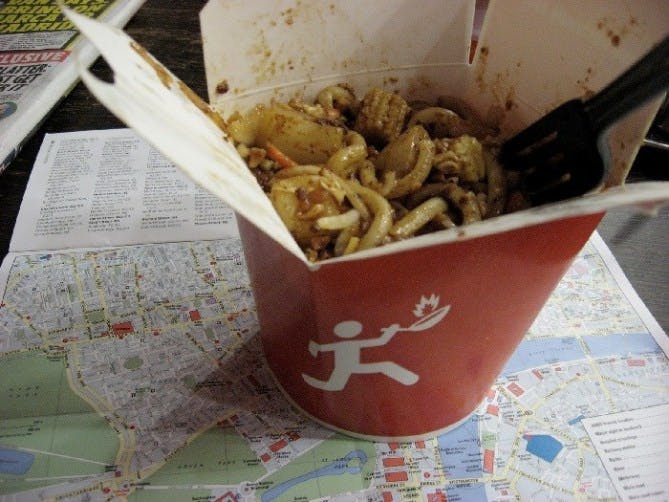 After several visits to the city, my budget-friendly haunts have been established. These include:
Wok to Walk, a quick Asian eatery that cooks up mean stir fries at prices ranging from -12.
 Maoz, a vegetarian eatery that specializes in falafel and Middle Eastern inspired salads. I ate here four or five times this past visit, and never spent more than .  Those of you living in AMLI luxury apartment communities in Austin, Miami Beach, New York, and New Jersey may recognize this chain, which has expanded into some U.S. markets.
FEBO, a walk-up fast food restaurant that is unlike any eatery I have seen anywhere on earth.  When customers enter the restaurant, they are greeted by dozens of miniature ovens.  Well-lit, it is easy for customers to see what dish is inside each oven.  Insert coins in the amount denoted on the side of the oven (between .50 and .00), and after a short click you will have free reign to open the oven and remove the dish you have requested.  Dutch specialties such as croquettes, frikandellen (fried minced meat), hamburgers, and cheese soufflés are among the delicacies on offer at FEBO, which has locations throughout the city.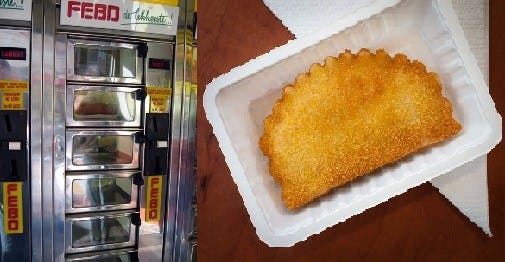 Another eating option I have grown fond of is picking up ready-made salads, fruit smoothies, and other meals at Albert Heijn, a Dutch supermarket chain that has gone in the direction of offering Whole Foods-style readymade dishes made with healthy, organic, locally grown ingredients.
When to Go
Amsterdam is a popular tourist destination year-round, but its streets are especially cramped with foreign visitors in June, July, and August.  Of course, this is also the time of year when the weather tends to be most pleasant.  If you are looking for deals but you do not want to visit during the bitter winter as I did, I recommend visiting during one of the shoulder seasons, which last from September to November and March to May.  The former of these two seasons is marked by beautiful fall foliage in the parks and on the tree-lined canals.  The latter features tulip seasons, and the tulips that bloom in the Dutch countryside in April and May are a sight to behold.
If you visit in the low season (December-February), you may be fortunate enough to see the city covered in snow, a beautiful sight.  However, you will want to bring some of the warmest garb you have stored in your closet.  The temperature did not rise above freezing the entire week I was there, and highs of 22 or 23 degrees were common.  To be fair, it was unseasonably cold.  Winter highs in Amsterdam tend to hover around the 40-degree range.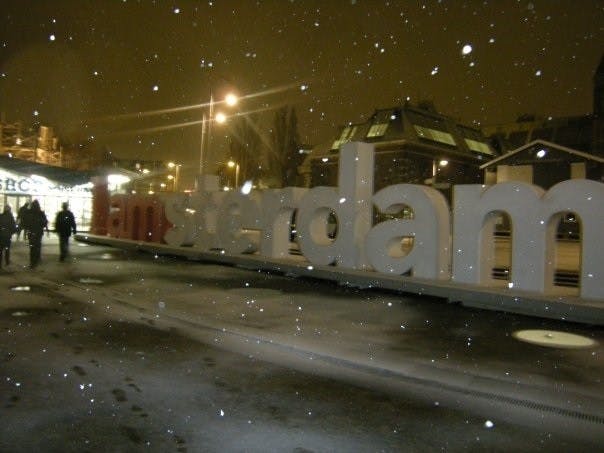 Low-Cost Tourist Attractions
Amsterdam is home to some of the world's best preserved 17-century architecture; most coveted art collections; and culture-based attractions.  It also boasts beautiful parks and fun tours. If you plan on visiting several attractions, I recommend purchasing the Museum Card.  It costs around 0 (depending on the exchange rate at the time of your visit), and provides the cardholder with free entrance to more than 400 museums.  It is valid for one year.  The card is valid for admission to all of the attractions highlighted below, save for the Heineken Brewery.

With close to 2 million visitors in 2011, the Van Gogh Museum is the single most popular tourist destination in the Netherlands and one of the most visited art museums in the world.  Boasting the largest collection of Vincent Van Gogh's works that can be found anywhere, the museum is home to such favorites as and Sunflowers.  Entrance to the museum—which features nearly 1,500 paintings, drawings, and letters by the Dutch artist and hundreds of others by his contemporaries—costs 0 for adults.  For holders of the Museum Card or the I Amsterdam City Card, admission is free.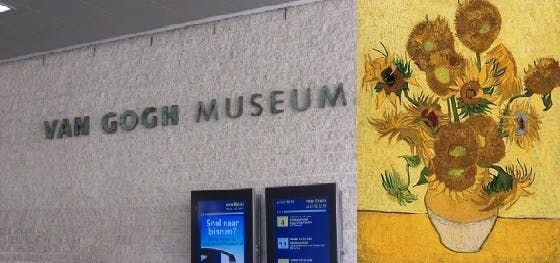 The second most popular tourist attraction in Amsterdam, clocking more than 1.2 million visitors a year, is the Anne Frank House.  A visit includes a tour of the annex, or attic, where Anne Frank and her family hid from the Nazis for just over 2 years before being captured and deported to concentration camps.  The space beneath that attic has been converted to a museum, with interactive displays and a wealth of historical information.  Entrance to the museum costs around 2, but is free with a valid Museum Card.

A visit to the Rijskmuseum is a must for lovers of art, history, and culture.  Its 97,000 square feet of exhibition space are devoted to showcasing artworks, handicrafts, and artifacts pertinent to Dutch history. Among its most famous works are Johannes Vermeer's The Milkmaid and Rembrandt van Rijn's The Night Watch. Located near the famous "I amsterdam" sculpture, the exterior of the Rijksmuseum is so impressive that it is worth a look even for those who do not want to pay to see the collection inside.  Adult admission costs 7, but is included with the Museum Card.  The museum has recently undergone ten years of renovation, and will reopen with a bang in early April 2013.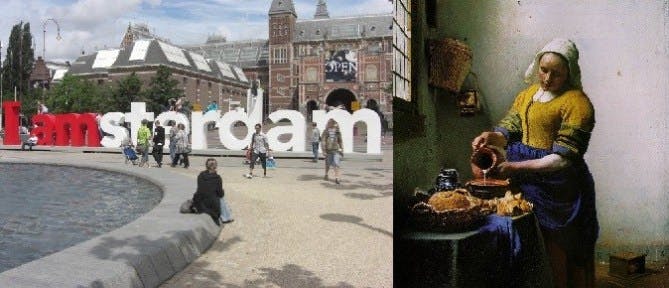 As the second most popular imported brew to the United States, chances are high that you have heard of—and perhaps even enjoyed—a Heineken pilsner.  Regardless of whether or not you are fond of this light beer, a tour of the warehouse in which it is brewed promises to be a memorable experience.  Dubbed "The Heineken Experience," a brewery tour includes a comprehensive tour of the facilities; an interactive multimedia "Be Your Own Brew" virtual reality ride; a couple of beers; and a souvenir.  The cost is around 6 when you book online.  Advanced booking is recommended if you want to avoid standing in line, and group rates are available.

Opened in 1865, the Vondelpark is a beautiful 120-acre urban park, featuring lush green areas, ponds, several statues, playgrounds, a teahouse, and a well-manicured rose garden.  The park is open year-round, is public (read: free to visit), and provides visitors with a convenient nature escape from the hustle and bustle of the city.  In the summertime, festivals and open air theatre productions are held in the park's various entertainment venues.  Vondelpark is one of my favorite places in Amsterdam, and I recommend cycling its length, enjoying coffee or tea at the teahouse, barbecuing with a group of friends, or relaxing with a book in one of its many grassy areas.

Some people would say that no visit to Amsterdam is complete without a canal tour.  An intricate system of canals was constructed in the early 1600s, and the city has been built up around that system. In many instances, a canal boat provides the quickest method of transport from point A to point B.  Several companies operate canal tours, varying in length, price, and route.  A canal tour is a great way to appreciate Amsterdam's beautiful architecture and superb city planning, and can provide you with a peek into the life of the people who live in the thousands of houseboats that line the banks of Amsterdam's canals.  In good weather, visitors can also charter pedal boats at reasonable prices.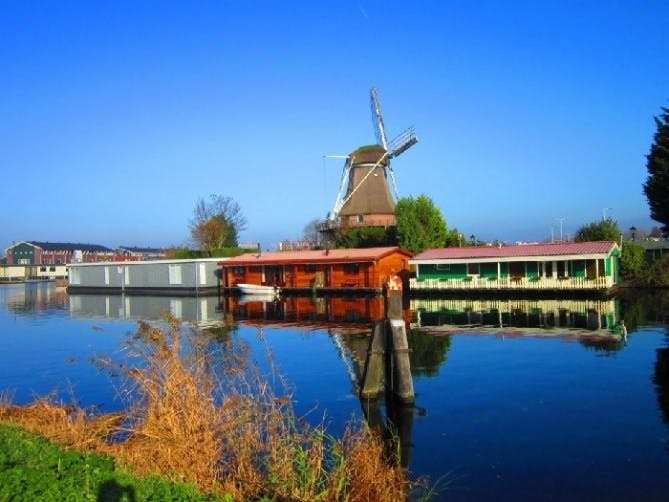 Getting Around
Most tourist attractions in Amsterdam are located within walking distance of one another.  The city is also connected via an affordable, efficient tram system.  Bicycle hire costs as little as per day, and enables visitors to experience the city as most locals do (there are more than 1 million bicycles in Amsterdam, a city with a population of 1.3 million).  Taxi cabs can be found in the city, but are rarely necessary.

Staying in Shape While Traveling
Simply exploring the old city of Amsterdam on foot will help you get the exercise you need and provide your leg muscles with a nice work out.  Another great way to get some exercise is to rent a bike and cycle around the city, through its parks, or even to a nearby city like Utrecht or Den Haag.  If you stay at an upscale hotel or in a private apartment, you may have complimentary access to gym facilities.
Now, I'm pretty into yoga.  And have been on a bikram kick lately.  It's great for your body, and entering a sanctuary of 105 degrees to train your body and your mind for 90 minutes can be a great escape from the winter cold.  If you happen to be a regular practitioner of yoga, like myself, Bikram Yoga Amterdam offers an unlimited one-week pass for 5.  They have two convenient locations in the city, at which several classes are offered throughout the day, starting at 6 AM and ending at 9:30 PM.  I attended one class every day of my visit, and definitely got my money's worth.  The instructors are knowledgeable and helpful; and attending a hot yoga class is a great way to escape the bone-chilling cold, cleanse your body of any toxins you may have introduced into your bloodstream during a night out on the town, and feel rejuvenated.
Safety and Security
The crime rate in Amsterdam is lower than it is almost anywhere in the United States.  While it is important to exercise caution by locking your hotel room door and keeping an eye out for your belongings, you are unlikely to encounter close calls with theft or other crime while in the Netherlands.  Peace of mind, however, can be bought at a surprisingly cheap price.  Many hotel rooms offer safes in which you can keep your most valuable belongings, and travel insurance can be had for as little as per day.  WorldNomads.com offers flexible travel insurance policies that will allow you to add countries besides the Netherlands to your itinerary at no extra cost.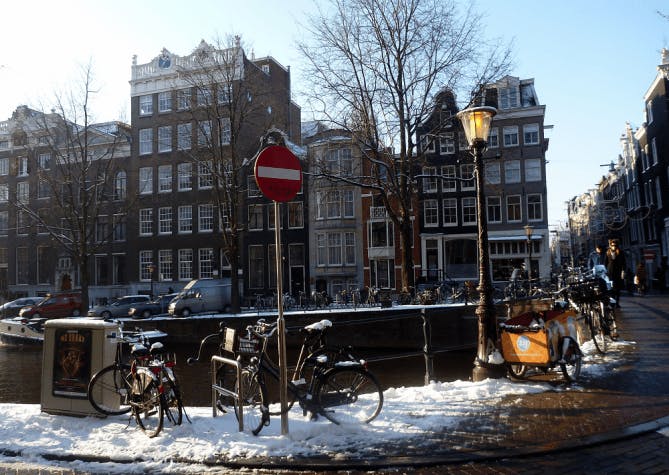 No matter what your travel budget is or what your interests are, a visit to Amsterdam is unlikely to disappoint.  The city is considered to be one of the most beautiful and well-organized on earth, and the omnipresent smiles that line the faces of the Dutch people have a tendency to be contagious.  The city's reputation for openness and tolerance makes for a cultural experience that is unique to the Netherlands, and the fact that everything you could want from a visit to Amsterdam can be found at reasonable prices is simply an added bonus.  AMLI's mantra of "Live Life + Love Life." extends beyond your apartment walls, and beyond the borders of the city, state, and country in which you live.  If you are looking to broaden your horizons and experience something new, something beautiful, consider taking a trip to Amsterdam.  You will never forget it.  And once it is all said and done, you will be able to return home to the comfort of your apartment, where you can spend time reminiscing about your vacation and sharing photos with family and friends!