Whether it's a rainy day, a school holiday or a national pandemic, you will inevitably find that you'll be scrambling for fun activities and crafts with which to entertain your kids. 
To help you with your search, we've found a few interesting and, most importantly, time-consuming activities that will keep your kiddos entertained during the long hours at home. 
Cardboard forts
Age range: 3+
Difficulty: 🎨
Supplies: leftover cardboard boxes, packing tape, crayons, stickers, scissors
A cardboard fort is a great way for your kids to exercise their imaginations and get creative. Use packing tape to help them create walls, doors and roofs for their forts, and make sure to keep young ones away from scissors. Crayons and stickers provide endless hours' worth of decoration and energy-fueled coloring. By the end of construction, your kids will want to do everything in their new cardboard fort, so you won't have to worry about cluttering the rest of the house. 
Reading bingo
Age range: 6+
Difficulty: 🎨
Supplies: bingo cards, stickers, books, prizes
What better way to keep your children entertained and educated during an extended stay at home than by reading? Whether your child has just started reading or has been reading for years, nurture their curiosity and development by encouraging them to read when they feel bored. 
Print out these bingo sheets or create your own sheets that reflect your child's and family's reading habits. Provide fun stickers to stick on each completed box, and offer prizes when your child gets five in a row! 
Age range: 2+
Difficulty: 🎨🎨
Supplies: aprons/old clothes, recipes, ingredients
Baking with your children is only as complicated as you make it out to be. Find recipes that your children will look forward to eating so that they will pay attention and stay committed to the task. 
Adapt your recipes to accommodate different age ranges: if you have a two-year-old, all they need to do is stir the bowl or sprinkle chocolate chips; your six-year-old can probably manage to measure liquids and knead bread; your 10-year-old can frost cakes, use a mixer or create detailed decorations. 
Here are a few recipes to try:
Watch beluga whale live streams
Age range: 3+
Difficulty: 🎨
Supplies: none
Kids love animals, so the Georgia Aquarium has offered to bring its animals right into your own home. Watch live streams of the aquarium's habitats for belugas, penguins, sea otters, sea lions, jellyfish and other habitats for free right from your living room!
Live streams from the Georgia Aquarium:
Age range: 10+
Difficulty: 🎨
Supplies: none
You don't have to be in Paris to enjoy one of the greatest museums on the planet! Take a virtual tour of the Louvre in all its glory right from your couch at home. 
Play hopscotch
Age range: 4+
Difficulty: 🎨
Supplies: painter's tape/chalk
Age range: 4+
Difficulty:🎨
Supplies: none
Ever heard a story read from space? Well, with these books read by astronauts in the International Space Station, every story experience will be out of this world. Also, watch videos of astronauts performing experiments while your kids follow along at home!
Age range: 8+
Difficulty: 🎨🎨🎨
Supplies: none
It's never too early to learn creative problem solving through coding. Teach your kids a valuable life skill by starting with the building blocks of logic and creative thinking through code.
Age range: 8+
Difficulty: 🎨🎨🎨
Supplies: origami paper, plastic ruler, pencils
This origami site has a great selection of kid-friendly origami projects that are fun and easy to make. Add an extra component to this activity by turning the origami creations into a hanging mobile for infants!
Make sensory bottles
Age range: 6-12 months
Difficulty: 🎨
Supplies:  2-liter plastic bottles, beads, glitter, sequins
You may find that these sensory bottles will pique your child's interest and expose them to textures, colors and movements that will keep them entertained for hours.
Practice motor coordination
Age range: 2+
Difficulty: 🎨
Supplies: rubber bands, small plastic toys
Wrap a small plastic toy (a small elephant, a car, a tree etc.) with some large rubber bands (not too tightly!) and have your kids practice removing them. Removing and un-layering the bands will teach your child excellent coordination and problem-solving skills. 
Practice shapes
Age range: 3+
Difficulty: 🎨
Supplies: rocks/nature items, poster board, sharpie, tupperware
Find some large, smooth stones from a garden store or hobby shop and trace their shapes on a large piece of poster board. Place all the stones in a tupperware and encourage your child to match the stones to the outlines one by one until the tupperware is empty. You can extend this activity by creating different layouts and combinations of the rocks on a new board. Having irregular shapes to practice matching will keep your child occupied and thinking more about the world around them. 
As you're stuck at home with (seemingly) nothing to do with your children, don't pass up the opportunity to pass time with educational and developmental activities that will keep them busy and you feeling accomplished. 
Enjoy!
Pin it!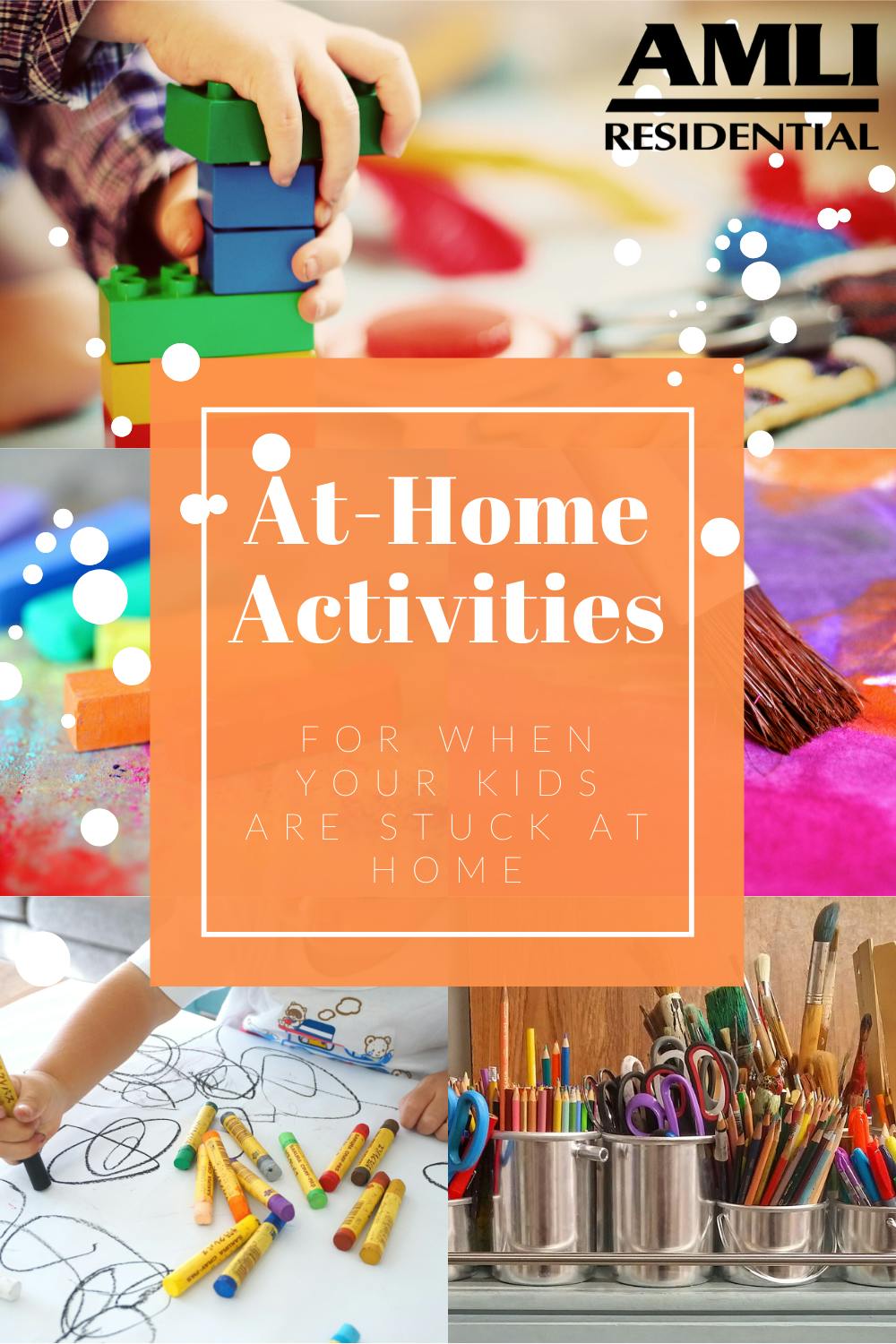 Featured photo courtesy Pixabay/cherylt23