The Bahamas are just a hop, skip and jump away from Miami, with the closest islands just 50 miles off Florida's east coast near our luxury South Florida apartments! 
There are over 700 islands in this pristine archipelago, so picking a spot to visit is no simple feat. To make it a little easier, we've picked four destinations that are within a day's travel of Miami, including fun activities to do, cost of travel and length of trip.  
Visiting the Bahamas from Florida
How to get to the Bahamas from Miami
Travel by plane
Traveling to the Bahamas via plane is the fastest and most efficient method of travel, especially if you're planning a short trip for a day or for a weekend. And, depending on the island, it may be the only way to reach one of the 700+ islands in the Bahamas chain. 
Make sure you book your flight at least three weeks in advance for the best price, but there are daily flights to the islands so you're sure to find something even on short notice. 
Here are some other airline services to the Bahamas from Miami:
Travel by boat
Traveling to the Bahamas via ferry is another affordable option for day-trippers to the islands. The ride is a little longer, but if part of your vacation includes a couple of hours' worth of fresh, salty ocean air, then a ferry ride can be a great way to start and end your trip. 
The most popular ferry service to Freeport on Grand Bahama (from which you can travel to connecting islands) is Balearia Caribbean leaving from Fort Lauderdale. This ferry service makes the three-hour trip enjoyable and relaxing, with free Wi-Fi, a cafe and shopping amenities. 
Here are some popular ferry services to the Bahamas from Miami:
What do you need to visit the Bahamas?
Though the Bahamas are a popular tourist destination for both Miami and U.S. residents, its status as a fully independent nation requires any visitors to follow standard international tourist procedures. 
If you carry a Canadian or U.S. passport, this means having a valid passport (valid for up to three months following your departure date) with at least two blank pages. You don't need a visa for travel lasting less than 90 days, but you will be required to provide tickets showing proof of your arrival and departure dates.
Islands in the Bahamas good for weekend trips
Grand Bahama Island
Ferry travel: 4 ½ hours, ~$110
Air travel: 2 hours, ~$130–$400
Grand Bahama Island is one of the the closest islands to Miami and, therefore, one of the more popular and affordable locations for short trips to utter and complete paradise. 
This island has a little bit of everything for its visitors: five-star resorts overlooking crystal-clear blue waters offer luxurious beachside vacations; vast coral reefs provide ample opportunity for snorkeling and scuba diving with turtles and fish; lush greenery and pristine parks give hikers and campers plenty of space to enjoy the quieter and more natural landscape; and, finally, there's enough water recreation like fishing, boating, sailing, caving, water skiing and more to keep you busy for weeks!
Grand Bahama is a great spot for short trips, but its proximity to the mainland does mean there's likely to be large crowds and less solitude. For a more quiet vacation, check out the islands below. 
Eleuthera Island 
Ferry travel: 23 hours, ~$380
Air travel: 5 hours, ~$200–$600
The Eleuthera Islands are famous for its pink sand beaches and exceptional swimming spots, as well as its many outdoor adventure opportunities making for a true nature-lovers' paradise. 
Hot springs on the beach pair perfectly with optimal surfing spots and underwater caves, and visitors can paddle around with turtles and tropical fish in the Ocean's Hole inland from the coast. 
There's also plenty of vibrant culture and exceptional food on the island for your post-swimming adventuring. Pop in one of the many bars, barbeque spots and cafes for a bite to eat and some live music, and you might even find yourself in the middle of one of the many parades, festivals or street parties that make the island culture so vibrant and colorful. 
Bimini Islands
Ferry travel: 2 hours, ~$280
Air travel: 30 minutes, ~$700
The Bimini Islands are the westernmost in the Bahamas Islands and just 50 miles off the coast of Miami. They are also the islands where Ernest Hemingway spent much of his time and where rum-runners of old stashed their wares during the Prohibition Era.. 
Today, the Bimini Islands are a destination for those seeking a more private, upscale and luxurious island experience. The small islands are surrounded by some of the best fishing in the world, and scuba divers flock to the region to explore the sunken shipwrecks scattered on the ocean floor. 
New Providence
Ferry travel: 2 hours, ~$280
Air travel: 30 minutes, ~$700
Though measuring just 21 miles across and seven miles wide, New Providence is the most populous island in the Bahamas and is home to over 70% of the population. The island's largest city, Nassau, is also the nation's capital and therefore home to a wider range of infrastructure, nightlife and entertainment, operating as the commercial hub for the entire 700-island nation.
Activities on this island include arts & culture, outdoor recreation, water sports and more, with plenty of accommodation and entertainment to choose from in the busy city. There are also ferries that offer service to surrounding islands from New Providence, so it's a convenient location for tourists who want to spend time exploring surrounding islands, too.
Wherever you go and however long you stay, let's keep the Bahamas' beaches pristine and the environment clean! That way we can preserve the gorgeous scenery for generations to come.
Enjoy!
Pin it!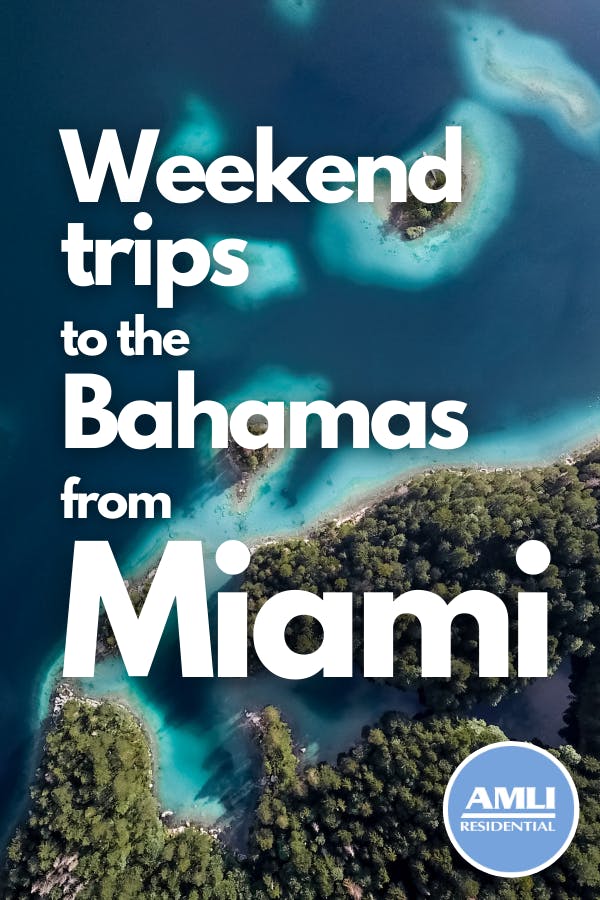 Featured photo courtesy Pixabay/Lauren_vdM