When you think of California aesthetics, you'll inevitably run across the boho style that so many have adopted as their own. This colorful and eclectic style of fashion, decor and art has appealed to artists, writers and creatives since the style's origins, but it is also a great aesthetic for anyone who loves the warm and welcoming tones of the California boho style.
When it comes to decorating your luxury California apartment in the boho style, it's important to think about the elements that really make the boho style what it is. That way you don't have to rely on a Pinterest board to supply every item in your apartment, and then you can be more open to picking and choosing whatever you like! 
We'll dive into what makes a boho style a boho style, and then we'll give you some essential tips on how to turn your California apartment into a boho paradise!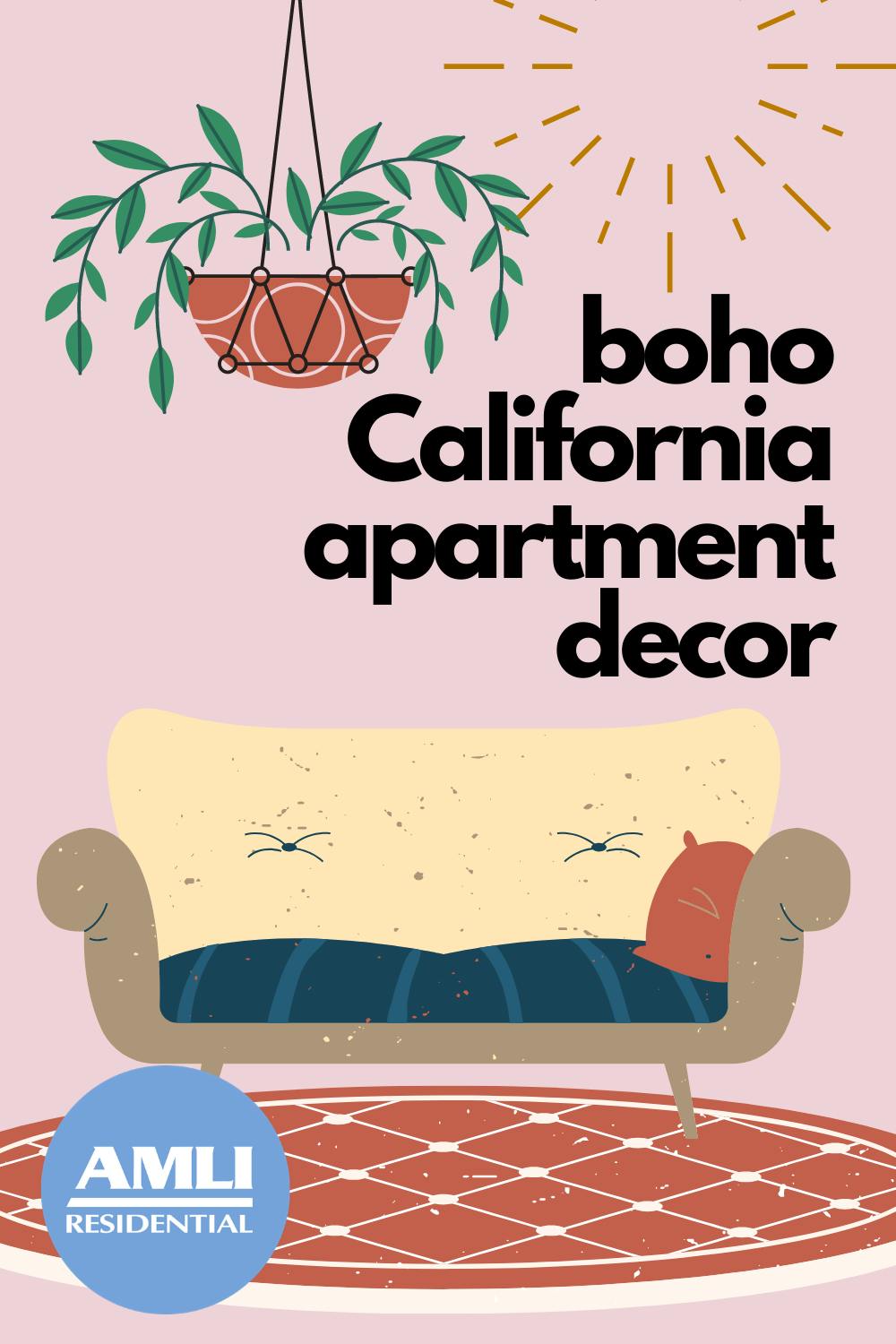 What is boho style?
You've probably heard of boho style or boho fashion before at some point. Imagery associated with the style usually involves rich fabrics and hippie-style clothing, as well as a variety of textures, patterns and colors. 
The boho style originated with the counter-cultural bohemians who lived in France after the French Revolution in the late 18th century. Before the revolution, the arts and the artists were supported by the wealthy members of the upper class, but the post-revolutionary France was a different world entirely. Artists no longer had wealthy patrons to support them or buy their art, so many creatives were forced into sudden poverty. A large portion of these artists took on a nomadic lifestyle and lived cheaply and supported themselves in any way possible. 
The time before the Revolution was known as the Age of Enlightenment, which was a renewed interest and idealization of the lifestyle, architecture and art of the ancient Romans and Greeks. Art that was produced at this time mimicked the classic ideals of symmetry, patriotism and reason. This was known as Neoclassicism.
The Romantic Movement that followed Neoclassicism rejected the confines of reason and logic, and instead focused on expression of the self and of the imagination. Artists were considered to be individual geniuses and creative masters in their own ways, and soon the very lifestyle of the artist was seen as an extension of their art, too. 
These early 19th century bohemian artists are the ones who first embraced the flowing clothes, colorful patterns and out-of-style fashions of what we now consider to be part of modern-day boho style. These bohemians rejected the materialism of mainstream culture and continued to place great importance on individual creativity and art. Thus, bohemian style has always been associated with counter-culture, handmade goods, a mix of artistic influences and a desire for individual expression and freedom.
How to decorate a boho-style apartment
Boho style is about expression and casual living. Keeping that in mind, here are some tips to creating that signature boho look for your California apartment. 
Create a color palette
When you're going for a boho style, choose colors that are more natural and organic. Use a neutral color as a base, then add pops of color that fit your style. Neutrals like white, cream, ivory or beige are great because they go with pretty much everything, and you could even leave out the color altogether and just use those neutrals! If you want a pop of California style added to your neutral base, consider using pops of desert or jewel tones like turquoise, desert pink, aquamarine, turmeric, magenta or emerald.
Rugs, blankets, pillows and throws!
These fabric pieces can add texture, pattern, color and style to any empty space. Find a stylish Turkish rug that matches the artwork, or find some patterned pillows that accentuate the bold colors of your furniture. Don't be afraid to get frilly or fringey with these, as a simple fringed blanket can add heaps of style to your room instantly.
Greenery
There's no better pop of color than a great, leafy plant. Hanging pothos, leafy monsteras or stylish snake plants are perfect for any boho home (bohome? Maybe?), and they are relatively easy to care for. We know, because we've written all about it here!
Wickers and wovens
Any boho style apartment is not complete without some wickers or wovens. This little design idea spawns from a desire to keep materials natural, raw and organic, so by incorporating some wicker furniture, woven wall hangings, rattan baskets or macrame decor, you're incorporating a light, airy and natural aesthetic into your space.
Quirky art
At the heart of the bohemian movement in the 18th century was a love for eclectic art and self expression. Find quirky sculptures or vases that express your own personality, or adorn your walls with paintings, prints and posters that reflect your style. You can also design and print your own posters and prints by using Canva's posters hub, giving you full freedom over your artistic expression. Or you can create some quirky thrift store wall art of your own!
Next time you're looking to decorate your Southern California apartment in the boho California style, you'll have everything you need to get started! From boho color palettes to boho furniture ideas, this list should give you a great starting point for your California apartment decor. 
Have fun!
Pin it!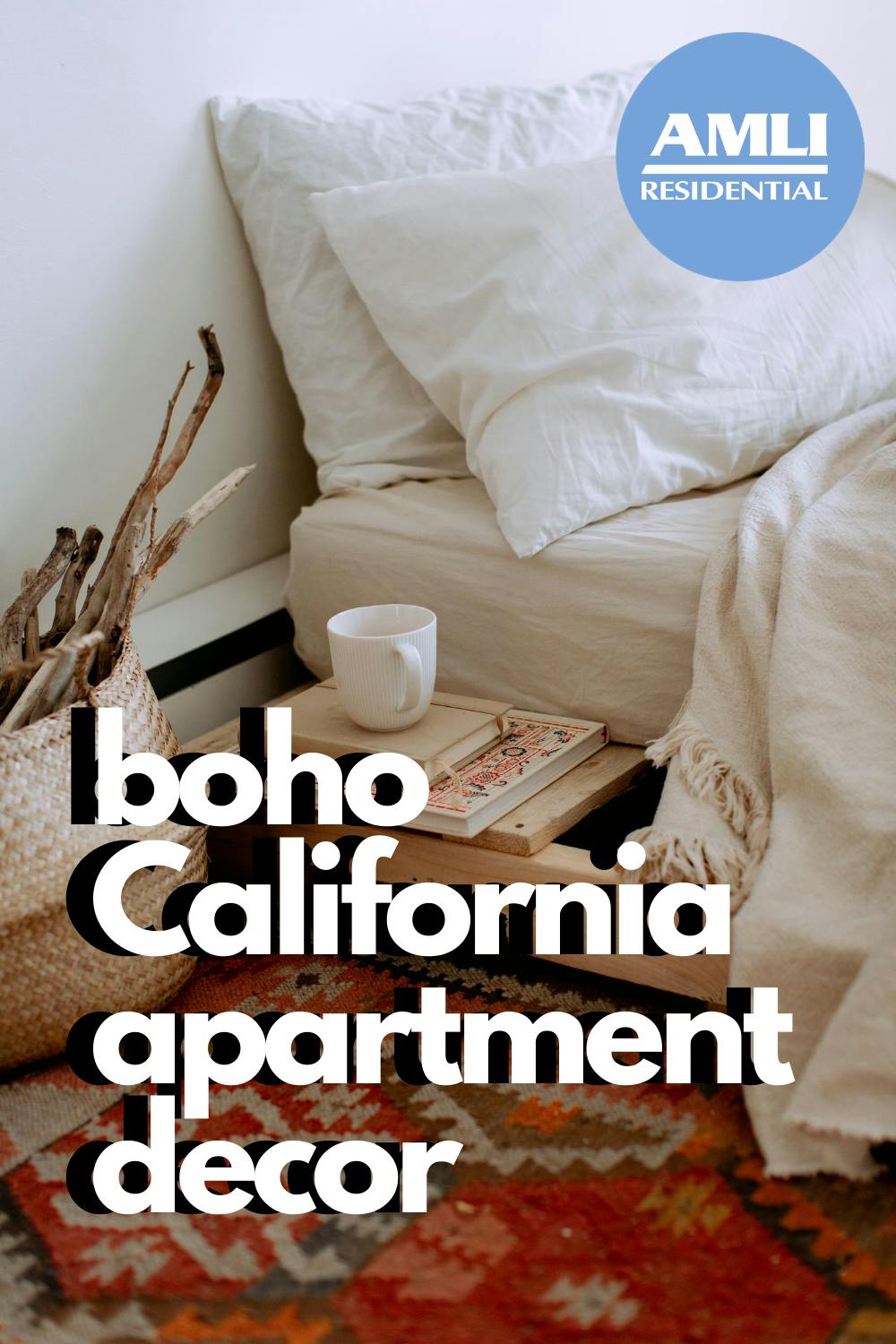 Featured photo courtesy Unsplash/Rob Brink