Everyone loves a good bath. Warm water, soothing bath salts, gentle bubbles and an overall feeling of relaxation is just what we need on a weekday night after a long weekend at work.
But bath products like bath bombs, bath salts, bubble bath and the like are filled with toxic chemicals that, in large quantities, can cause harm to our skin and immune systems. Thankfully, though, bath products are fairly easy to make and have simple ingredients, so it's easy to replicate these luxury spa products right at home. 
Check out our favorite recipes for making DIY bath bombs, bubble bath and bath salts from your own apartment, and enjoy your next bath knowing that you're looking after your skin all the while!
How to make spa products at home
Why make your own bath and spa products?
If you look at standard, mass-marketed bath and spa products found in a grocery store or dollar store, you'll likely see the term "fragrance" listed among the ingredients. This is what makes the bath bombs, bubble baths and bath oils smell like fragrant roses, sweet honey or fresh lemon, and each company has its own special blend to make it unique. 
The issue, though, is that the Food and Drug Administration doesn't require companies to list the exact ingredients that make up their fragrance. This weird loophole was designed to protect perfume companies' recipes, but it also masks any toxic chemicals included in the product. Common fragrance chemicals like talc, phthalates and benzene derivatives are linked to higher risks of cancer, and many artificial dyes have been linked to skin and neuron issues.
All this to say that you shouldn't have to sacrifice your relaxing bath time in order to stay healthy! By making your own bath bombs at home, you can control the chemicals and ingredients that go into spa day and know exactly what's in them!
DIY bath bombs
Most DIY bath bombs use the following ingredients:
Baking soda
Citric acid
Epsom salt
Cornstarch
Essential oils
Dried coloring pigment
Dried flowers
These make up the base of nearly all at-home bath bombs, and you can customize them by adding dried flowers, changing colors or using different molds.
Use this bath bomb recipe to make your very own bath bombs that are free from toxic chemicals and oh-so-relaxing!
DIY bubble bath
Bubble baths can be relaxing and moisturizing, but if you have sensitive skin or want to avoid toxic chemicals, then your average store-bought brands might not be the best to soak in. 
Luckily, making bubble bath mix at home is really easy and uses very few ingredients. All you need is water, liquid soap and glycerin (or coconut oil), plus any essential oils for fragrance. Castile soap is a popular choice of liquid soap, as it is non-toxic, has moisturizing properties and contains natural ingredients like hemp, jojoba and olive oils, and using coconut oil is great for moisturizing sensitive skin.
To make bubble bath mix, use a combination of one part warm water, one part glycerin/coconut oil and two parts liquid soap. 
You can also personalize your bubble bath mix by adding these ingredients:
Coconut milk: this adds a creamy and elegant feel to your bath.
Flower petals: dried flower petals can infuse your bath mix with a fresh, flowery scent.
Magnesium: magnesium flakes and Epsom salts are great for soothing sore muscles!
Aloe Vera: got sunburn? Aloe Vera can soothe irritated skin and cool inflamed pores. 
Honey: adding a bit of honey to bubble bath mix adds a sweet fragrance and anti-inflammatory and anti-bacterial properties.
Use this bubble bath mix recipe for a base ingredient list, plus a few extra special recipes for kid-friendly bubble baths, romantic baths and skin-soothing baths!
DIY bath salts
Bath salts have similar ingredients to bath bombs and provide similar effects, though there is less of a chemical reaction since there is no citric acid in bath salts. 
At their simplest, bath salts use a mix of salt, baking soda and essential oils to soothe skin and create sweet-smelling spa experiences. Coarse salt and Epsom salt add minerals and buoyancy to the water that make the bath seem more relaxing and soothing, and adding oils or flower petals truly elevate the experience. 
Most bath salt recipes use one part baking soda, three parts coarse salt and six parts Epsom salt, plus a few drops of essential oils. Use this recipe for exact measurements and variations to make your own bath salts at home!
So, next time you're itching for a long soak in the tub, why not give these easy bath product recipes a go? They're easy, they're quick, they're fragrant and, most importantly, they are free of harmful toxins! 
Enjoy!
Pin it!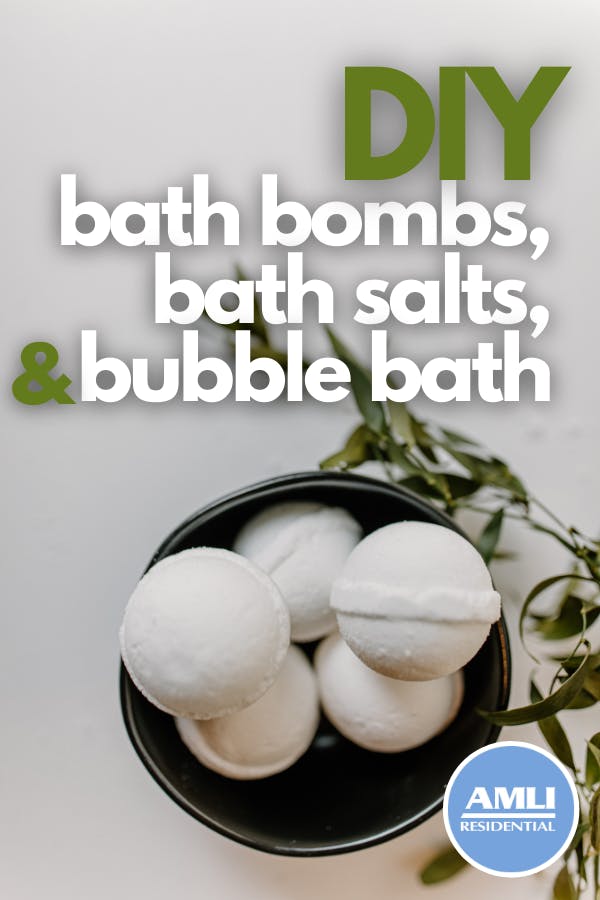 Featured photo courtesy Pixabay/StockSnap