We all love a good DIY project to keep ourselves busy during the colder season. Practically anything can be upcycled into something new and chic with the right kind of inspiration, so don't let a price tag hold you back from decorating your luxury apartment just the way you want!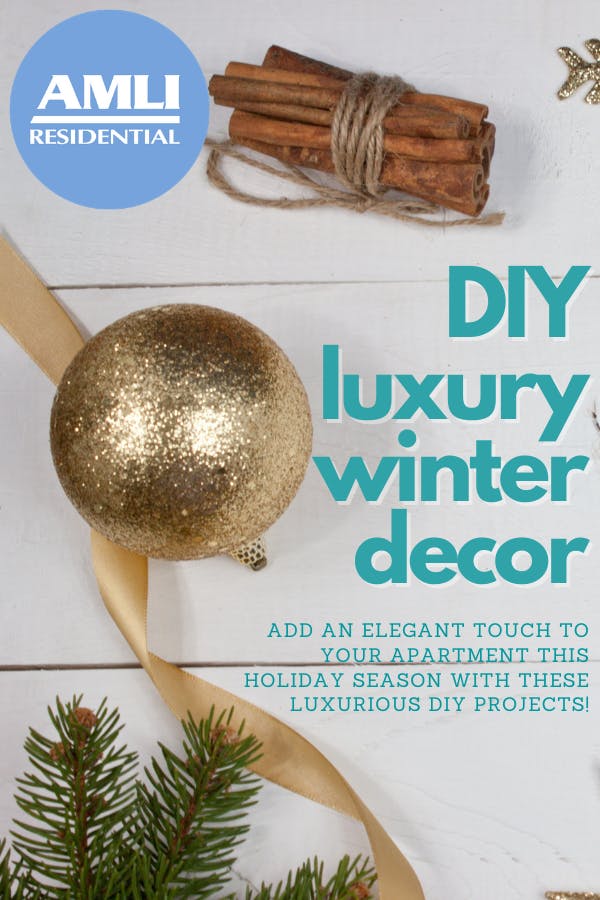 Handy upcycling tips you should know
Pinterest is your best friend
There's nothing wrong with recreating your favorite Pinterest pins! Don't think that you need to think up an idea out of thin air in order to craft it, because imagination and inspiration should never have to limit your creativity. Go crazy on Pinterest and find your inspiration!
P.S. You can find all our blogs and tips on Pinterest here, too!
Thrifting is like a box of chocolates...
You never know what you might find in a thrift store, making them the perfect places to find unique shapes, textures and colors to use in upcycling projects. Don't head into a thrift store with a specific goal, though, as you may not find exactly what you're looking for if you do.
Make sure you have basic supplies!
If you've found a project with a handy list of supplies, then that's great! Some projects, like ideas you get from a picture, may not come with a specific list of supplies, so you'll have to gather that on your own. Here are a few staples that are always good to have for any project.
Glue gun
White spray paint (as well as other colors you know you'd want to use for future projects)
Zip ties
Twine
Paint brushes
Spray bottle
Think of your personal style
Do you like warm colors and a rustic look? Or do you prefer a more streamlined chic style with light colors? Make sure that your DIY projects amplify your apartment's unique interior style instead of just existing it, and you'll find that your projects become much more effective and enjoyable to look at. 
Make it last!
If you're pouring your heart and soul into a project, then you want it to last, right? The great thing about making DIY chic winter decor is that it's simple but effective, and it can last long after the holiday season is over. 
In addition to whatever holiday-themed decorations you want to make, consider making some purely winter-themed decorations that you can keep up all season long! That way, you can enjoy your handiwork for months at a time.
Chic winter decor colors, materials and inspiration
Chic winter decor is all about taking classic designs and finding ways to interpret them into a modern piece. For example, turn a classic garland door wreath into a chic metallic wreath, or turn your cluttered table centerpiece into a stylish collection of golden vases.
Use colors like gold, silver, white, ivory and winter blue to give your projects a modern and luxurious touch. Use one or two colors with each project so that the colors don't overwhelm each other, and it's always a good idea to keep a color theme if you're making a lot of decorations.
Use organic materials like twigs, pinecones, birch rounds and tree boughs to add a natural and elegant look to your decorations. A pop of green cedar boughs will really accentuate the golden-painted pinecones, and a few sprigs of holly will look gorgeous in some silver vases.
Here's a magic formula you can use:
Base color + organic material + pop of color = luxury winter decor
For example: picture a garland made of twigs, spray painted white, a pop of green cedar boughs and tied together with a burlap ribbon. Et voila! 
DIY luxury winter decor ideas
Gold and silver glass vases 
There's no limit to what you can make into a vase, especially when you have a can of metallic spray paint at your disposal.
Find some glass vases, bottles or jars that you'd like to use in your home. They don't all have to be part of a matching set, however, so try finding different sizes, widths and shapes that you can play around with! 
Play around with different colored spray paints and masking tape to turn plain glass vases into chic shiny vessels. Finally, use these glass vases in centerpieces, as candle holders or even as succulent planters.
Check out this link for some gilded inspiration! 
Use a hot glue gun to glue twigs around a wreath frame, adding pine cones and extra twigs as desired for extra texture. Spray the wreath with a light coating of white spray paint and top the whole thing off with a bold ribbon and a few cedar boughs.
For more chic wreath ideas, check out this metallic winter wreath, pinecone wreath or red berry wreath.
Wooden rounds
Wood rounds are relatively easy to get and can be used for both practical and decorative purposes. A set of small white birch rounds are great for using as coasters or small place cards on tables, and the larger ones are the perfect size for a table centerpiece or placemat. Finally, the taller logs are the ideal size for nestling tea lights, and an assortment of different heights makes for a stylish candle decoration.
If you're looking to upgrade your winter decorations this year, then why not try making these DIY winter decorations? They are easy, they are endlessly customizable and they are effortlessly chic. 
Have fun!
Pin it!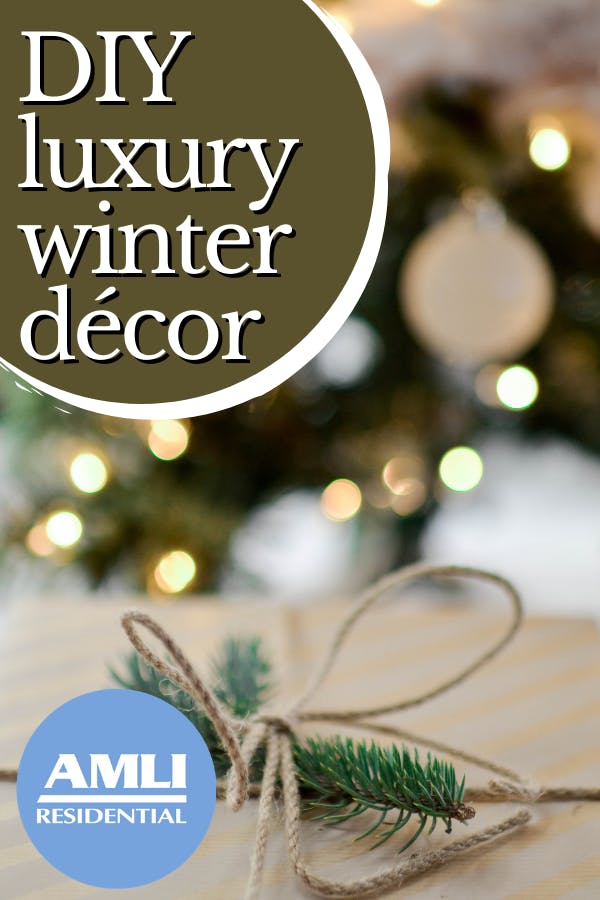 Featured photo courtesy Unsplash/Diana Schröder-Bode