If there's any place a dog could be happy, it's Austin. There are over 200 sunny days every year, a boatload of parks, trails weaving all over and plenty of dog-friendly restaurants. There's no reason your apartment life should restrict activities and exploration with your furry friend, especially when you have so much from which to choose.
Tips for planning an outing with your dog in Austin
Double-check the "dog-friendly" rating
If you want to go out to a restaurant or bar, find out whether the establishments allow dogs inside. The last thing you want to do is bring your pup to a "dog-friendly" restaurant just to be forced to sit outside in the cold with your pup chained to a fence. In the same way, check park and trail websites to make sure they allow dogs. Many parks require that dogs stay out of certain areas or should have a short leash, so it's good to know these specifics beforehand so that you stay prepared.
Plan for water
Not all dogs can tell you outright if they need water, so it's important to regularly hydrate your pup. Bring a collapsible bowl that can fit into your pocket or purse, and bring a bottle of water in case there are no water sources around. Many restaurants will bring a bowl of water if you ask, but don't always count on it. If it's a hot day,  and in Austin there are many, then you absolutely must incorporate a water plan into your outing.
Check the weather
If it's too cold for you, then it's probably too cold for your dog. Dogs do have some natural insulation, yes, but every breed is different. Your Great Pyrenees might really enjoy a brisk walk through the crisp November air, but your Yorkshire terrier might feel differently. Alternately, some cold-weather dogs truly despise the heat and become extremely uncomfortable in the blazing sunshine. Know your dog and how it behaves in certain climates.
Know your dog's manners
You know exactly how well your dog will behave out in public. If you know your dog is snappy and wild when other animals are around, skip the dog park. If your dog is the sweetest pup but doesn't know how to rein in their playfulness around children, maybe avoid the playground areas and family restaurants. Don't be the dog owner who is totally oblivious to other people. It's just not cool.
Dog-friendly dates in Austin
The Sunday brunch doggy date
Who doesn't love brunch?
Start your Sunday with a trip to Moonshine Grill. The eatery's famous Sunday Brunch goes from 9 a.m.-2 p.m., so get there early to reserve yourself a seat. Whether you want a burger, waffle or shrimp with grits, this quaint little patio and bar caters to all brunch enthusiasts out there. The home-style dishes have equal touches of comfort and class, and the restaurant itself is gorgeously decorated.
After your brunch, head over to theHOPE Farmers Marketat Plaza Saltillofor live music, drinks and produce. All the wares for sale are locally-sourced from farmers, artists, cooks and ranchers. The market runs from 11 a.m.-3 p.m. each Sunday, bringing the community together over love for local Austin.
The movie night dog date
Good food plus great movie equals one awesome night.
This dog-friendly date starts with a trip to El Chilito in the Cherrywood area. El Chilito brings a laid-back approach to El Chile's Tex-Mex menu. Outdoor seating and a full espresso bar make this relaxed joint the perfect stop for a tasty bite with your furry friend.
The culmination of your dog date night is a trip to Blue Starlite, the last drive-in movie theater left in Austin. The theater shows movies every night on multiple screens, including a forest amphitheater for pedestrians only. There are also opportunities to rent a camper for your group to watch a movie in style and comfort. Bring a picnic blanket if the weather is warm, or snuggle with your pup in the car if it's chilly. Either way, what's better than watching a movie at the drive-in with your furry best friend by your side?
These date ideas are just a few ways you can spend a day outdoors with your dog in Austin. It doesn't take a lot of time or preparation, and the reward is always worth it. Remember to treat your pup for behaving well in public so that you both can enjoy more and more dates together.
Have fun!
Pin It!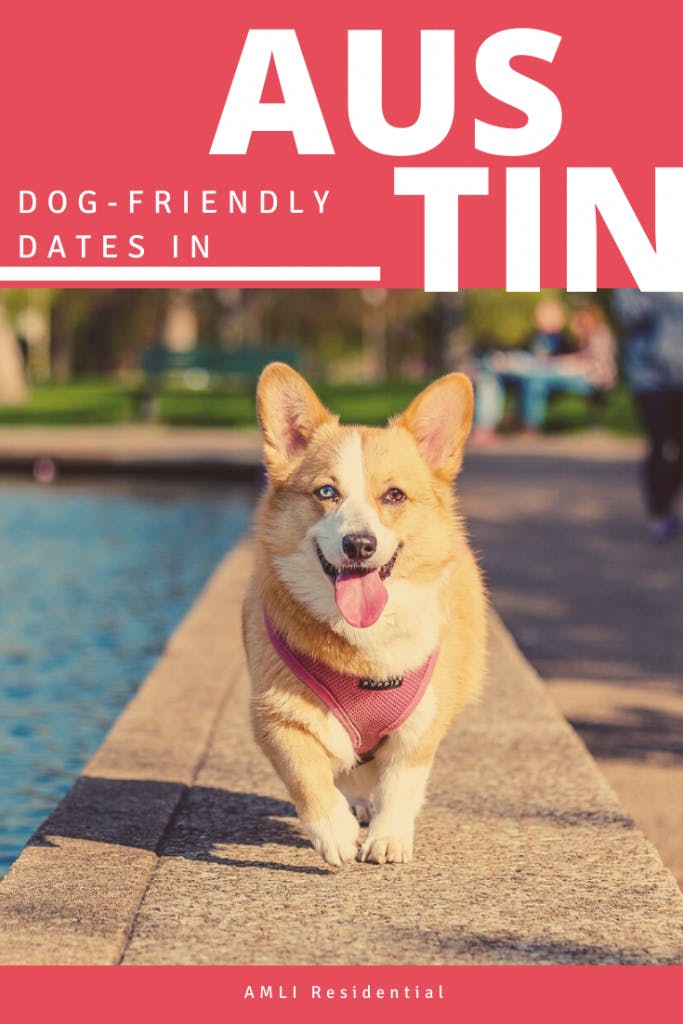 Feature photo courtesy Pexels/Helena Lopes