A dog is a man's best friend. A dog will love you in spite of your flaws, and a dog can teach you more about yourself than you could ever know. It's no wonder, then, that dogs have become such an integral part of daily life.
But daily life in Seattle can be hard for pups, sometimes. Staying in an apartment means that there isn't always an easy way for dogs to access the outdoors on their own, so it's up to owners to make sure they get fresh air and socialization as much as possible. Thankfully, Seattleites realize that dogs have a large role to play in our lives, so it's not too hard to find dog-friendly establishments.
Treat your own pup to a doggy date by following this guide to crafting the perfect outing with your furry friend.
The romantic doggy date
Your pup may be the love of your life and deserves to be treated as such. Start this date on the right foot by bringing your dog a Milk-Bone when you pick them up, and don't forget to dress up well, either.
Your first stop is the outdoor patio of the romantic French restaurant, Le Pichet. This charming eatery in the Pike Place Market area resembles a traditional neighborhood-style French cafe, complete with flavorful dishes and authentic decor. As you watch the pedestrians go by, your pinot noir in hand, make sure to let your pup know how much you appreciate their presence in your life.
As you digest your fine meal, take a romantic stroll to Victor Steinbrueck Park to watch the sunset. This park overlooks the Puget Sound and the Olympic range beyond, and it provides ample place to lay out a picnic blanket and sit with your pup. This would be the perfect time to present your dog with a gift, such as these wild Alaskan salmon sticks or these grain-free chicken dog treats. After all, nothing says "love" more than sustainably-sourced canine nutrition.
As the night gets cooler, remember your manners and wrap your dog up in warm layers. This polar coat from FidoGear will do the trick, and your pup will appreciate the extra layer of warmth if the night is cold. Your walk home should be the perfect way to give your dog some exercise and satisfy their want for exploration.
All in all, your romantic doggydate should include what is best for your pup. They may not see the humor in it, but they should enjoy the chance to explore and experience something new.
The active doggy date
If you and your dog are active, then there's nothing better than a day outdoors in the sunshine. Before you leave on any adventure, however, make sure that you carry a portable dog-bowl so your furry mate gets plenty to drink during the day.
Head to Gas Works Park or The Fremont Canal Park to access the Burke-Gilman Trail. This trail has a missing link between 11th  and 30th avenues, but otherwise runs from Golden Gardens Park near Ballard to the Sammamish River Trail in Bothell. This old railroad trail runs mostly along the coastline and rarely crosses any roads, making it perfect for running or walking with your furry friend.
Breweries and restaurants are dotted along the whole length of the trail, many of which are dog-friendly.
Norm's Eatery & Ale House is a few blocks from the trail in the downtown Fremont area. Not only is this a dog-friendly restaurant, the owners dedicate the entire place to dogs! Norm, in fact, is the dog after which the place was named, and Norm's furry companions are allowed inside, outside, at tables and at the bar. There's even a dog menu to accompany the human menu! This spot has been rated highly by Seattle dog owners, and is surely one of the best dog spots in town.
After a great meal at Norm's, head a few blocks west toPetapoluza Pet Supply and Grooming, self-proclaimed as Seattle's only independent natural pet store and boutique. Treat your pup to a new toy, and let them sniff around and see which ones interest them. You'd be surprised at how easy it will become to find their next favorite toy. Use a self-serve bath or schedule a pet grooming appointment if your pup needs a bath or trim, and let the professionals treat your dog to a much-needed grooming.
Finally, remember to end your doggy date with plenty of water to rehydrate you and your dog after being out and about all day.
Having a dog in a Seattle apartment doesn't have to be uneventful and boring. As long as you always check that the locations are pet-friendly, then you and your dog can explore the city all year long.
Have fun!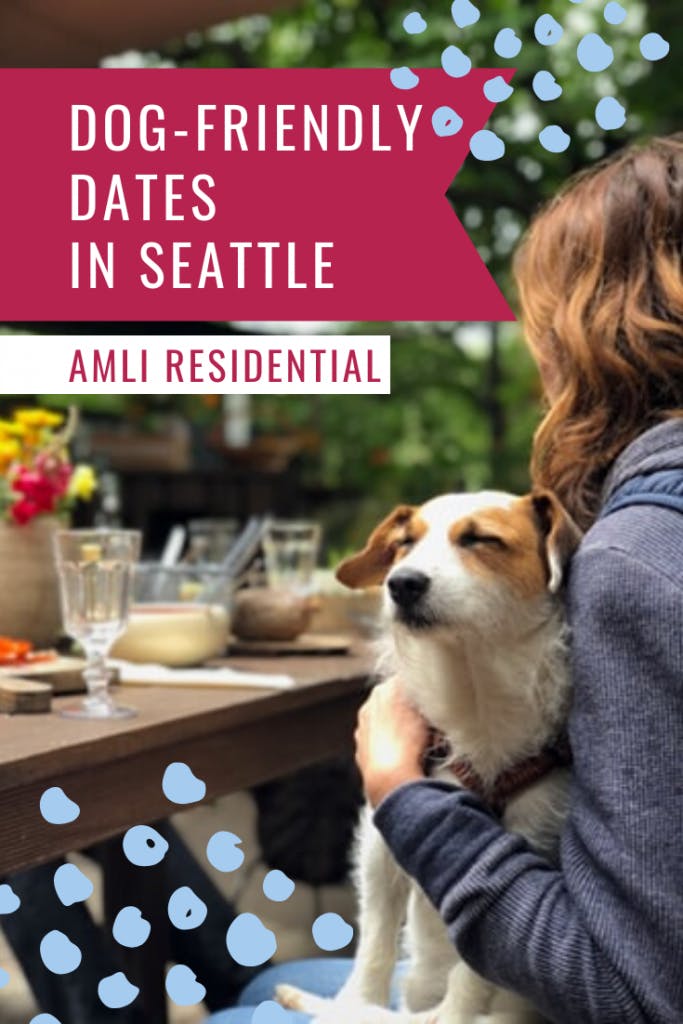 Feature photo courtesy Unsplash/Susn Matthiessen