The holiday season is jam-packed with arts, crafts, decorations, activities and fun events. There are gifts to be wrapped, trees to be adorned with décor and stockings to stuff with gifts and goodies. What could be better?
The holiday season is certainly an exciting one, but with great seasonal activity comes great consumerism, too. Over one million tons of trash enters landfills in the holiday season each year, consisting mostly of wrapping paper, plastic packaging, shipping boxes, party utensils, decorations and so much more. We all have memories of gift-wrap-covered boxes on Christmas morning that are promptly ripped up and tossed aside, or maybe fond memories of buying boxes of new ornaments each year. 
In such a busy season, it's hard to look past the craziness and see how the subtle changes in our lifestyle affects the planet and our immediate environment. However, there are plenty of ways that you can still celebrate the holidays to your full festive extent while also making more sustainable choices! One of those areas in which you can make your holidays a little greener is with your holiday décor!
Here are a few ways you can decorate for the holiday season while keeping the festivities a little more sustainable!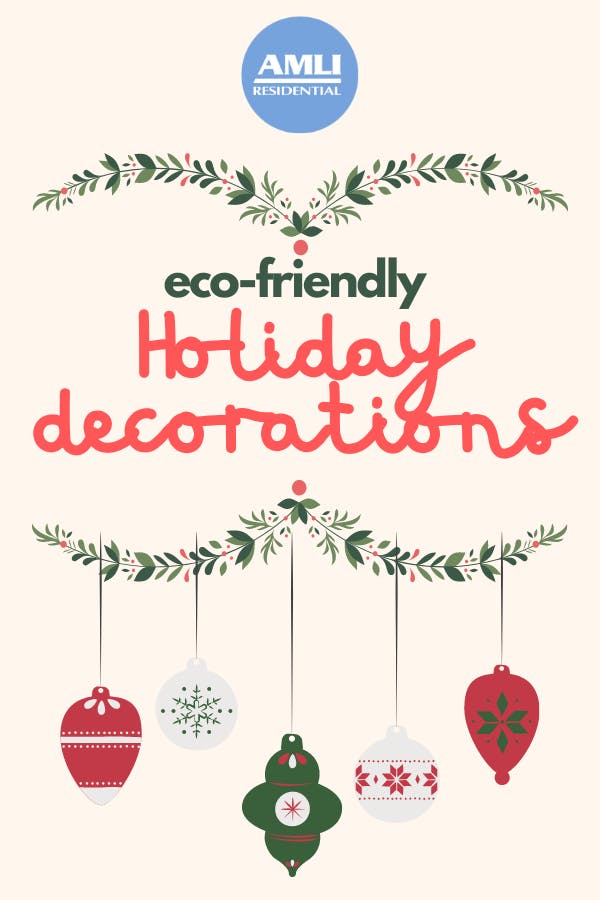 Sustainable holiday decorations
Use LED holiday lights
Whether you're just dressing up your Christmas tree or stringing light around every square inch of your apartment, holiday lights are certainly a beautiful and festive decorative piece. However, leaving those little lights on all day (and, let's face it, all night) can really hike up your electricity bill. Even though our luxury apartments already have a great reputation for saving energy, traditional incandescent lights still use up a lot of energy. 
LED holiday lights are a little more gentle on your electric bill. They use less energy, they don't burn out, they don't break as easily and they last much longer than traditional lights. So not only are LED lights more eco-friendly, but they are better for your wallet in the long run, too.
Use real Christmas trees
Plastic Christmas trees seem, at first glance, to be the way to go. They can last forever, right? Well, although a plastic Christmas tree lasts longer than a freshly-cut one, the amount of labor, transportation and chemicals that goes into making it is far more detrimental to the environment than chopping down a tree. 
Using real Christmas trees is an easy sustainable alternative to fake trees. If you aren't a fan of chopping trees down, though, then you can get creative with your holiday greenery with a little help from your local plant store! A small rosemary bush adorned with decorations can be a great holiday centerpiece, especially if you're pressed for space.
Use paraffin-free candles
A set of flickering candles around the house are perfect for really getting in the cozy holiday mood. But did you know that candles are not the most eco-friendly to the earth or to us humans?  
Wax candles contain paraffin wax which is made from petroleum, a byproduct of crude oil in the production of gasoline. In addition to releasing trace amounts of harmful chemicals into the air, candles obviously present a fire hazard, especially when children and pets are present. Plus, once they burn down they need to be replaced, which just means more oil, more petroleum and more paraffin.
Don't give up on candles completely, though. You can substitute your paraffin candles for some locally-made beeswax or soy candles. You can even use LED candles, which totally eliminate the fire hazard and can last for much longer than a flame candle. Use rechargeable batteries in them, and you're set for life!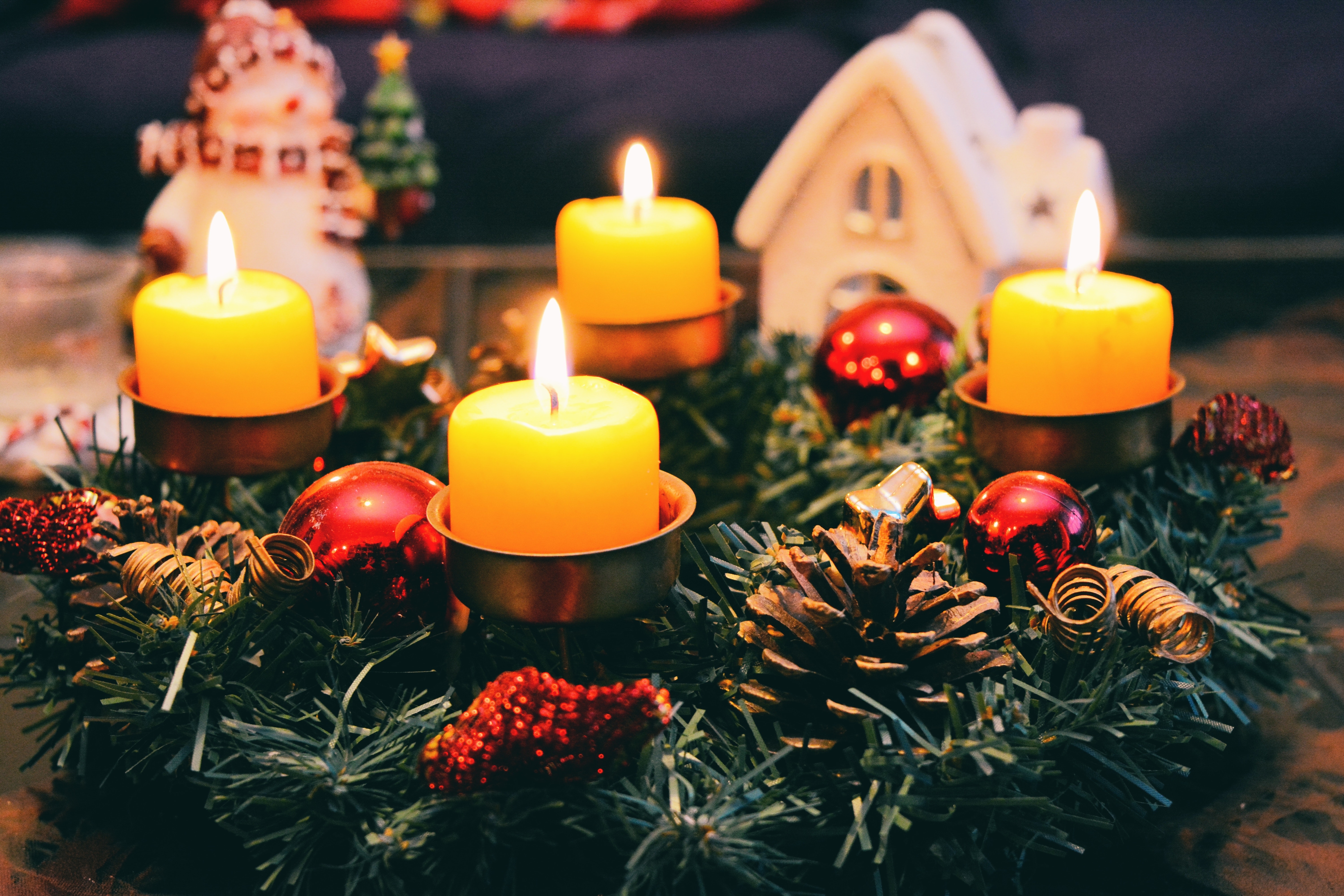 Be mindful with ornaments
If you've ever been to Target during the holiday season, you've undoubtedly seen all the gorgeous buckets of Christmas tree ornaments. Huge tubs full of glittery silver and gold ornaments, sweet personalized ornaments, soft and shiny tinsel and stylish beads are the perfect way to quickly add style and class to any Christmas tree. However, those ornaments come at a fairly heavy price — one which the environment ends up paying for.
Most Christmas ornaments are made from plastic, and many are coated in glitter or paint. This means that they can't be recycled, and when these flimsy ornaments inevitably end up breaking, they will most certainly end up in a landfill. This also means that the process of making the ornaments is not particularly sustainable, as plastic production involves plenty of chemicals, crude oil and energy output. 
Don't feel like this means that your tree should be bare this year, though! There are plenty of ways you can decorate your tree while also living a little greener. 
First, the most sustainable decorations you could hang on your tree are the ones you already have! Those family heirlooms or sentimental decorations will last you so much longer than flimsy plastic ones. Plus, organizing queen Marie Kondo constantly touts that you should surround yourselves with things that spark joy, so those family treasures are the perfect holiday decoration!
If you're looking to buy new ornaments, then go for compostable, wooden or glass ornaments which can be recycled. Support your local artists by buying crafted ornaments, or make your own sustainable decorations using paper, scrap ribbon, twigs, salt dough or cans! 
Find natural wreaths
False wreaths obviously contain plastic and metal wire, at the very least. These false wreaths end up in landfills when they are done being used, and there's no way to recycle them to avoid that. 
Instead of buying a false wreath find a natural one! Not only can natural wreaths be thrown away with yard waste (make sure you take off all extra decorations!), but they give off a beautifully natural smell and an elegantly organic look. 
So, if you're looking to make this holiday season a cleaner and greener one, try out these sustainable holiday decorations! There's no better way to celebrate the life we have than by giving back to the planet that makes it all possible.
Enjoy!
Pin it!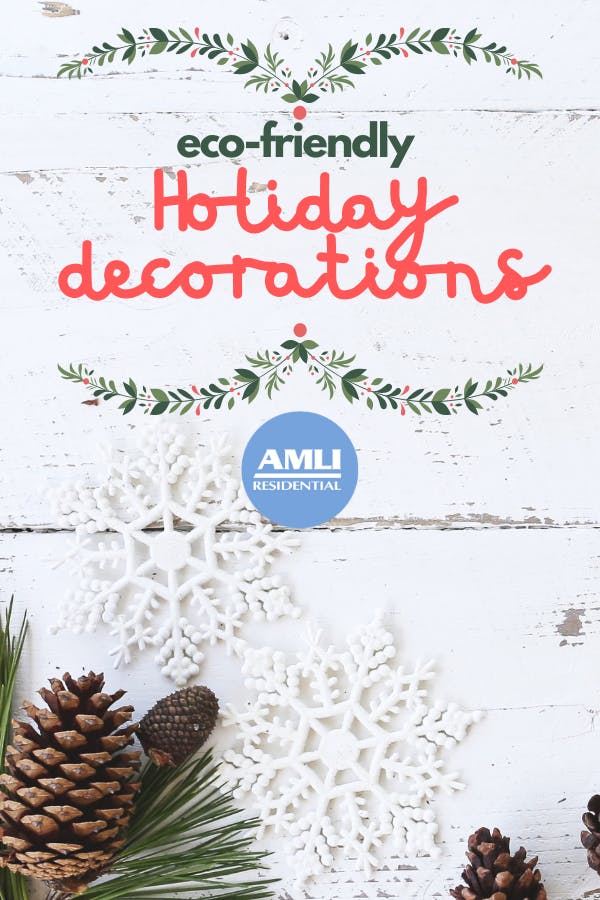 Featured photo courtesy Unsplash/Anastasiia Chepinska
Second photo courtesy Pexels/Pixabay