We've all been there: scrolling through a friend's wedding registry and thinking "What else can I give them to show I love them aside from this set of four gray dish towels?"
For many of us, gifts are a way of showing love to our friends, families and ourselves. Giving and receiving gifts can show how we acknowledge the important moments in life, like birthdays, weddings, baby showers, new jobs or graduations. 
Not all of us see gifts as too important, which is one-hundred percent okay! People show and see love in different ways; five different ways, in fact. Without going too far down a rabbit hole, the five "love languages" are words of affirmation, acts of service, receiving gifts, physical touch and quality time. You can find out more about these love languages here, and I highly recommend taking the time to learn how you and your relationships see and show love. 
Anyways, back to wedding gifts. For those of us who see gift-giving as a great way to show your love, here are some fun ideas for some absolutely killer handmade wedding gifts that you can pour your heart and soul into.
Before you go and dive into a project, though, stop and consider these two things:
Can you fulfill any gift needs from their registry?
Couples don't make a wedding registry just for the heck of it. Many times, young newlyweds need a hand with finding household items for their new home. That's why they make a registry, so that they can start their new life without worrying about having to spend time or money on mundane household items. 
Registries will often have some fun activities or items that are purely for entertainment, and that's just fine, too! Registry items are things that the couple has spent time choosing carefully, and they are items that the couple want to own. 
Having said that, if you feel like you can't spend hundreds of dollars on a KitchenAid mixer, then try and fulfill some of their smaller requests, like dish towels, cutlery, soap dispensers and the like. You can absolutely still give your friend your handmade gift, but also try to fulfill their registry requests, if you can! Trust me, those couples will appreciate those registry gifts more than you know!
Will your friend use/appreciate it?
Yes, you may feel like your handmade set of pottery mugs is the coolest gift ever, but take into account your friends' style and needs. Will your friends like having your gift in their new home? Does it match your friends' style? Do your friends like handmade gifts? Do your friends have space for it? Is it something you know your friends will like?
If you answered 'yes' to all these questions, then go ahead and get creative!
Handmade gifts to give at weddings
Personalized embroidery hoop
Difficulty: ⭐⭐⭐
Price: 💲
Time:⏳⏳⏳
A personalized embroidery hoop is a classy gift and a unique piece of decor. A friend of mine gave us one at our wedding, and the amount of thought and care that went into it has made it one of my favorite wedding gifts we received. 
All you need is an embroidery hoop, embroidery floss, fabric and sewing needles. You can find most of these at any craft store or sewing stores. Embroidery floss is fairly inexpensive, and the type of fabric entirely depends on the look you're going for. A good starting point, though, is to use some medium-thickness muslin. 
Although it looks daunting, simple and minimal embroidery gifts are much easier than they look. Here's a video on how to easily embroider different flowers, and check out this video on how to make different kinds of leaves!
Recipe book
Difficulty:⭐⭐
Price: 💲
Time:⏳⏳⏳
A recipe book is a great gift that can be entirely personalized however you want. If you've got a knack for scrapbooking, then go crazy with artsy pages, clever decor and fun styles. If it's not your thing, then even a simple binder or photo book filled with your favorite recipes can be extra special. If you want to take it a step further, get together with a group of mutual friends and ask everyone to submit their favorites recipes! My mom still has the recipe book her friends gave her at her wedding, and it's become even more treasured as she's added to it over the years.
Painted coasters
Difficulty:⭐
Price: 💲
Time:⏳
Quirky coasters are a fun and stylish addition to any living room or dining room. If you know your friends' style, then you can easily create some coasters that will match well with their decor. 
First, grab some plain cork or wooden coasters, both of which are readily available at craft stores or online. Don't forget to try out some funky shapes!
Second, decide whether you will use paint or woodburning to create your design. Woodburnt coasters are beautiful and fairly easy, but they require more time and more finesse. If you're painting the coasters, then don't forget the masking tape so you can get those clean, sharp lines. 
Third, and finally, have fun! There's no right or wrong way to make these, but try and make the coasters match each other in some way so they form a nice set. 
Special occasion wines
Difficulty: ⭐
Price:💲💲💲
Time:⏳
If all else fails, wine makes a great gift! Assemble a basket of "special occasion" wines for the happy couple to pop open and enjoy at various moments in their newlywed life. 
For example: 
First vacation
First house
First married date night
First day back from the honeymoon
First dinner party with friends
First anniversary
First Christmas
The list goes on!
Decorate the basket however you'd like, and feel free to personalize the tags and labels on each bottle as you please. The type of wine you buy depends entirely on you!
Painted wooden utensils
Difficulty:⭐⭐
Price:💲
Time:⏳
A set of stylish wooden spoons are great for both decoration and practicality! Check out this tutorial on how to make some handy-but-stylish painted wooden utensils.
Chalkboard wine glasses
Difficulty:⭐
Price:💲
Time:⏳
Chalkboard glasses are perfect for the friend who loves to host. Adding some chalkboard paint to wine glasses, mason jars, beer glasses or whiskey glasses is easy and can elevate a simple set of drinkware to a stylish and handy collection of glassware.
Add to the gift by including a chalkboard pen and a bottle of wine, and voila! 
We hope you have fun making these handmade wedding gifts!
Pin it!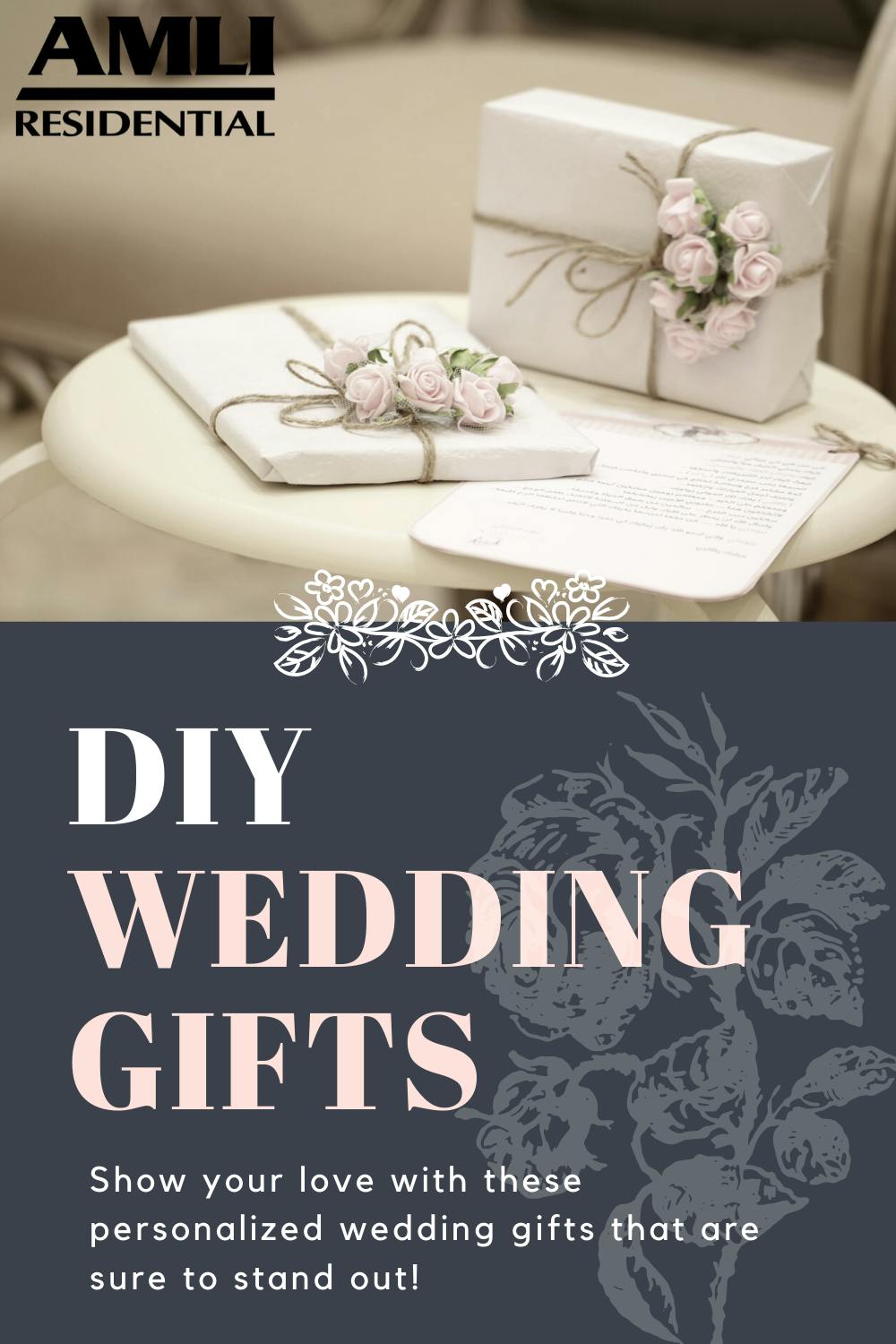 Featured photo courtesy Unsplash/Wijdan Mq